You are here
When Is It My Turn to Sleep?
When my second daughter was born, I loved the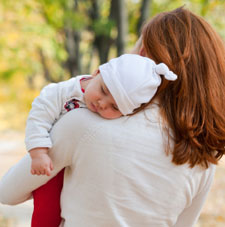 middle-of-the-night feedings, but looked forward to the day I would once again be able to savor an uninterrupted eight-hour sleepfest.
It's been three years. I'm still waiting.
Over the last couple of months, KT finally started sleeping through the night. No more crying about imaginary spiders or asking for tacos at 3 a.m. That means I blissfully conk out during Law & Order: SVU at 9:45. The problem is, I also wake up to SVU – only it's an episode from 1991 and it's on at 2 a.m.
Like 70 million Americans, many of them stressed-out mothers, I have difficulties sleeping. I can fall asleep, I just can't stay asleep. So while my brain fixates on important issues like what I'm going to wear to Jen and Justin's wedding, I end up tossing and turning, cursing at the 5 a.m. countdown mocking me from my alarm clock.
Immediate sleep relief
Like many insomniacs, I've considered quick fixes like sleep aids. Or I could take advice from researchers at SUNY Albany and have unprotected sex to increase my levels of melatonin, but I scientifically concluded that a third wailing baby isn't conducive to a good night's sleep.
Instead, I usually end up on my back staring at the ceiling and counting sheep, which in only accelerating the problem, according to Dr. Lee Choo-Kang, a pediatric sleep specialist with Mercy St. Louis.
"One of the biggest mistakes people make is forcing themselves to fall asleep. That alone can leave you feeling more stressed and agitated as you lie awake, staring at the clock. It can also become a long-term problem as you begin to negatively associate bed with being awake. People get to the point they dread going to bed."
Dr. Choo-Kang recommends getting out of bed and doing a quiet activity until you feel drowsy, such as reading, completing a crossword puzzle, or best of all journaling, which allows you to write out your thoughts so you don't dwell on them all night. However, he discourages insomniacs from watching TV or hopping on the computer as the artificial light tricks your brain from releasing melatonin, the key hormone associated with sleep.
In other words, that means putting a stop to my SVU middle-of-the-night marathons.
Preventing long-term sleep deprivation
Two activities we do to maintain a healthy body weight can also go a long way in our sleep health. To prevent sleeplessness from becoming a repetitive problem, Dr. Choo-Kang says that getting in a workout at least four hours before bedtime and having a lighter meal in the evening can better prepare our bodies for a good night's rest.
Another suggestion? Pump up the protein in the evenings. Turkey has long been revered for its sleep-inducing powers on Thanksgiving, yet few people realize eating high-protein foods is necessary to regulate our sleep each and every day.
Said Dr. Choo-Kang, "It's an old wives tale, but drink a glass of warm milk if you're having trouble sleeping. It's high in protein and increases the production of the neurotransmitter serotonin, which can help you fall asleep."
One drink he suggests to go easy on during the day is your coffee. Granted, we all chug the black gold when we've had a rough night and need to focus, but too much can put you back on the sleeplessness cycle. "If you drink coffee or a Diet Coke at 3 p.m., it can help you focus the rest of the workday. While you might not feel 'alert' at 9 p.m., that small level of residual caffeine from six hours before may prevent you from falling asleep again."
Finally, suggested Dr. Choo-Kang, take a cue from our European counterparts who have mastered the art of the siesta. In our over-caffeinated, over-stimulated lives, it can be difficult to suddenly switch off the world at 10 p.m. That's why it's crucial to train your mind to relax. Whether you're a stay-at-home mom or chained to your desk at work, taking a five to 10 minute siesta to clear your mind twice a day can better prepare your brain for bedtime.
When it's time for additional help
Not getting enough sleep is incredibly frustrating for moms, not to mention those around us who are on the receiving end of a sleep-deprived meltdown. There have been many a night that it took every bit of my strength not to scream at my husband for having the audacity to snore while I stayed up all night worried about Syria.
Although I joke, insomnia is a serious condition for millions in the U.S. When the sleeplessness affects your mood, your health or your ability to perform your regular duties throughout the day, Dr. Choo-Kang noted it's time to seek help from a sleep therapy professional.
"Sleep problems in general are usually not an isolated problem. If a person has difficulties sleeping, there's probably another social stressor or medical issue causing the problem. Medication should be a short-term last resort when it comes to not sleeping – modifying your behavior or situation is really a better way of going."
---

By Nicole Plegge, Lifestyle Blogger for SmartParenting
Photo: iStock

---