You are here
Learn How to Camp During the Wonders of Wildlife Event in Forest Park
So you want to try a little camping this summer, but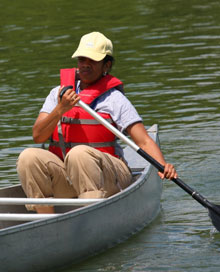 how do you get started? The folks at WOW (Wonders of Wildlife) St. Louis sure do. Sponsored by in part by the Missouri Department of Conservation, U.S. Forest Service and Missouri Department of Natural Resources, WOW St. Louis is packed with opportunities to learn skills to enhance your outdoor experience while practicing personal safety and outdoor responsibility.
The fun kicks off with classes in archery, canoeing, fishing, woodworking, orienteering, rock climbing, outdoor cooking and more.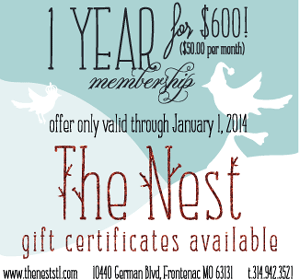 Make your own birdhouse, shimmy up a 24-foot climbing structure or learn how to navigate through an outdoor area using a map and compass. Fishermen can learn the basics of casting, knot typing and baiting techniques.
While the older kids are with Mom and Dad for the day, 4-to-8 year olds can attend the event's enhanced day camp experience, It's All About Outside Kids Camp. Led by qualified National Park Service and Missouri Department of Conservation staff and volunteers, this camp offers youngsters an exciting day of fishing, treasure hunting, crafts and games.           
The fun doesn't stop once the sun goes down. On Saturday night, participants are encouraged to stay for a cookout and overnight camping experience in Forest Park. Activities include outdoor games, a campfire complete with stories from Cowboy Bob and stargazing. You won't want to miss the "Leave No Trace" workshop. You'll discover ways to protect and conserve our natural areas.Or spend the evening looking for great horned owls in Forest Park with the guidance of a naturalist. You'll also learn how to set up and break down your campsite and a variety of tents. Bring your own tent for the event or borrow one. They are available on a first-come, first-served basis. The event concludes on Sunday morning with breakfast snacks.
WOW St. Louis is taking place at Forest Park on Saturday, June 4 through Sunday, June 5. Saturday classes are being held from 8 a.m. to 5 p.m. and are open to attendees 9 and older. The cost is $10 per person or $25 per family and financial assistance is available. To find out more, view a schedule of classes or register for the event, visit WOW St. Louis' website or call the Missouri Department of Natural Resources at (314) 340-5794 or toll free at (800) 334-6946. Registration is required by May 25.
By Andrea Wilson, Events Blogger for SmartParenting          
Photo courtesy of the Missouri Department of Conservation
Tags:
Forest Park
,
Missouri Department of Conservation
,
St. Louis family events
,
St. Louis County Parks
,
Things to do with kids in St. Louis
,
National Park Service
,
Missouri Department of Natural Resources
,
events for kids in St. Louis
,
activities for kids in St. Louis
,
event calendar for St. Louis kids
,
St. Louis Family Fun
,
U.S. Forest Service
,
St. Louis Department of Parks
,
Recreation and Forestry
,
Wonders of Wildlife St. Louis
,
U.S. Army Corps of Engineers
,
Audubon Society
---