You are here
You're Beautiful, Girlfriend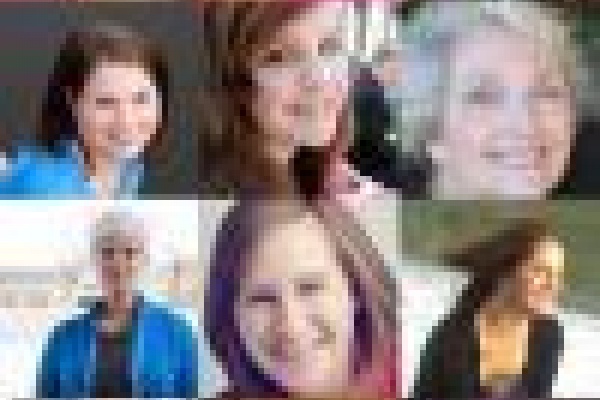 I'm not a huge reality TV fan, but when you're doing some mind-numbing chore, it's good background entertainment. One of my favorites has been Oxygen's Bad Girls Club. Until recently. One Sunday, I was folding laundry, watching the Bad Girls hit some random L.A. club. I didn't notice my 3-year-old sneak in and catch up on the action herself, which was particularly lovely since there was some major cat fighting going on.
"Mommy – she's pretty," she said, pointing to screen.
"Yes honey, she is. But she's not acting very pretty, is she?"
"No, she's mean. I don't want to watch this anymore." My 3-year-old snuck back out.
That's when it hit me. I don't want to watch this anymore, either. Immediately I thought, what if Natalie was calling my child fat on national TV? Or Amber threw a shoe at her for no reason? Then I got a little nauseous thinking about the times I've been taunted, or ugh, even worse, the many times I've been mean to other females.
So I turned to Paula's Home Cooking. Oh, Paula Deen. Paula would never be mean. She'd feed me butter and fried chicken, pat my head, and make everything better.
A few days ago, I was introduced to the antithesis of Bad Girls Club. My pal Nicole at Here's the Diehl posted a link to The Fresh Reflection. Since Nicole is smart and has good taste, I tend to check out anything she links to.
I fell in love.
The Fresh Reflection, created by Jodie Allen and Kim Weiss of Fresh Art Photography in St. Louis, gives women a place where they can see themselves how others see them. Even when they're tired or having a bad hair day or forget lipstick that morning, fellow women can point out the beauty that radiates from them.
Readers simply send a photo of a woman they admire to the site, Allen and Weiss post, and almost immediately, fellow readers can share what they find beautiful in that woman.
Right away, I felt inspired to contact Allen to find out the story behind the site:

Why did you start the site?
Truthfully, it was one of our client's ideas! I was having a bad day and posted a photo of myself straight out of the shower, no make-up and with a big zit on my chin. I looked awful. But the comments and emails I got all were telling me how beautiful I was. I did not see beauty - I saw an over-tired mommy with 30+lbs to lose. But OTHERS saw my beauty. And if we all just told each other how beautiful we are, tell each other what WE see, we might all begin to believe it! Can you imagine if you looked in the mirror and saw what others see? Life changing. It could be totally life changing.
What do you hope to accomplish with the site?
All we want to accomplish is to raise up women. To let them get a glimpse into what the world sees. I think we can all be proud of who we are because of what we've accomplished, what we do, our amazing children, etc. But it's hard, as women, to just simply look in the mirror and believe we are beautiful. But we are. And others can see what we don't.
How has the response been so far?
The response has been amazing. The comments women are leaving are so incredible. The submissions are flying in faster than I can post them. I want each person to get one full day on the blog but with as many submissions as I have I might have to post twice a day!
There's so much negativity on the Web, it's wonderful these two have created The Fresh Reflection, a place where women can appreciate the inner and outer beauty in others.
---