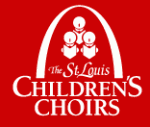 The St. Louis Children's Choirs is a nationally recognized music-education program with 450 talented young singers (ages 6 to 18) from over 200 schools and 85 zip codes in Missouri and Illinois. Young singers achieve music excellence and character development through the performance of high quality choral literature and world-class performance opportunities, and the experience is transformational. Advanced ensembles tour nationally and internationally and perform as the official children's choirs of the St. Louis Symphony.
Under the leadership of Artistic Director Barbara Berner, an outstanding music faculty trains young singers through a challenging and diverse curriculum with six ensemble levels that match the children's musical abilities. The St. Louis Children's Choirs offers young artists world-class performance opportunities and a choral music experience that emphasizes musical excellence and character education. Click here to learn more about our upcoming concerts. All performances are open to the public. Contact the Children's Choirs to learn about the audition process at 314-993-9626.
We also offer summer camps!
Learn more in this American Arts Experience video segment about the St. Louis Children's Choirs.
Click For Directions