Trick or Treating and a Halloween Carnival are on tap a the West C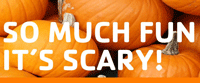 ounty YMCA on Saturday, Oct. 26. Kids can enjoy pony rides, balloon animals, face painting, fun Halloween snacks, a petting zoo, bounce house, crafts and a special visit from Fredbird!
Trunk or Treat will be held from 2 to 2:30 p.m. adn the carnival is from 2:30 to 4 p.m. At 4:15 there will be a free play presented by the Leverage Dance Theater.
Free. At the West County Family YMCA. More information: www.ymcastlouis.org