Sat, 09/23/2017
Sun, 09/24/2017
Big trucks will be a big deal at The Magic House on Saturday, September 23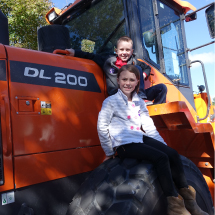 and Sunday, September 24!  Visitors can register to attend a Big Truck Day celebration where they can get up close and personal with a cement mixer, crane, fire truck and more.
Big Truck Day includes a picnic lunch, decorating a construction hat to take home and admission to The Magic House. The cost is $15 per person for members of the Magic House and $20 per person for non-members and is non-refundable. Space is limited and reservations are required.
Reservations can be made online at magichouse.org or by calling The Magic House at 314-822-8900. It's sure to be a "wheel" treat for the whole family!
10:30 a.m. to 2:30 p.m. More information: magichouse.org
Click For Directions