By
Alyssa Chirco
|
Mon, 10/26/2015 - 10:12pm
We're headed into the winter season here in St. Louis, but even though the temperatures are dropping, there are still lots of great events (both indoors and out) for local families to enjoy. Here are our top picks for the month of November:
1. Closing Weekend at the Children's Garden (10/31-11/1)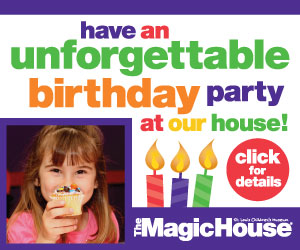 The gates of the Children's Garden are about to close for the season, but not before local kids get the chance for one final adventure. On Saturday, Oct. 31 and Sunday, Nov. 1, children are invited to celebrate the changing of the seasons by potting winter-hearty plants, creating nature journals, drawing spider webs with watercolors and exploring all the regular activities and amenities the Children's Garden has to offer.
From fall-inspired face painting to visits from the Garden's friendly frog mascot, Finn, Closing Weekend features something for everyone. Activities are free with regular Children's Garden admission. For more information, visit www.mobot.org.
2. Kings, Queens and Castles at the World Chess Hall of Fame (Opens 10/31)
Developed in partnership with The Magic House, Kings, Queens and Castles is an interactive exhibit for the whole family that brings the game of chess to life. The exhibit features a wide array of hands-on elements, including a giant chess board with large-scale pieces for kids to arrange, an opportunity to build castle walls with interlocking bricks and a dress-up station where kids can transform themselves into kings, queens or knights. There's even an app that creates a personalized memory book of your visit!
Kings, Queens and Castles is designed for children ages 3-11, and opens on Saturday, Oct. 31. The exhibit runs through Sep. 11, 2016. Admission is $5 per person over the age of 5, free for members and on Tuesdays. For more information, visit www.worldchesshof.org.
3. Winterfest at The Meadows at Lake St. Louis (Grand Opening on 11/20)
Grab your skates and get ready to hit the ice because Winterfest begins at The Meadows at Lake St. Louis on Friday, Nov. 13. This celebration of frozen fun continues throughout the holiday season; look for ice skating, carriage rides, photos with Santa and other children's activities and entertainment at the popular outdoor shopping destination through February 15, 2016.    
A special Welcome to Winterfest 2015 grand opening celebration kicks off the holiday ice skating season at the Winterfest Ice Rink on Friday, Nov. 20 from 6 to 9 p.m. There will be a live DJ playing family hits, hot cocoa, cookies, holiday lights, giveaways, a visit from Santa Claus, complimentary horse and carriage rides and more. Get details at www.themeadowsatlsl.com.
4. Kids Can Help Food Drive at the Magic House (11/14-11/15)                                           
On Saturday, Nov. 14 and Sunday, Nov. 15, kids can get into the Magic House for FREE – and learn about the importance of helping others too. Children ages 12 and under will receive free admission when they bring in three canned goods (per person) to donate to the Museum's annual canned food drive. All food collected will be donated to the Saint Louis Foodbank to help local families in need.
The Kids Can Help Food Drive takes place during regular Magic House hours. Learn more at www.magichouse.org.
5. Fly Guy and Other Stories: A Thanksgiving Holiday Special (11/22, 11/27-11/28)
The St. Louis Family Theatre Series at the Florissant Civic Center is known for its kid-friendly shows, and November's Thanksgiving Holiday Special is no exception. This musical review is based entirely on children's books, including Fly Guy Meets Fly Girl, Diary of a Worm, Paper Bag Princess and Horace & Morris But Mostly Delores.
Shows are at 2 p.m. on Sunday, Nov. 22, Friday, Nov. 27 and Saturday, Nov. 28. Tickets are $5.25 per person (of every age) and can be purchased online or by calling (314) 921-5678.
6. Winter Science Blast Camp (11/25, with Dates in December Too)
Where can your kids go when school is out for Thanksgiving Break? The Science Center! At Winter Science Blast Camp on Wednesday, Nov. 25, children in grades 1-5 will have a blast doing hands-on activities, making projects they'll get to take home and experiencing all the exhibits, shows and galleries that the Science Center has to offer.
Whether you need childcare while you work or just want your kids to enjoy a day filled with fun, you can take advantage of both full-day and half-day sessions. Rates range from $35/half-day to $70/full day, with discounts for members and extended care options available for an additional charge. Call (314) 289-4439 or visit slsc.org for more information and additional dates for camps in December.
7. Ameren Thanksgiving Day Parade (11/26)
You can always watch the Macy's Thanksgiving Day Parade on television, but if you want the real-life parade experience, bundle up the kids and head downtown bright and early on Thanksgiving morning to see the 31st annual Ameren Missouri Thanksgiving Day Parade. The parade kicks off at 8:45 a.m. on Thursday, Nov. 26, and will travel from 7th and Market towards Union Station to 20th Street.
With over 130 parade units, you'll see musical floats, giant helium balloon figures, restored antique cars and fire trucks and marching bands from across the St. Louis area. And be sure to stick around 'til the end, since kids will want to see Santa Claus as he arrives in St. Louis to wish everyone a happy holiday.
8. Garden Glow at the Missouri Botanical Garden (Opens 11/21)
You have until January to get your glow on at the Missouri Botanical Garden's third annual Garden Glow, but this is a perfect event to enjoy with family and friends over November's extended Thanksgiving holiday. See the Garden transformed into a winter wonderland with more than a million lights, enjoy delicious food and drink and celebrate the start of the season with traditional holiday music and festivities.   
Garden Glow opens on Saturday, Nov. 21 – with a special member preview on Friday, Nov. 20 – and is open from 5 to 9:30 p.m. on select evenings through Jan. 2. Admission ranges from $6 to $18, with special Family Nights featuring children's tickets for just $3. Click here to learn more about this festive local favorite – and look for our complete list of top holiday events for St. Louis families coming soon! 
Photo courtesy of the Missouri Botanical Garden
Alyssa Chirco is a freelance writer, mother and margarita lover, not necessarily in that order. In addition to writing for STL Parent, she is Contributing Editor at Parenting Squad, and covers parenting, health and lifestyle topics for publications across the country. She recently moved from the suburbs of St. Louis to a small town in rural Jefferson County, where she is learning to survive with no Target or Starbucks in sight. Follow her on Twitter @AlyssaChirco
Comments