By
Amy Burger
|
Wed, 09/27/2017 - 5:15pm
The leaves are turning and the scent of pumpkin spice is in the air. Fall is a wonderful time for families to get out and have some fun in St. Louis. Here are our top picks for family-friendly events in October:
1. Great Godfrey Maze in Godfrey, Ill. (Ongoing through Fall)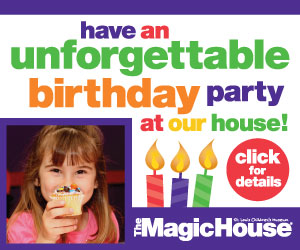 People come from miles around to visit his a-maze-ing seven-acre corn maze, now open on the weekends for general admission. On Friday and Saturday nights, the maze stays open after dark (flashlights required). A full concession stand on site is open during maze business hours. This family-friendly, alcohol free attraction isn't the only activity. A free Corn Crib lets kids get up close and personal with corn, and new this year is the giant inflatable jumping pillow. There's also a Hay Wagon and Cow Train ride available for an additional $2 per rider. Admission is $6 for adults 12 and over, $4 for kids ages 6-11 and free for kids ages 5 and under. Please note that due to uneven surfaces within the corn maze, it is not fully wheelchair accessible.
The Great Godfrey Maze is open on Fridays from 6-10 p.m., Saturdays from 11 a.m. to 10 p.m. and Sundays from 1 p.m. until dusk at the Robert E Glazebrook Park located at 1401 Stamper Lane in Godfrey, IL. For more information, visit godfreyil.org.
2. Zootoberfest at the Saint Louis Zoo (10/1, 10/7, 10/8):
Enjoy a family-friendly take on Oktoberfest with some Saint Louis Zoo flair! See your favorite animals, then enjoy kids' activities, live "Oompah" bands and other entertainment, German food, and a Biergarten with a variety of beers for the parents and root beer for the kids.
Zootoberfest takes place on takes place on Saturday, September 30, Sunday, October 1; Saturday, October 7; and Sunday, October 8 from 10 a.m. to 3 p.m. at the Saint Louis Zoo in Forest Park. For more information, visit stlzoo.org.
3. Family Hayride in Castlewood State Park with Babaloo (10/7)
Enjoy a fun fall hayride complete with a chili and hotdog dinner, donuts and cider for dessert. Roast marshmallows by a fire while listening to St. Louis' favorite kid-friendly musician, Babaloo, in a special performance. Cost is $10-$12 per person and registration is required.
Family Hayride with Babaloo takes place on Saturday, October 7 from 5:30 to 8:30 p.m. at Castlewood State Park, located at 1401 Kiefer Creek Road in Ballwin. For information, visit ballwin.mo.us.
4. Dinosaur Train Exhibit and Opening Breakfast at The Magic House (10/7-8)
Opening October 7 and created by The Magic House in collaboration with The Jim Henson Company, Dinosaur Train: The Traveling Exhibit is based on the popular PBS KIDS television series about a curious Tyrannosaurus Rex named Buddy who travels through time to discover everything there is to know about dinosaurs. This new exhibit will transport kids back to the time of dinosaurs and encourage basic scientific learning through fun, hands-on activities. On Sunday, October 8, families can attend a special Dinosaur Train Breakfast where kids can spend the morning with Buddy, have The Magic House all to themselves and experience some private playtime in the Dinosaur Train exhibit. The breakfast cost is $15 per member or $20 per non-member. The exhibit is free with regular museum admission.
Dinosaur Train: The Traveling Exhibit starts Saturday, October 7 at The Magic House, located at 516 S. Kirkwood Road in Kirkwood. For information, visit magichouse.org.
5. South Grand Chalk Walk (10/14)
Calling all artists, including kids! Come down and make sidewalk chalk art at the 2nd Annual South Grand Chalk Walk on Saturday, October 14. It's a great time for the community to come together to celebrate artistic talent, fresh air and everything that South Grand has to offer. All entries are welcome and it's free of charge. Compete for $750 in cash prizes for judged categories and community favorites.
Rest stops along the walk will feature local music, refreshments and activities for kids. Official judges will cast their ballots at 4 p.m. for Best of Show (adults), Best K-8 Art, Best High School Art and Best Logo Reproduction.
The South Grand Chalk Walk takes place Saturday, October 14 from 10 a.m. until 4 p.m. in the South Grand district of St. Louis. For more information, visit southgrand.org.
6. The Wiz at COCA (10/20-22)
COCA Theatre Company presents the beloved seven-time Tony Award-winning musical featuring a dazzling mix of rock, gospel and soul music – including Brand New Day and Home – to create a refreshing update to a timeless classic. The Black Rep's Ron Himes joins COCA to direct Dorothy and her crew as they adventure through the Land of Oz in an upbeat, family-friendly, retelling of L. Frank Baum's "The Wonderful Wizard of Oz" for ages 5+. The performance is two hours, with intermission. Ticket prices range from $14-18.
The Wiz takes place Friday, October 20 through Sunday, October 22 in the Founders' Theatre at COCA, located at 524 Trinity Avenue in University City. For show times and more information, visit cocastl.org.
7. Spotlight on Literacy Family Event at Kirkwood Public Library (10/21)
The whole community is invited to a celebratory family-centered event in partnership with We Stories, featuring a professional storyteller, crafts, and interactive activities highlighting that diverse books are for everyone. Learning materials about when and how racial bias forms in children will be available, as well as library materials that support families beginning or continuing these conversations.
Spotlight on Literacy takes place on Saturday, October 21 from 10-11 a.m. at the Kirkwood Public Library, located at 140 E. Jefferson in Kirkwood. For more information, visit kirkwoodpubliclibrary.org.
8. Bug Ball at The Butterfly House (10/27-28)
Step into the wonder and beauty of butterflies, insects, spiders and their other many-legged friends at the Butterfly House. Play games, create "spook-tacular" crafts and take home from the hand-painted Treat Houses. Dance to Monster Jams at the Bug Ball or spy on the amazing Owl Butterfly, which are only active during dusk and dawn. Guests will enjoy a fun dinner including themed menu items such as creepy pizza fingers, cream cheese, petrifying pastries, eerie pudding, frightful fruit, pumpkin punch, and more. Admission into the Butterfly House, activities, light refreshments, crafts, treats, and goody bags are included in the ticket price, which is $14 per person or $12 per person for Missouri Botanical Garden members. Space is limited and reservations are required. 
The Bug Ball takes place on Friday and Saturday, October 27 and 28 from 5:30 to 7:30 p.m. at the Sophia M. Sachs Butterfly House located in Faust Park at 15193 Olive Blvd. in Chesterfield. For information, visit mobot.org.
Looking for Halloween fun? Our Ultimate List of Halloween Events in St. Louis is right here!
Photo: Great Godfrey Maze
Tags:
St. Louis Family Events
,
things to do in St. Louis with kids
,
The Butterfly House
,
South Grand Chalk Walk
,
The Wiz at COCA
,
Great Godfrey Maze
,
Zootoberfest at the Saint Louis Zoo
,
St. Louis Zoo
,
Dinosaur Train at The Magic House
,
St. Louis County Parks
,
Kirkwood Library
,
We Stories St. Louis
,
Castlewood State Park
Amy Burger is a mom, freelance writer and communications professional with nearly 20 years experience working in St. Louis. Her work has appeared in numerous publications and media outlets including STL Parent, Missouri Life magazine, the St. Louis Post-Dispatch, Town & Style and kdhx.org, among others. When she's not working, she enjoys spending time with her husband and two beautiful girls at home in Kirkwood.
Comments