You are here
Thanks to My Apps, I Feel Safer Already
There must be something genetic about a fascination with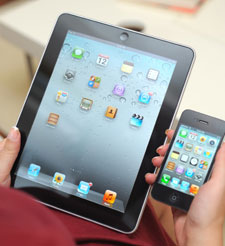 summer storms. Both my boys will stay glued to YouTube tornado videos for hours, and their cousin just finished a college course that involved driving across the Midwest chasing tornados. Yes, that's right – her parents' tuition dollars, hard at work.
I don't share their fascination, but having lived in Missouri 11 years, I totally respect that storms around here have the power to knock down 70-foot trees in my yard, take out power to hundreds of thousands in a single pass, and trigger the sirens that drag us from our snuggly beds into the dusty basement at all hours of the night.
No one would ever call me a survivalist, but those 11 years here have taught me a few things about being prepared. We have a gas generator in the basement, and we test it monthly. My important files are backed up to Dropbox, as my bank recommends. I have plenty of food in the basement, just in case – along with a couple of chairs and a makeshift sleeping area for the kids.
We don't bring much along when we head for the basement, but we always grab the smartphone and the iPad because of their capability to:
Track storms (www.wunderground.com)
Measure the time between lightning flashes and strikes (Lightning Tracker for iPhone and Lightning 1.4 for Android)
Help us find each other in case we were to get separated (Life360 for iPhone and Android)
Give us light if the power goes out (Flashlight by Rikfor iPhone and Brightest Flashlight Free for Android)
Entertain us! (Because, let's face it, after the excitement of dashing to the basement wears off, the whining starts – and after half an hour of that, the idea of dashing out into a torrential downpour to escape sounds pretty darn tempting!)
In fact, the apps my family has are really just the tip of the iceberg when it comes to emergency preparedness. A short list includes apps that help you:
None of these apps gives you much power against Mother Nature, of course, but I've found they do add peace of mind. And when you're cowering in the basement with two tired, cranky, frightened-but-pretending-not-to-be kids, peace of mind is priceless.
By Amy De La Hunt, Health Blogger for SmartParenting
---