You are here
Art and Nature Make for a Unique Camp Experience at Laumeier Sculpture Park
Summer is a great time for kids and teens to explore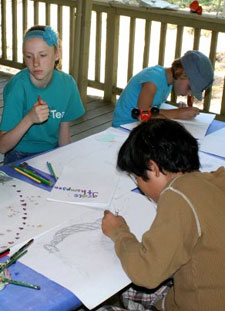 their creative side! Laumeier Sculpture Park offers art camps that let kids create all kinds of art while enjoying some of the old-fashioned joys of summer — like hiking and swimming.
 
Because of the unique park setting at Laumeier, campers spend lots of time exploring woodland trails, the outdoor permanent collection of art and the sculpture park's changing exhibits.
 
Karen Mullen, Laumeier Sculpture Park's Curator of Education, said the camps are a unique opportunity for young people to create art in a natural setting while learning about contemporary sculpture through Laumeier's collections and exhibitions.
 
Camps are designed so that each child develops his or her own artistic talents. "Campers like the variety of art projects and art media they get to work with through the week, hiking through the nature trails, and each day they eat lunch near a different sculpture."
 
Led by experienced, local artists, art educators and professional staff, Laumeier's Art Camp provides participants the opportunity to experience a wide variety of materials while they build their individual skills.
 
"Campers learn about different art materials and processes used by artists," Mullen said. "They enhance their problem-solving skills as each child creates their own works of art."
 
Art Camps for ages 6 to 15 are available in one-week sessions that run from 9 a.m. to 3 p.m. Extended day is available, offering early morning (7 to 9 a.m.) and afternoon (3 to 6 p.m.) sessions. Campers are divided into groups according to age and projects are designed to be age-appropriate.
 
In addition to studio time, campers take nature hikes around the park, and once a week travel to the newly renovated Sunset Hills swimming pool for an afternoon of water fun.
 
Upcoming camps include:
 
ARTtrek: Campers learn about artists and techniques used in faraway lands and how each interprets the world around them through artistic expression.
 
Don't Pour Borax Down Your Thorax: Campers learn environmental lessons from the Lorax! They'll scavenge, repurpose, alter and tweak everyday resources and materials to create their own art.
 
MARVELous AND ANIMEzing: At this camp, participants create super heroes, creatures and critters with their own unique styles and super powers!
 
Camps are held at Laumeier Sculpture Park, 12580 Rott Road, which is centrally located at the interchange of Interstate 270 and Highway 44. Campers can sign up for one week or all three to gain a broader experience. The average staff-to-camper ratio is 1:7. All materials are provided, and campers receive a camp t-shirt.
 
To sign up or learn more, visit www.laumeier.org or call 314-615-5269.
 
---