You are here
Taken Down by a Toddler
When my first daughter was a toddler, I remember how my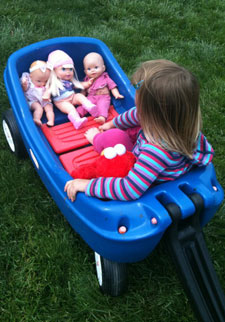 mom friends bemoaned their sons' addictions to Thomas the Train and how their purses and diaper bags were stuffed with Edwards and Thomases.
I laughed when they pulled out train after train while hunting for their keys or stepped barefoot on a random Percy left on the steps.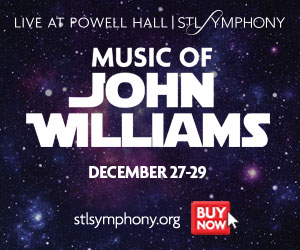 Well, shame on me for giving them crap, because karma has a way of kicking you in the butt. And this karma doesn't fit conveniently in a Kate Spade.
Recently, my two-year-old, KT, has become obsessed with baby dolls – eight baby dolls to be exact – and insists on carrying all of them everywhere she goes. Her bevy of babies includes the following: Baby, Baby Beyoncé, Baby Buddy, Baby Bib, Baby Eye, Baby Bathroom, Baby Rock Star (who I lovingly refer to as Baby Groupie since she has a guitar on her t-shirt and her skirt is always jerked up over her head), and Elmo (because every family has that one brother who never shaves and always seems to be high).
Those unfamiliar with the sect think it's cute. "Aw, look what a sweet mommy KT is." Don't be fooled – she's a rebel leader swathed in a Tinker Bell t-shirt. The wannabe dictator of our house is training her minions to stage a revolt, thereby seizing control from the commanders in chief of our little family. In fact, that babbling you hear her whispering into her babies' ears? It's not sweet two-year-old gibberish. It's German – "Wir werdendie Elternzu zerstören!"
In fact, while glancing through The 33 Strategies of War by Robert Greene, I noticed KT has modeled her uprising after many of the tactics proposed by the author. And I finally realized she didn't tape those Genghis Khan and Napoleon posters up in her room because she thought they were hotties, but because they are her icons.
Here are three strategies she has learned from Greene:
Know Your Enemy: The Intelligence Strategy Like many two-year-olds, KT doesn't want to go to bed. Or to school. Or in the car except to go to Chuck E. Cheese's. She knows that when her dad or I start running the bath water or grabbing the car keys, it's a sign that "Oh no, they're going to force me to do something I don't want to do."
The moment she observes these signals, KT dives into defensive mode, strategically hiding seven dolls throughout the house so when she goes to bed at 8 p.m. and wails about a missing doll or two, she can delay her bedtime a good 20 minutes as her father and I rip apart the house to find them.
It's pure genius. After a long day, that 8 p.m. bedtime is my happy place. And every minute past 8 that I'm searching for Baby Buddy under the beds or in the refrigerator instead of watching Parks and Recreation and eating Heath bars weakens my resolve. Especially when I realize I'm being manipulated by a person who licks the bottom of her shoes.
The Divide and Conquer Strategy– The smartest thing KT and the babies have done is build a wedge between my husband and me at a time when we need to maintain a united front.
Observe:
KT: I want Baby Buuudddddyyy!
Me: Mr. P, where's Baby Buddy?
Mr. P: Oh crap, I left her in KT's cubby at school.
Me: What? OMG! OMG!
Mr. P: She has seven other dolls...
KT: I want Baby Buuuddddyyy!
Me: I swear, if she doesn't go to sleep tonight because you left Baby Buddy at school, I will gut you with this Play-Doh knife.
The Fait Accompli Strategy Through this method, the commander progresses in small enough steps so that when the opposition does notice, it's too late to defend yourself.
KT's coup started simply. Mr. P tripped over a baby left in the hallway. My heart stopped for a minute when I rolled over in bed to find a baby doll staring me in the face with her creepy blinking eyes and serial killer grin. But worst of all, just a few days ago, the babies nearly took my husband out.
As I was getting ready for work, Mr. P brought KT downstairs to get her something to eat. That's when I heard a gigantic crash, and after calling out and receiving no response, I flew down the stairs in a panic where I found my husband at the foot of the steps surrounded by a multitude of babies.
Me: OMG, are you ok?
Mr. P: Yeessssss. I fell down the stairs.
Me: How did you fall down the stairs?
Mr. P: I'm carrying eight babies! How am I supposed to hold the bannister when I'm carrying eight babies? They're destroying us, Nicole. They're destroying us!
I can see it now. One day, you'll find Mr. P and me sitting on our porch, locked out of our own house and whimpering about baby dolls and Elmo. Inside, a two-year-old, high on victory, will gorge herself on fruit snacks and Crayola all over our walls while doing the Dora the Explorer "We Did It!" butt wiggle - all because she can.
Karma really sucks.
By Nicole Plegge, Lifestyle Blogger for SmartParenting
---