You are here
Catch the Action of Live Soccer with the St. Louis Athletica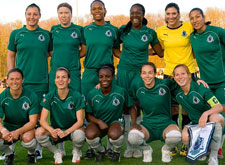 Are your kids crazy about soccer? Keep them inspired at a women's professional soccer game with the St. Louis Athletica. The season kicks off April 11 with a game against the FC Gold Pride at the St. Louis Soccer Park in Fenton.
The Saint Louis Athletica is one of the founding franchises of the Women's Professional Soccer league, formed in 2007. The team, which officially formed in St. Louis in 2009, is made up of professional players from around the world including England, Sweden, Brazil, Japan and right here in St. Louis. Hometown midfielder Lori Chalupny was voted into the inaugural WPS All-Star Team last year as a starter. The Nerinx Hall graduate won a gold medal in the 2008 Beijing Olympic Games, playing in five Olympic matches and scoring against Japan in the semifinal match.
Catch Chalupny and her teammates in what is sure to be an exciting season at the Soccer Park. For information or to reserve your tickets call 888-STL-GOAL or go here for more information.
Amy Burger, Events Blogger for SmartParenting
---