By
Calendar Editor
|
Mon, 05/01/2017 - 3:04pm
The Magic House has a very special houseguest, and he's everyone's favorite big red dog. Kids and families can spend the dog days of summer exploring the new exhibit: Adventures with Clifford the Big Red Dog! Visitors can board the Birdwell Island ferry and journey to the world of Clifford, the enormous red dog with a heart to match. 
Inspired by the Scholastic Entertainment TV show Clifford the Big Red Dog on PBS Kids, the exhibit offers numerous immersive "paws-on" adventures that reinforce Clifford's Big Ideas: ten simple, tanglble life lessons designed to help young children navigate their world: share, play fair, have respect, work together, be responsible, be truthful, be kind, believe in yourself, be a good friend and help others.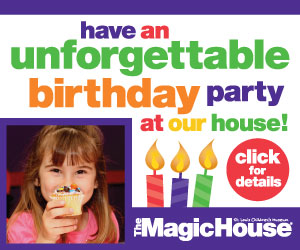 Kids can hang out with the colossal nine-foot high Clifford with a tail to slide down, just like Emily Elizabeth does on the television show. They can also help fill Clifford's big dog bowl with bones using a conveyor belt, and find "bone" -ifide treasures at T-Bone Beach. And don't miss the Norman Bridwell Art Retrospective and see 50 years (that's 350 dog years!) of artwork and stories by the creator and award-winning author of Clifford the Big Red Dog. 
Adventures with Clifford the Big Red Dog opened at The Magic House on May 20 and is included with Magic House admission.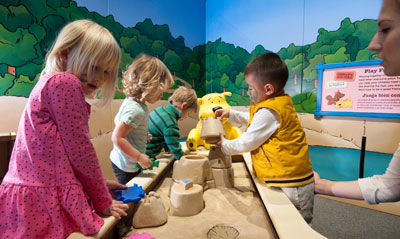 Some highlights: At the entrance of the exhibit, don't miss Birdwell Island, the home of Clifford and his owner, Emily Elizabeth Howard. (Clifford was the runt of the litter when Emily Elizabeth adopted him. Much to everyone's surprise, Clifford outgrew all the other dogs because of Emily Elizabeth's limitless love!)
You'll see the Birdwell Island lighthouse, board the ferry, hear the sounds of the seagulls and ocean waves, see Clifford's back yard and all of Clifford's favorite places arouund the island. Be sure to say hi to Samuel and his son Charley at Samuel's Fish and Chips Shack, visit T-Bone Beach, and take the stage with Clifford and his pals in Emily Elizabeth's Backyard Theater.
Photos courtesy of The Magic House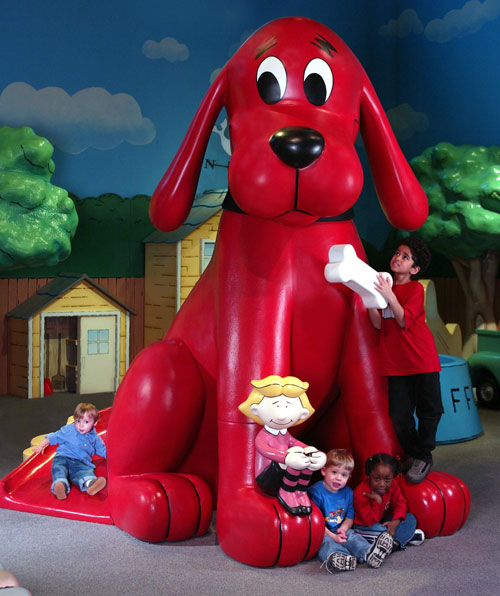 Comments