You are here
Come Visit Illinois - We Won't Bite
About a year ago, my family and I moved from St. Louis to the Metro East, or as I lovingly call it, the Dark Side.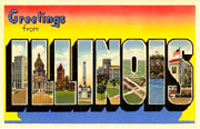 I have come to the conclusion that St. Louisans are nervous about making that scary, scary trek across the Poplar Street Bridge for three reasons:
I'm frightened of Illinois with your corrupt politicians and overabundance of gentlemen's clubs. Now, I don't have any way to soothe your fears about politics because our former governor terrifies me too, but I can assure you, there are no topless clubs, 24-hour liquor stores and questionable massage parlors within an eight block radius of my house. I swear!
Illinois is so far away. It's a whole other state for goodness' sake! St. Louis is as close – or even closer – to Edwardsville, Fairview Heights and Collinsville as it is to Chesterfield, St. Charles or Arnold. Really – I Mapquested it!
There's nothing to do there. Maybe our shopping and restaurant choices are smaller, but there's still plenty for families to do. Here's just a handful of places you can take your children to for fun this spring and summer:
Edwardsville
Smaller than that other children's museum, The Children's Museum in Edwardsville offers an inexpensive place where kids' imaginations can run wild. My 3-year-old loves the dress-up area and the pretend town where she can dream of becoming a doctor or banker.
From May through October, downtown Edwardsville becomes the scene of The Land of Goshen Community Market, featuring locally grown foods, crafts and entertainment in a family-friendly atmosphere.
Grafton
Mr. and Mrs. P love Grafton for its restaurants and wineries. If the kiddos are with us, Pere Marquette State Park has plenty of activities, including horseback riding and hiking, as well as a lodge on site.
Grafton's water park, Raging Rivers, has something for everyone – a play area for toddlers, action slides for the older kids and a great view of the Mississippi River. Every time I've been there, it's been busy, but never crowded.
Belleville
Although Eckert's Country Store and Farms has locations in Grafton and Millstadt, its Belleville location is home to its restaurant offering homecooking and glorious fried biscuits. Mmmm, fried biscuits...so warm and sweet…sorry, got off track. Take the kids for strawberry picking in May and blackberry and peach picking later in the summer.
Belleville is also home to the Skyview Drive-In Theater and hosts Art on the Square May 14-16, one of the nation's top art fairs.
These are only a few of the many attractions your family can enjoy. From Splash City in Collinsville to the Gateway Grizzlies in Sauget to the Camp River Dubois Lewis and Clark Historic Site in Hartford, a day of fun is waiting for you with one quick journey across the river. For more details on attractions and events, visit the Tourism Bureau Southwestern Illinois website.
By Nicole Plegge, Lifestyle Blogger for SmartParenting
---