By
Amy Burger
|
Thu, 09/07/2017 - 9:54pm
Visitors to the Saint Louis Zoo this fall will have a chance to experience grizzly bears up close and personal in a brand new, state-of-the-art habitat twice the size of their old grottos called Grizzy Ridge. Thanks to a generous leadership gift from Centene Charitable Foundation, as well as other donors, Centene Grizzly Ridge will open to the public on Friday, September 15 at 9 a.m.
Grizzly Ridge was constructed on the site of the Zoo's historic bear grottos, which were closed in 2015 to begin construction. The exhibit features approximately 7,000 square feet of outdoor habitat, including a large freshwater wading pool, waterfall and stream, climbing and back-scratching rocks, a variety of grasses, mulch and sand, and other features to stimulate the bears both mentally and physically. Visitors can view the bears through a total of 22 glass-panel windows, offering a panoramic view into the bears' outdoor habitat.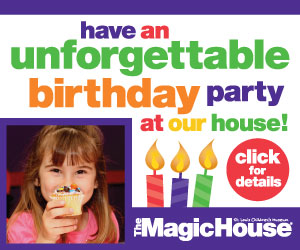 Another fun feature of Grizzly Ridge is the Cub Crawl, a crawl-through cave where kids can view the bears nose-to-nose. In the Trail Shelter, zoo staff and volunteers will convey key conservation messages and answer questions about the bears.
"Centene Grizzly Ridge offers children the opportunity to experience 'bear country' through both interpretive theming and active learning experiences," says Louise Bradshaw, Fred Saigh Director of Education at the Saint Louis Zoo. "Some of the interpretive elements include bear tracks, a kid crawl viewing space, and replicas of a grizzly bear skull, claw, and scat.  Interactive signs show the ways people can live in bear country safely. Even the trash cans will be 'bear-proof,' showing how being mindful helps keep bears safe."
Grizzly Ridge's first residents will be two orphaned grizzly bear siblings from Montana, a 350-pound male named Huckleberry (Huck) and a 250-pound female named Finley, that were rescued as cubs in northwestern Montana last year after their mother was removed by Montana Fish, Wildlife and Parks Service for repeated nuisance behavior around humans. Grizzly bears are brown bears, one of the largest and most widely distributed bear species. Brown bears are listed as a threatened species in the lower 48 states under the Endangered Species Act. Their greatest threat to survival is human encroachment and ensuing habitat loss.
Centene Grizzly Ridge Fun Facts:
$11.1 million — Cost to build Centene Grizzly Ridge
7,000 square feet — Size of the outdoor habitat for the bears
6,000 gallons — Total amount of fresh water outdoor pool
3,300 square feet — Size of the Grizzly Bear Care Center (indoor bedrooms, keeper area, life support system, etc.)
Three-fifths of the original rockwork from the 1920s' Bear Bluffs remains in the new exhibit
1,000 cubic yards — Amount of concrete used
3 inches — Thickness of the four laminated layers of glass for the viewing windows
22 panels — number of glass panels
51,117 pounds — Total viewing glass weight – each square foot weighs 44 pounds
Artist's rendering of the Centene Grizzly Ridge courtesy of the Saint Louis Zoo
Amy Burger is a mom, freelance writer and communications professional with nearly 20 years experience working in St. Louis. Her work has appeared in numerous publications and media outlets including STL Parent, Missouri Life magazine, the St. Louis Post-Dispatch, Town & Style and kdhx.org, among others. When she's not working, she enjoys spending time with her husband and two beautiful girls at home in Kirkwood.
Comments