You are here
Kid City Promises A World of Fun
The Taste of St. Louis has become one of the top-rated festivals not only in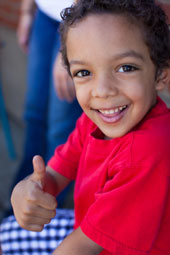 St. Louis but the Midwest. And this year, the addition of a huge "city" dedicated to kid-friendly fun promises to kick it up even one more notch.
That "city" is the annual festival Kid City, a kid-focused event that in previous years has been held in St. Charles and, before that, at the Saint Louis Science Center.
Calling the festival a city isn't much of a stretch either. Kid City will consist of an entire block of free, active, hands-on fun for kids of all ages.
From meeting their favorite storybook characters, to getting their geek on in the Technology Zone, to milking a cow or trying their hand at their favorite sport, there's a huge variety of activities for kids of all ages to experience.
"It makes so much sense for us to partner with Taste of St. Louis," said Tammy Wildman, Kid City organizer. "We appeal to the same people and offer the same high-quality experience.
"We have an entire city block at the intersection of Chestnut and 14th Street, and it will be filled with free family fun, adventure and the best family-focused resources the St. Louis region has to offer."
Wildman, a mother of 2, added that bringing the two festivals together helps parents maximize their time with their children as they enjoy Kid City and the Taste of St. Louis together.
Some of the activities scheduled at Kid City include:
The Big Top: A fun venue where kids and parents can enjoy
performances by St. Louis favorites The Everyday Circus Youth, Reptile Experience and Tekno Bubbles.
The Prairie Farms Experience: Kids can see what life is like on a dairy farm. They can milk a cow, play games and enjoy some of their favorite Prairie Farms products, like chocolate milk.
The Road Wise Program: This interactive, life-size cityscape helps kids learn how to safely navigate city streets. The first 50 children who participate each day (and who are age 10 and under) will receive a free bike helmet and fitting.
Sports Fun: This includes the Rawlings T-ball cage, Kid City soccer park and Hammer's giant carousel bounce.
Charcter Visits: Kids can meet their favorite characters, like Dora the Explorer and Elmo. Bring your cameras for a souvenir photo!
The American Eagle Kids Credit Union: Kids can play games that teach them to count and manage money.
Sonic Drive-In Book Fair: Even the book worms aren't left out!
Kid City hours differ from those of Taste of St. Louis. Visit Kid City on Saturday, Sept. 29 and Sunday, Sept. 30 from 11 a.m. to 5:30 p.m.
The Taste of St. Louis hours are Friday, Sept. 28 from 4 to 11 p.m.; Saturday, Sept. 29 from 11 a.m. to 11 p.m. and Sunday, Sept. 30 from 11 a.m. to 9 p.m.
Both are taking place at Soldiers' Memorial (12th and Market) in downtown St. Louis. Click for map and directions
For more information about Kid City, go to www.stlkidcity.com
---