You are here
Five Fun Ways to Overcome Winter Weather (and Other Foes of Exercise)
As last week showed us, we may get winter after all!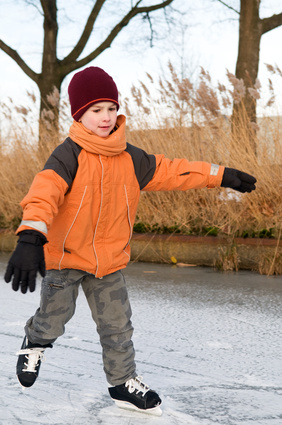 After so many weeks of mild temperatures, my kids didn't have much interest in braving the biting wind on Thursday afternoon to go out and play in the snow.
Neither, apparently, did their teachers. Although their school, like most in the St. Louis area, officially says the children need to bring warm coats, hats and gloves every day because they will be going outside even when it is cold and snowy, in practice only a few intrepid teachers took their kids to the playground. Most chose to stay indoors. And because there is only one small gymnasium, many students wound up playing board games in their classrooms during recess.
Now I'm not advocating for frostbite, but since in this particular school the third-graders only have one recess per day anyway, the kids sat around all day long. (And besides, frostbite was a long way off. The Canadian Paediatric Society says kids are OK playing outside as long as the temperature is above -13 Fahrenheit!)
As a native North Dakotan, I'd rather my boys were outside even when it snows. Especially when it snows! Perhaps cold-weather preparedness was ingrained in me from childhood; I'm all about layering clothes, covering the head and ears, wearing thick socks inside heavy shoes or boots … Safe Kids Canada has more tips for keeping kids healthy while they're outdoors during the winter.
Safety is obviously something schools need to take into account when they plan their outdoor time. But it can also result in unhealthy limits to exercise, as a study published recently in Pedatrics pointed out. The authors looked at preschoolers in Cincinnati – arguably similar in many ways to St. Louis – and found that children in childcare settings often don't meet the recommended level of daily activity (which is 60 minutes of moderate exercise, according to a position paper about physical fitness and obesity prevention from the American Academy of Pediatrics).
Three main barriers to outdoor free play that the study noted were injury prevention, money for equipment and pressure to focus on academics. In preschoolers! For third-graders like my son, with the Missouri Assessment Program test coming up, there is sometimes an unspoken acceptance of teachers' decisions to infringe on physical activity, for example by keeping kids an extra few minutes to finish a lesson. And very few districts anywhere are flush with cash for basic necessities, let alone playground equipment.
The rest of this week promises to be on the chilly side, and it doesn't sound like there will be enough snow for sledding (every child's favorite winter sport!) But you can counteract the tendency to hibernate on the couch with video games – especially if your children's school is light on exercise – with an outing to fun places like these:
By Amy De La Hunt, Health Blogger for SmartParenting
---