You are here
A League of Their Own
For the past two weeks, players taking the field for Challenger Baseball games Saturday mornings at Tilles Park have been just like those in every other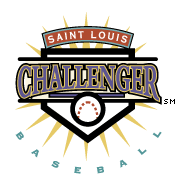 league around town – watching the sky for rain, adjusting their caps and uniforms, taking practice swings with their bats.
These game-time rituals have added poignancy, however, because the players in this league all have developmental disabilities. The unique program pairs the players with volunteer "buddies" ages 10 to 20 whose role is to help the players hit or field the ball when needed, and to encourage them continually.
League organizer Buck Smith said via e-mail that participation has grown this spring. "We're now up to 40 teams and about 600 registered players. And we are looking at starting a number of new teams this year, including some more outside of the St. Louis Metro area."
In Challenger Baseball, there are no strikes and no outs. Every player bats each inning and every player takes the field. They learn the fundamentals of baseball rules, including how to bat off a tee or pitcher.
Volunteer buddies don't need to know how to play baseball. The only requirements for them are that they be in the age range and that they bring enthusiasm. Before each game, Smith offers newcomers a short explanation of what to expect. Although some parents might wonder how well their child will handle being a buddy, by all accounts the kids rise to the occasion.
Buddies don't need to sign on for the whole season – they can show up whenever they're able to.  "We need [volunteers] at all locations: Tilles Park, Madison County, Pike County, and Farmington; and in the fall at Franklin County and Ranken Jordan," said Smith. "We could really use buddies at Tilles Park on Saturday mornings at 10:30. We have eight teams playing at once and if everyone shows we could have as many as 160 kids who need buddies."
The sign-up form to become a volunteer is available online at the Saint Louis Challenger Baseball homepage. Buddies are needed Saturday mornings at 10 a.m., especially at Tilles Park, and at 7 p.m. Tuesday evenings May 4, 18 and 25 at Mike Matheny/Miracle Field in Chesterfield. Spectators are welcome too! If the weather looks like rain, call ahead to confirm that the games are on at 314-822-2518 or 314-772-5064.
By Amy De La Hunt, Health Blogger for SmartParenting
---