You are here
Moms Go Retro in Launching Their Businesses
In an effort to save the environment and our own wallets, we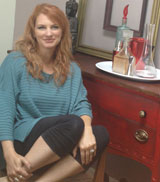 as parents try to reinforce the importance of recycling to our offspring. We teach them to recycle their juice boxes, turn cardboard boxes into forts, and fix broken toys rather than tossing them in the trash. 
Now meet two local moms who have taken this reduce/reuse/recycle philosophy one step further. They've launched their own green companies focused on upcycling, and just as important, impeccable style – two principles their little ones can look up to. 
Fabulous furnishings
When her daughters, now six and four, began to grow out of their toddler years, Kelly Polson spent many Saturdays in and out of area furniture stores, hunting for the perfect pieces to finally upgrade the family's furnishings. 
"I was getting very discouraged," she said via email. "I couldn't seem to find anything that fit my style, and if I did, it was so far out of our price range." 
Instead of wasting any more weekends, Polson decided to take matters into her own hands. Using pieces she purchased off Craigslist, her experience as a former graphic designer, and design techniques she found on the Internet, Polson began turning castoff furniture into customized art. 
As her house filled up and her passion for repurposing blossomed, Polson moved beyond outfitting her own home and launched ReVibed by Kelly, a green business focused on modernized vintage and upcycled home décor. Through ReVibed, discarded pieces from thrift stores, estate sales, and even right off the street get a new life and a new home. 
"I don't always paint or change a piece I find," Polson remarked. "Sometimes I just scratch-cover, clean up, tighten, and fix any broken components. I'm also very careful not to ruin the integrity of the piece. For instance, if I find a mid-century modern buffet in great condition, I won't change its look – the same with high-quality antiques. I usually look for more damaged pieces that need my help." 
Polson's entire family has supported her new endeavor. Her husband and father are ready with power tool expertise and her 17-year-old son has become her personal furniture moving assistant. Even the little ones have gotten in on the business. 
"I want my children to know that 'new' is not necessarily 'better,' and they have a large part in knowing where I found something, what I'm doing with it, and where it will live later. Looking around my home, I cannot find a piece of furniture that I purchased new. The kids often venture to thrift stores with me; we move pieces around, shake them, look underneath – they love it." 
Polson's pieces will soon be up for sale at Sparkle, a new boutique in Kirkwood opening this August. In the meantime, check out the ReVibed by Kelly page for current sale items. 
Shabby chic events
When an event planner or photographer needs an eclectic piece to capture the theme of an event, she doesn't have to spend hours scouring thrift stores and eBay hunting for props. Instead, she can search the Finch Vintage Rental website to find vintage décor from retro toys for a kids' photo shoot to antique lighting fixture for a dinner party to distressed seating to outfit an entire wedding reception – all available for rental. 
Launched by Mary Price, who spent 12 years in corporate marketing, Finch Vintage has allowed this busy mom to both spend more time with her family, which includes her four and two-year-old daughters and a new baby on the way, and put her passion for antiquing to work for her. 
Said Price, "I've always known I wanted to have my own small business, but I also knew it had to be something I was passionate about. And by passionate, I don't just mean a little hobby you enjoy; I mean that thing that literally takes your breath away and makes your heart beat out of your chest. It's that thing you won't stop thinking about for days, weeks or months until you find a way to incorporate it into your life. 
That's how I feel when I uncover the perfect vintage piece that I know, with a little love, would add the most amazing touch of whimsy to a photo shoot or create a one-of-a-kind experience at a wedding or event." 
Avid about the history behind each piece, Price focuses only on authentic antique pieces – never replicas – she finds at flea markets and through antique dealers. Items which often require a little inspiration and TLC to evolve them into event-ready décor. 
"Some of the pieces we uncover require a little refurbishing (or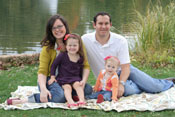 sometimes just a good cleaning) to bring them back to their full glory. Occasionally we're inspired to add a modern touch by changing out the fabric or hardware. Other finds have an irreplaceable patina we wouldn't dare touch. The shredded edges, rust and wear represent the many lives these pieces have been a part of and the history they have seen." 
According to Price, she's not only thrilled that her family business is focused on social responsibility, but that Finch Vintage is making it possible and affordable for other local companies to go green at their own events. To see a list of rental inventory or to commission Finch Vintage to perform a custom search, visit www.finchvintage.com. 
By Nicole Plegge, Lifestyle Blogger for SmartParenting
Price family photo courtesy of Maureen Tennant Photography
---