You are here
Never Say Never
Well, I finally did it. I went out and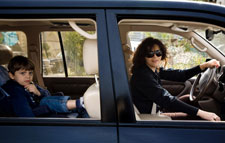 bought myself a minivan.
It wasn't as vanity-stealing as I thought it would be. Especially once I kicked up my heels and did the can-can thanks to the extra leg room and discovered I was able to knock $70 off my current car payment.
Another beautiful thing I discovered – a minivan is excellent for transporting a bunch of sauced moms celebrating their once-a-year evening of liquor-soaked debauchery (with a sober driver of course).
Yet, as sweet as my minivan is, it immediately proceeded to run over the last remnants of my dwindling youth and then back over it to make sure it was dead. When I had my first child, MJ, four years ago, I swore I would stay young and hip and never buy a minivan and never, ever turn into my mother.
Well, now that I have said minivan, I'm slowly morphing into that 50-year-old woman who has the hots for Terry Bradshaw and thinks the band Train is edgy.
In fact, over the next few weeks, I predict I will:
Start wearing a "blouse and slacks" combo especially if they look "sharp." No one says "blouse and slacks" except for a mom – or a peeping Tom. I'll also refer to the movies as "the show" and soap operas as "my stories." Lunch shall be called "dinner," and dinner will be called "supper."
 
Trade all of my stilettos for sensible shoes. One week after I bought my minivan, I bought a pair of cool strappy motorcycle boots. Then I remembered MJ's outdoor soccer season was around the corner and recalled how gross it was to stand in a swampy soccer field with mud up to my thighs. So, I took my cool strappy motorcycle boots back for some sensible Totes rain boots, or in mom-speak, "galoshes."
 
Believe bodily functions and medical procedures are completely appropriate topics for dinner conversation. I know it's only a matter of time before I start asking Mr. P about the color of his stool on double dates or text MJ a la When Parents Text: "Heard on The View 75% of women get yeast infections. Hope u r wiping front 2 back!"
 
Spend all of my free time ironing. Right now I iron oh maybe three times a year, but as a reincarnation of my mom, I'm going to spend my Friday nights watching The Weather Channel while pressing pillowcases and sweatshirts and ironing pleats into my kids' jeans that are so sharp they could slice a kneecap.
 
Drive across town to save $0.25 on a six-pack of Charmin. If you think the woman with a cart full of Mr. Goodbars, screaming at store employees in the checkout line on TLC's Extreme Couponing was scary, you've never come face-to-face with a Central Illinois mom death-gripping a stack of Sunday circulars. And God forbid, if I go to Macy's and a regular-priced shirt is placed accidentally on the clearance rack, the fires of Hell shall rain forth if the sales associate refuses to take 30% off. They shall rain!
I know the minivan will set me on a road I never would have predicted four years ago – one that is directing me right on the path toward becoming my mother.
But it's a road I'm excited to navigate, even if my own kids roll their eyes and groan at me, as long as I can end up half as good a mother as she was. Best of all, I now have a sweet ride that makes the journey a little less expensive and a heck of a lot more comfortable.
By Nicole Plegge, Lifestyle Blogger for SmartParenting
---