You are here
Take Ladies Night Out Up a Notch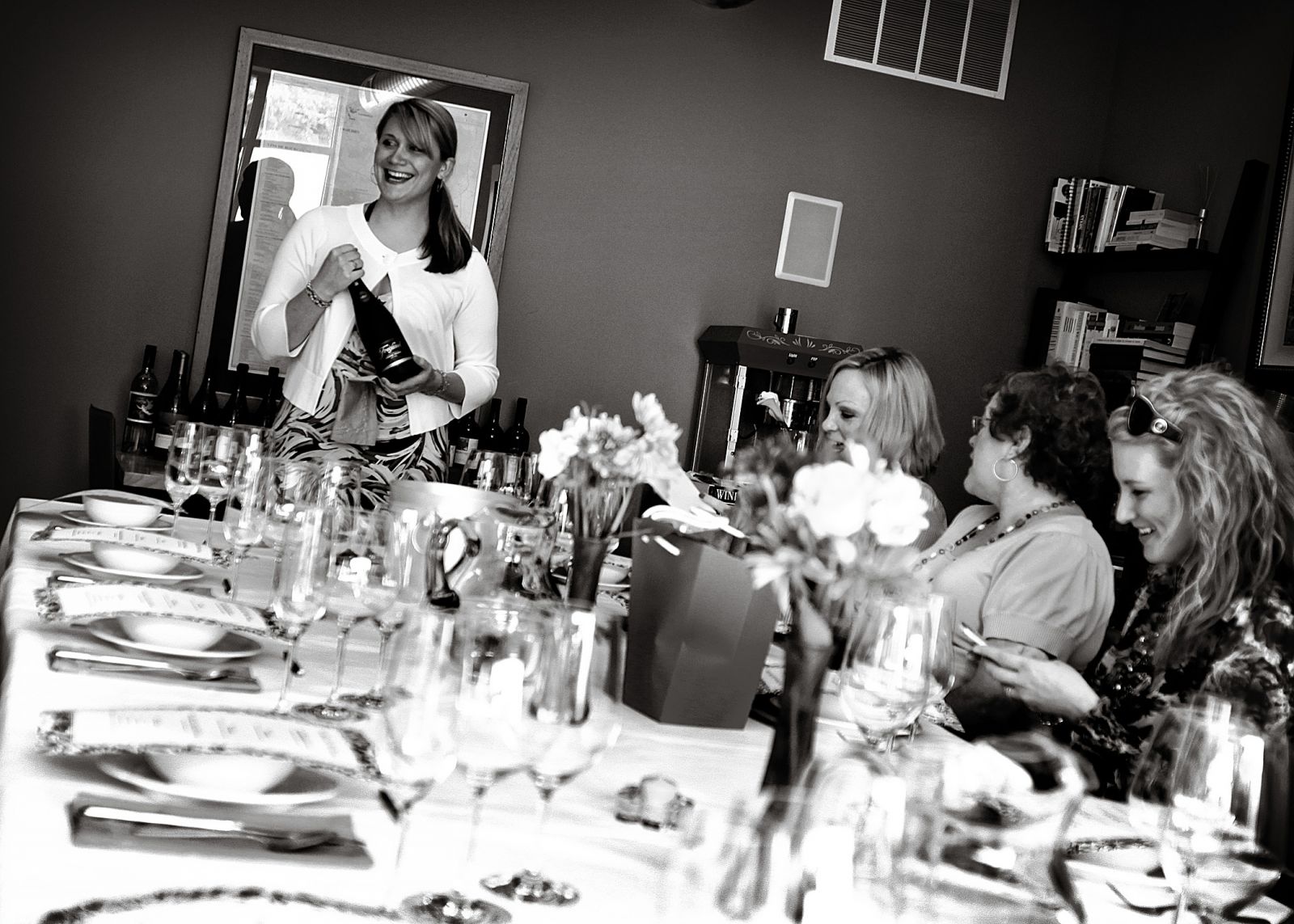 As moms, we all need to hang out with our girlfriends once in a while. Although dinner and drinks is great, sometimes we want to try something a little out of the ordinary.
Instead of heading to a dance club where you battle 21-year-olds in hot pants for $10 drinks or get the stink-eye from DJ Hipster when you request "Humpty Dance," why not experience one of these ladies' nights for a night out to remember?
Hang out with the Wine Girl
Planning a dinner party always sounds like fun, but when you get right down to it, it's a pain. You're stuck in the kitchen before, during and after dinner while everyone else is chowing down on your food and chugging your wine.
One night let someone else do the work and give you the glory. Angela Ortmann, aka STLwinegirl, provides her In Home Tastings complete with a four-course meal for a cost at or below what many of us would spend per person at a fancy restaurant.
Said Ortmann, a culinary expert and a recognized sommelier, "I'm here to create an experience for you, and I invite any kinds of questions – food, wine, beer, cheese, coffee, tea. When you're at a restaurant, you don't have the opportunity to ask a lot of questions since the wait staff are handling five to six tables at a time. My attention is focused on your group, creating as casual or as a formal experience as you like. It's an open discussion to learn a little bit about wine while having a fun girls' night out."
In Home Tastings start at $40 per person, and menus are customized according to the seasons and your preferences. In fact, in all her years of service, Ortmann has never repeated the same meal twice. Each course is perfectly paired with a complementary sparkling, white, red or dessert wine she chooses specifically for your dinner.
Even better than the food and the company is the fact that Ortmann handles all the party prep and cleanup.
"One of the biggest selling points is I bring everything – the dishes, glassware, utensils, plates, the pots I cook in. You don't have to have anything for me; you don't have to have a dishwasher. As a mom, you're constantly cleaning up after everyone else. This is your night to relax and create a restaurant experience at home. All the pressure is off of you."
Take a swim
By day, Little Fishes Swim School is a place where little swimmers can hone their skills in the water.
At night, it can become a place for their moms to unwind.
Little Fishes' bright, tropical atmosphere is ideal for parents who want a mini-vacation here in St. Louis. According to founder Coach Ruthie Zarren, staff members can heat up the facility's salt water pool to become a giant hot tub and outfit the room with decorations for your own personal luau.
In addition, party goers are welcome to bring in your own food and drinks and hook up your Jimmy Buffet-loaded iPod to Little Fishes' sound system.
Little Fishes can be rented for parties for $100 per hour with a two-hour minimum. For details, visit www.littlefishesswimschool.com or call 314-647-SWIM.
Hit the shops
Shopping is fun – shopping like a rock star is fabulous.
The Shopping Co. in St. Louis gives you and your friends the chance to be treated like celebrities by whisking you to the city's top boutiques.
On May 14, The Shopping Co. will again host is popular public Resale Tour. For $39 per person, you can climb aboard The Shopping Co. bus to enjoy a chauffeured trip to up to eight resale boutiques, a 20% discount throughout the day and lunch with your friends.
Want to create a more personalized experience? The Shopping Co. offers private tours of upscale or resale boutiques for six to 10 people at a cost of $185 per person, which includes a limo trip, goody bag and seated lunch in Clayton.
Even more exciting is its destination trip in August to New York City during which, according to founder Diana Ford via email, "We arrive at 9:45 a.m. and hit the ground running! We do a night of theater, dinner in the swanky Meatpacking district, and guided shopping tour of Madison Avenue as well as the hottest resale boutiques on the Upper East Side."
Ford uses her experience as both an incentive travel expert and a mom to create a unique experience for shopaholics.
"Time is a woman's (especially a mom's) most precious commodity. The Shopping Co. spends your time well and efficiently. Whether it is a day of chauffeured boutique shipping with door-to-door service or a four-day weekend that allows you to pack in all the highlights of a city without the frustration of maps and guides, you really get the insider's tour."
Play with fire
Heat up a boring weeknight by heading to Cool Chicks & Hot Glass Wednesday: Girls Night Out at Third Degree Glass Factory on May 11 from 6 p.m. to 9 p.m. In addition to trying your hands at creating your own paperweight, glass beads or fused glass jewelry, you can enjoy tips from special guests who will have you feeling and looking great.
Lemon Spalon's Kensey Bachman will offer bang trims and five-minute consultations on the best cuts and colors for your look while esthetician Allison Whistle will provide brow and lip waxings. In addition, personal trainer Kristina Dujmovic will share exercise tips to have you looking taller and trimmer.
You can also treat yourself to hot dogs from The Hotdog Man and complimentary chocolates and confections from Kakao Chocolate. And since no ladies night is complete without cocktails, a cash bar with a special pomegranate martini will be available.
Said Anne Murphy, director of marketing for Third Degree, "We started Cool Chicks & Hot Glass: Girls Night Out Wednesday in 2009 as a way to offer a unique, fun to-do for women of all ages. Women love to hang with their gal pals and have adventures."
"We thought it would be a blast to offer an evening event where women could enjoy chocolate, get beauty tips and try new services/products, and – if they want – work with an instructor to make something out of glass. It gives us girls at Third Degree the chance to think about what we would love to do and then to plan it. So for us, it's a blast too!"
Third Degree is located at 5200 Delmar Blvd., between Union and Kingshighway.
Kids, work and significant others steal much of our free time. It's important for moms to stick together and enjoy some well-deserved time with one another – especially if adventure and wine are involved!
By Nicole Plegge, Lifestyle Blogger for SmartParenting
---