You are here
Red Rover, Red Rover, Send Recess Right Over
When it comes to education, I have a lot of – and some would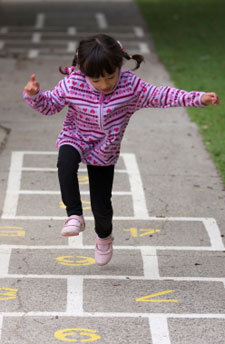 say too many – opinions.
I don't believe in homework – at least not the ridiculous amount that so many elementary-age children are given every night, often to the detriment of quality family time, extracurricular activities, and some nights even sleep.  
I'm not a fan of the current trend towards full-day kindergarten, and the belief that we have to force our children to be "smarter faster" if they're ever going to succeed in the adult world.
I often wonder if all the rules and schedules and bells and detentions in our schools are really preparing our kids for their future – or just teaching them to fall in line and do as their told and never truly learn to think for themselves.
Most importantly, I believe that our children need more time to play, and that the current trend to limit recess time to accommodate extra academics is both misguided and irresponsible.
And while I know I'm in the minority when it comes to many of my opinions, it turns out that even the American Academy of Pediatrics (AAP) agrees with me on that last one.

AAP Issues New Policy Statement

On December 31, the AAP released a new policy statement entitled The Crucial Role of Recess in School. The statement, specifically designed to address the issue of increasingly limited recess time in our nation's schools, makes it clear that daily recess is beneficial and necessary for students, and that it should not be withheld for either academic or disciplinary reasons.
Robert Murray, MD and Catherine Ramstetter, PhD, lead authors of the statement, discovered through research begun in 2007 that recess is more important for developing minds and bodies than they initially believed, and concluded that "a growing trend toward reallocating time in school to accentuate the more academic subjects has put this important asset of a child's school day at risk."
According to the AAP, "safe and well-supervised recess offers cognitive, social, emotional, and physical benefits that may not be fully appreciated when the decision is made to diminish it." Recess, they suggest, "represents an essential, planned respite from rigorous cognitive tasks. It affords a time to rest, play, imagine, think, move and socialize."
Translation: Kids need down time during the day. They need to play. And when we take that away from them, they're losing out in more ways than we realize.
What the AAP Recommends
The AAP makes some very specific recommendations for parents, educations and policy makers within this new statement. Their suggestions regarding recess include:
• Recognize that recess is a necessary break in a child's day, one that "should not be withheld for academic or punitive reasons."
• Allow for regular breaks in the school day that are long enough and frequent enough for students to "mentally decompress."
• Ensure that recess complements, but does not replace, physical education.
• Recognize the importance of recess in promoting physical activity, particularly as a counterbalance to sedentary time spent in the classroom.
• Ensure that recess be safe and well-supervised, but do not eliminate it entirely due to safety concerns.   
Are Educators Listening?
At my daughter's public elementary school in our relatively affluent St. Louis suburb, 45 minutes are allotted for both lunch and recess during a 7-hour school day. Extra recesses aren't uncommon, but they are at the teacher's discretion – and never guaranteed.
On more than one occasion, my well-behaved child has been forced to miss that valuable recess time when the teacher takes it away from the entire class as punishment for the actions of a misbehaving few. Sure, a missed recess isn't the end of the world, but according to this latest policy statement, it also isn't the best course of action for a teacher to take.
As a concerned parent, I'm grateful to the AAP for recognizing that our kids have a fundamental need to dig in the dirt and swing on the swings and play games of Red Rover over and over again. I applaud the organization for making these new recommendations, and for advocating for the health and wellbeing of our children.
But I can only hope that our schools and educators are listening as closely as I am.  
How much time do your children spend at recess during the school day? Do you think it's enough?
By Alyssa
Chirco, SmartMama blogger for SmartParenting
Alyssa Chirco is a St. Louis freelance writer, mother and margarita lover, not necessarily in that order. In addition to writing for St. Louis Kids, she is Contributing Editor for Parenting Squad, writes regularly about parenting and family for Lifetime Television's The Balancing Act, and firmly believes there are few problems in life that cannot be solved with a good margarita.
---
---