You are here
Refusing to Switch the Skinny Jeans for Mom Jeans
At the end of summer, my friend and I were discussing our fashion needs for fall and mentioned our mutual desire to pick up some skinny jeans.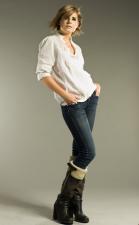 While I didn't think the skinny jeans/flats combo worked on my body, I was excited to pair them with some knee-high boots I had stuffed away in the closet. All was right in Mommy Land.
However, a couple of days later, my friend went on Facebook and questioned her decision to purchase said skinny jeans. That's when the floodgates opened and all hell broke loose in Mommy Land. By the responses she received, you would expect my friend to be parading down the street in a Lady Gaga meat dress. Almost all of our fellow mommies rallied against the purchase of the skinny jeans and noted how silly they look on women our age.
Yikes! My friend and I both flew into a tizzy (yes, I said tizzy) which fueled our nonstop skinny jean debate – "Should we buy them? Will we look dumb? Maybe I'll just purchase a cheap pair from Old Navy and see how they work."
I know, I know. Stressing over a stupid pair of jeans – it's ridiculous. But it got me thinking – why can't a mom still follow fashion trends, within reason, after the baby arrives?
Yes, with our tighter budgets, we may be shopping at Nordstrom Rack instead of Nordstrom and scouring the Internet for discounts at Target, but we still can still be distracted by shiny gold things.
In addition to the Great Skinny Jeans Debate of 2010, I've been on the receiving end of some other mommy fashion critiques in recent memory.
1. Walking into a national mall chain store, I was stopped by the "helpful" college-aged salesgirl who asked if I needed help.
"Why yes," I said. "I'm looking for something for a reunion."
Snort. "I figured."
"Why would you say that?"
"You just don't look like someone who would shop here," she chuckled as if I was standing in front of her in house slippers and a muumuu (which in reality I would wear every day – every day – at home if the combo wouldn't completely de-sexualize me in front of the husband).
2. A few months ago, I was calling around to some boutiques in the St. Louis area to get some insights on a fashion post I was doing. One was particularly humbling.
"Ah, yes," I said when the boutique manager picked up the phone. "My name is Nicole, and I'm doing an article on fashion trends perfect for the 30-something mom, and I was wondering …"
"Not our target." Click.
Ouch. Right in the teal belt-cinched gut.
To the fashion marketers out there, just an FYI, we did not give up our womanhood when our Mommy card got stamped. While we like to rock out in the sweatpants and track suits you picture us in, the majority of us like to get glammed up once in a while. We have yet to confuse Alexander McQueen with Lightning McQueen. And we still eat InStyle up with a spoon, even if it's tucked inside a Parents.
One store did right by me this weekend – the Ann Taylor Loft in Fairview Heights. I walked inside with a baby on my hip and another by the hand to just pick up the sweater. Instead, one of the associates handed my 4-year-old a couple of Dr. Seuss books so I could "shop a little easier." That little gesture led to two more purchases (30 percent off!). Did they suck me in? Sure, but I appreciated that extra little step.
As we were leaving, my 4-year-old chirped, "We're going to the mall now" to which the salesperson responded, "Uh oh, mommy's going to have trouble walking around the mall in those boots."
"Nope! My mommy can do anything!" Thanks, baby.
And those skinny jeans? Yeah, after much debate, we bought them. Do they make me look fat? Make my "prairie booty" as my husband calls it look even flatter and wider? I don't care. Those $19 Old Navy jeans let me hold on to my inner Carrie Bradshaw. Not that she would shop at Old Navy.
By Nicole Plegge, Lifestyle Blogger for SmartParenting
---