By
Nicole Plegge
|
Fri, 05/12/2017 - 2:42pm
Kids will soon have a brand new place to play. As well as run, splash, slide, and jump.
On May 19 and 20, Kiener Plaza in downtown St. Louis will reopen to the public – but this iconic landmark is now bigger, better and more family-friendly than ever before. With a playground and splash pad, shade garden and countless places to relax, it's the perfect outdoor oasis for guests of every age, right in the heart of the city.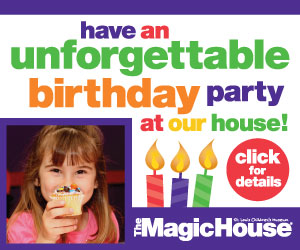 You and your family are invited to a free community celebration hosted by CityArchRiver Foundation on Saturday, May 20 to be reintroduced to this St. Louis attraction. Featuring music, food and kids' activities, it's the perfect way to get to know your new place to play.
The rebirth of a downtown destination
Over the past year, Kiener Plaza has gone through a $23.7 million renovation to turn this community park into a must-see attraction. As part of the $380 million CityArchRiver project, led by Great Rivers Greenway, CityArchRiver Foundation and the City of St. Louis, Kiener Plaza is just the next step in a downtown renaissance.
The beloved Runner Statue makes its return home, but this time it's dressed up with a new fountain and LED lighting. In addition, there's the Courthouse Lawn, which can hold 2,000 people for concerts and events, 140 new trees, and enhanced seating throughout the park.
But what will really draw in families is its attractions for little ones.
"It was important to have playful elements for kids in Kiener Plaza," said Ryan McClure, communications director for CityArchRiver Foundation. "There's a playground and interactive water feature in the new plaza. And the playground has a section designed for toddlers and a climbing structure and other elements for older children. Kiener will have one of only two playgrounds in downtown St. Louis, which is important for residents and visitors to downtown."
Meet your new Kiener Plaza on May 20
A grand reopening is always a good excuse for a party. And the celebration at Kiener Plaza promises to be one to remember. While you can join area dignitaries on May 19 at noon for the ribbon cutting, you and your family can also take part in a day of fun-filled activities during the free community celebration on May 20 from 11 a.m. to 6 p.m.
During the event, join the discovery map challenge to explore every corner of the park before checking out the kids' area for face painting, children's activities, and visits with Fredbird and Team Fredbird. The day also includes live music from Acoustik Element, Borderline, Phi, and Javier Mendoza with Hobo Cane, as well as food and drink vendors.
The celebration takes place just prior to the St. Louis Cardinals home game against the San Francisco Giants at 6:15 p.m. and corresponds with its Pooches in the Park night, making it friendly for even your four-legged family members. And with Cardinals ticket giveaways all day, you may even score seats for the game.
May 20 is just the first of fun-filled dates throughout the summer at Kiener Plaza. Upcoming events include St. Louis Uncorked on June 2-3 and Taste of Downtown on June 10. Plus, every Thursday, Kiener will play host to free Health and Wellness events including boot camps, yoga and cardio dance classes. For more details, visit the calendar at www.cityarchriver.org.
Thanks to the work of CityArchRiver Foundation and its partners, Kiener Plaza will once again be the go-to for both St. Louis residents and visitors looking for a quick getaway in the city. But this time, kids can get in on all the action – and the relaxation.
Remarked McClure, "We hope that Kiener Plaza will be a place for everyone, that all people will find something they love about this space. Kiener is downtown's living room, and this project has built elements in this park that will make it the civic gathering spot it was meant to be. We hope families come to love this space as a place to spend some quality time surrounded by the Old Courthouse, the Arch, and all that downtown has to offer."
Photo courtesy of CityArchRiver
Metro East mom Nicole Plegge is the lifestyle and pop culture blogger for STL Parent. Besides working as a freelance writer & public relations specialist, and raising two daughters and a husband, Nicole's greatest achievements are finding her misplaced car keys each day and managing to leave the house in a stain-free shirt. Her biggest regret is never being accepted to the Eastland School for Girls. Follow Nicole on Twitter @STLWriterinIL 
Comments