You are here
Want Your Family to Help Make History? At The Great St. Louis Soccer Dribble You'll Have a Blast Doing Just That
Soccer players of all abilities and all ages from across the metro St. Louis area will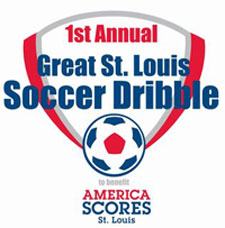 unite to kick off the St. Louis soccer season and attempt to break a world record at the first-ever Great St. Louis Soccer Dribble.
Players of all ages are invited to participate as the group attempts to break the Guinness World Record for the most people dribbling soccer balls at the same time. Mayor Francis Slay is the Honorary Chairman of the event.
Proceeds benefit America Scores St. Louis, an organization that inspired urban kids to lead healthy lives by providing opportunities to play soccer, and learn and write poetry.
"Soccer is an institution that spans generations here in St. Louis," said Pete Spanos, America SCORES St. Louis board member and owner of Vetta Sports complexes, which is supporting the event. "We saw the need for an event to pull together soccer players and teams from across the area to kick off the season, and we decided to add some fun and excitement to it while we were at it."
America Scores has served the St. Louis area since 2005. The program has achieved impressive results in improved health, reading skills and community involvement among the youth it serves.
Anyone can participate in the Great St. Louis Soccer Dribble and registration is available online. The $25 registration fee per person includes:
1. An official event soccer ball
2. Official t-shirt
3. A ticket to the Saint Louis University Billikens vs. Akron men's soccer game.
Sponsors of the event include Vetta Sports, Saint Louis University, radio station KFNS 590, STL United, Hotel Ignacio and the St. Louis Youth Soccer Association, plus many other supporters.
Participants can begin check in at 5 p.m. at SLU's Hermann Stadium. The Guinness World Record attempt takes place at 6 p.m. The Billikens soccer game is at 7 p.m.
Registration is available online at www.americascores.org
Tags:
soccer
,
sports
,
St. Louis family events
,
Things to do with kids in St. Louis
,
Saint Louis University
,
events for kids in St. Louis
,
activities for kids in St. Louis
,
event calendar for St. Louis kids
,
St. Louis Family Fun
,
kids and parents in St. Louis
,
The Great St. Louis Soccer Dribble
,
Scores St. Louis
---