You are here
Stages St. Louis To Offer Year-Long Classes and Bring Out the Performer in Your Kid!
Stages Performing Arts Academy is known for intensive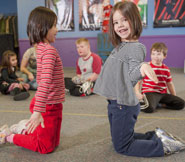 musical theatre training and education for children of all ages. Historically, classes have been offered as semester programs, eight-week samplers and summer camps.
Beginning this fall, Stages will offer new, year-long programs. Full courses in all areas of theater, including musical theater, acting, dance and voice, provide opportunities for students to expand their knowledge and increase performance skills.
Sarah, a Stages student, says "Singing makes me feel like I can express myself in a new and different way." At the same time, parents enjoy watching their child grow artistically.
Rob Grumich, the Director of Education and Outreach at Stages, says the organization's goal is to create an environment where children thrive and grow, and parents are moved by childrens' performances. The expansion to year-long classes will enhance that goal.
"By transitioning to a year-long schedule for the majority of our classes and correlating with the academic calendar, Stages Academy is taking the next step in the growth of the organization," Grumich said. "Maintaining continuity over a longer period will allow our curriculum to have a greater impact on each student while his or her skills develop in unison with a supportive ensemble of class members."
In addition to full-year classes, Stages offers three, 8-week sampler sessions during the year. Preschool to high school students have the opportunity to participate in shorter classes while still receiving the same high-quality training as the full year programs. By implementing shorter, special-topic sampler classes, students can more easily augment their core class training with specialized learning opportunities in the musical theater arts.
Stages welcomes students of all ability levels and who have a variety of interests. Students of all ages receive personal attention and intensive training while also exercising their freedom of creativity in a fun and educational environment.
Stages will also extend one of its most successful programs, Access the Arts, to a yearly format. As a program specifically created for students wtih physical, cognitive or developmental delays, the extended format will engage the most dedicated and passionate students for the entire year.
Stages was founded in 1987. Their performances, more than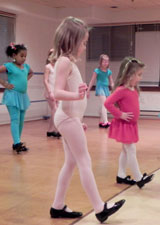 120 each season, draw thousands of patrons per year at the Robert Reim Theatre in Kirkwood. Classes and camps are held at the Stages facility in Chesterfield. The academy also boasts 23 Kevin Kline Awards over the past six years, including three awards for Outstanding Production of a Musical.
To learn more, please visit www.stagesstlouis.org
Be sure to catch upcoming Stages performances of The Sound of Music, Putting It Together - A Musical Cabaret, and My One and Only.
Photos courtesy of Stages St. Louis

---