You are here
To Stop a Bully
Lately it seems like bullying is everywhere. I keep running into articles, news clips, features and even conversations centered on the topic.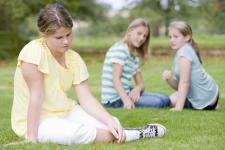 Believe it or not, I've not had a hard and fast opinion on the topic (I'll give you a second to recover from the shock of learning I don't have an opinion on something). But the force is in the air, and somehow its energy has filtered down to me. So now, I'm stuck thinking about it. Thanks a lot, MSN and Fox.
Because Liv is who she is, I didn't think I'd ever have to worry about someone pushing her around. At the very least, I thought I had a good five to seven years before she would have to begin the charade of complexity female interaction is. But according to a TIME article from late last month, "Girls as young as kindergarten are facing significant social challenges ..." Really? What happened to eating glue?
Liv's been coming home with stories of a girl in her class who has "bad behaviors," as we call them in our house. When I ask for specifics, I'll get a barrage of "Oh my Gosh mom, she calls kids stinky … and she tells Ms. Morris 'NO!' … and she doesn't pick up her supply basket …" and on and on. But she slipped something in between that perked my ears right up... "..and she told me she wouldn't be my friend unless I stopped being friends with Pickles (not her real name)".
"She what?" I ask.
"Oh, yeah. Well, she said she wouldn't play with me unless I broke up with Pickles."
Trying to keep my cool and act all disinterested and nonchalant while inside I'm thinking "Please, pick Pickles, please, pick Pickles," I ask "Oh? And, what'd you do?"
"Mom. Seriously. Pickles brings Twinkies for lunch. Duh."
At least Liv has priorities.
I thought about this later after she went to bed. What if the bully girl brought Twinkies for lunch? Can Liv really be so easily swayed in and out of social circles? What kind of family does this bully girl come from? Don't they teach her to play nice?
And then it hit me. Does Liv do this kind of thing? I wanted to wake her up right then and ask her, demand to know if she was behaving with integrity, but something I was stopped by the next barrage of questions that popped into my pea brain.
What am I supposed to do as a parent? Because of my job, I have total access to this situation and bully girl. The question isn't could I, but should I? Or, do I let Liv figure it out on her own? I fell asleep with a pinball game of unanswered "what if's" ponging around my head.
The next day I woke up to the bus incident. The 42-year-old father of a middle-school girl took matters into his own hands by getting on his daughter's school bus and confronting the children who were allegedly responsible for bullying his little girl. Of course, this is a little extreme, but he obviously felt helpless otherwise. I know that feeling.  In recent years, children have been bullied to all kinds of extremes; some even killed or end up in a rage and kill others. As a parent, it feels so ... threatening.
My decision at the end of that day was two-fold: Stay on Liv from my side, and keeping in close contact with her teacher on the other. I'm a little overwhelmed about what the future holds, but I've decided to control what I can and let the rest unfold. Heck, if nothing else, I always have the option of strapping a video monitor to her forehead. That should take care of things, right?
By Sharon Linde, Education Blogger for SmartParenting
---