You are here
A Valentine for Your Sweetie and Your Community
According to the National Retail Federation, Americans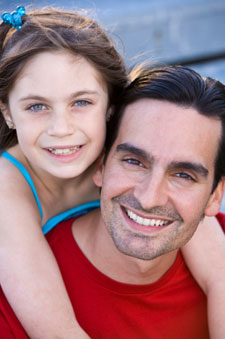 will spend $17.6 billion for Valentine's Day. While there are probably some diamonds in the mix, it's safe to say the world's landfills will be clogged with drugstore stuffed gorillas and plastic hearts a few weeks from now. 
You could hunt around for dinner reservations or spend hours searching for that perfect gift – instead, plan your holiday around one of these activities that lets you celebrate with your favorite Valentines and help out some great kid-oriented organizations in St. Louis. 
A Valentine Ball for dads and daughters. Hey husbands – want to present your wife a really great gift? Give her the night off and plan a special Valentine's treat for the little girls in your life. 
There are numerous father/daughter dances around Valentine's Day, but one in St. Louis is dedicating to inspiring girls throughout the community. On February 11, Sisters of Hope, a nonprofit which provides prevention and empowerment programs to girls ages 4-18, will hold a Princess & Father Valentine Ball, from 5:30 p.m. to 8 p.m. at the Regional Arts Commission, 6128 Delmar Blvd. The evening will feature live music, Valentine's photos, and dinner, and is $30 per couple and $8 per additional guest. Reservations for the event can be made online. 
 "The Princess & Father Valentine Dance will help benefit girl-centered school programs that enhance self-esteem and build confidence," remarked Rainie Howard, CEO of Sisters of Hope. "Our fundraising events also help support our goal of opening an arts and performance studio." 
Do the Zoo. You can go to a restaurant any night of the week, so why not go wild for Valentine's Day? Leave the kiddos at home for an evening and head to the Saint Louis Zoo for Untamed Hearts: An Intimate Valentine's Dinner. 
Instead of the usual kid-friendly zoo fare, you and your significant other can enjoy a romantic, four-course candlelight dinner, complete with a bottle of wine, at the McDonnell Center at River Camp. Afterwards, learn all the secrets of animal magnetism from some of the Zoo's furry and feathered lotharios during a VIP look at the Zoo. 
Untamed Hearts is on Saturday, February 11 and Tuesday, February 14 with seatings at 6 p.m. and 8 p.m. The cost is $125 per couple, which includes tax and gratuity, and reservations can be made by calling the Zoo at 314-646-4857 by February 10. Proceeds from the dinner will support the Saint Louis Zoo's conservation efforts both at the Zoo and around the world. 
Whether exploring the Zoo at Untamed Hearts or stopping by on a playdate, pick up the red panda Valentine adoption package to surprise your loved one and to help keep your favorite animals fed. This special $40 gift includes a plush toy, adoption certificate, car decal and more. Plus, your recipient will receive his or her name on the Zoo Parents Donor Wall for one year and an invitation to the Zoo Parents Picnic. Walk-in orders are available now through February 14. 
A benefit for children's theater. One of the greatest gifts we can provide our children is instilling in them an appreciation of the arts. Now in its 20thseason, Black Cat Theatre's Piwacket Theatre for Children continues to awaken our kids' imaginations and introduce them to a world of incredible stories and characters. 
This Valentine's night, join Black Cat Theatre at 2810 Sutton Boulevard in Maplewood for a night of dinner and dancing with Hudson and the Hoo Doo Cats from 7 p.m. to 11 p.m. to benefit Piwacket. Tickets are $40 per person, and dinner includes free champagne, beef tenderloin and dessert. 
Said Edie Avioli, artistic director for Black Cat, "This Benefit will allow for a grand time of great food, awesome dance band, good company and all in celebration of Piwacket, our original adaptations of fairytales filled with catchy songs, magical props and fun dances." In fact, the next show at Piwacket is Westward Ho, a musical history lesson for kids ages two through 10, running March 1-3. 
For Valentine reservations, call 314-781-8300 or order online. 
By Nicole Plegge, Lifestyle Blogger for SmartParenting
Tags:
events
,
charity
,
self-esteem
,
Saint Louis Zoo
,
Valentine's Day
,
nonprofit
,
conservation
,
Hudson and the Hoo Doo Cats
,
charitable organizations
,
Sisters of Hope
,
Princess & Father Valentine Ball
,
Untamed Hearts
,
Valentine's Dinner
,
children's theater
,
Black Cat Theatre
,
Piwacket Theatre
,
Westward Ho
---