By
Nicole Plegge
|
Wed, 06/28/2017 - 4:22pm
There are few things children love more than their favorite storybooks. While a unique adventure tumbles out of each one, in most cases, books' characters tend to look pretty similar to one another. And by similar, that usually means white.
For children of color, finding books with characters that look like them takes a bit more digging than just popping into a bookstore and grabbing any story off the shelf. But when they do, it's magic. Their world grows bigger, and their confidence soars. And when white children are able to dive into the same books, they have the chance to engage with different characters and embrace other cultures.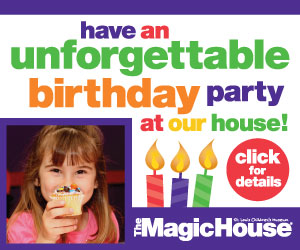 Building a children's library at home is a great way to open a young child's eyes to the beautiful diversity that surrounds them. But just as important, it can open up a conversation about race.
Through We Stories St. Louis, the power of children's literature is used to create conversation, change and hope in St. Louis. By enrolling your family for their next cycles in September or October, you can receive children's books, access family workshops about race, and open a dialogue about tolerance in your family and across the community.
Change starts at home
Even as advocates in the St. Louis region, moms Laura Horwitz and Adelaide Lancaster were shocked by the heartbreak and devastation we all saw in Ferguson. Knowing that empathy builds from an early age, they wanted to do something for the next generation, to make it ok to address problems with race relations and work on solutions that embrace everyone.
"For me, becoming a parent was a deeply transformative moment, and I've found that to be true for many people," said Horwitz. "It's a time when you reexamine a lot of who you are and what you want for the future, which includes what you want your community to be like and what kind of world you want your child to be growing up in."
Together, the two realized that to raise big-hearted kids, the conversation about diversity and acceptance needed to start at home. For families of color, conversations about race are a natural part of life. Most white families don't see a need to address it until an issue pops up.
It can be a hard talk to initiate. How do I address race in a way that's easy for my kids to understand? In a world where Gen-Xers and Millennials have been taught to be colorblind, why do we even need to talk about it with young kids?
In reality, "colorblindness" doesn't reduce bias or improve equality. Researchers found when we don't talk about race, kids fill in the blanks with things they see on TV or hear from their friends. Plus, when kids are told that all people are the same, white children tend to demonstrate more racial biases than children of other groups.
Horwitz and Lancaster knew the best way to connect with kids was at story time with books that were fun, engaging and included characters that might look different from them. So in 2015, the two founded We Stories St. Louis, a program for kids from birth through age seven that gives any family, but especially white families, the books and tools needed to make race a talking point.
Remarked Horwitz, who now serves as We Stories's executive director, "I think people don't open up these conversations because they can feel huge, and it's hard to find the words or feel confident you're doing it 'right.' Books make the topic more concrete, bring language down to a kid level, and give us all permission to revisit these issues from multiple angles, in bite size bits, time and time again, which is really how most important learning happens. All kids need books that serve as windows to the outside world and mirrors that reflect themselves."
Growing home libraries and acceptance
We Stories offers three program cycles every year, the next in September. Registered families are invited to a launch event featuring storytellers, workshops about talking with kids, and sessions with teachers who bring the books to life, before receiving four books of their own.
"By the time families leave, they feel connected to a larger community and ready to read and talk about human differences in a descriptive, age-appropriate way."
In addition, during the 12-week session, they become members of an online discussion group, attend parent classes, and participate in playdates and special events. Once the 12 weeks are up, "Moving Day" allows families to share what they learned and find ways to get involved with causes across St. Louis.
Stacey Hoffman of Olivette, an educator and a mother of a two-year-old son, was an advocate for racial equality in the classroom but didn't have the resources to do that work as a parent. A friend in the We Stories pilot program encouraged her to get involved.
"We Stories has given us the tools to talk about race as a family," she remarked. "Even though my son was only 10 months when we started, we were able to talk about the differences with him through the books. Plus, the books have become his favorites. We Stories goes beyond just reading and talking about race. It has introduced us to incredible people, allowed us to be part of a bigger region-wide discussion about racial equality, and given us the opportunity to explore new places in the city."
Hoffman was so impressed with the program, she became an active member of its Page Turner committee and is involved with Educators for Social Justice and its partnership with We Stories.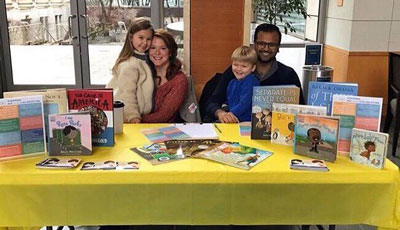 The impact of We Stories has expanded beyond families. Its work has been celebrated not only in St. Louis, most recently as a recipient of a What's Right with the Region award, but also at the White House. The program was one of a handful selected to attend South by South Lawn, a festival of innovative ideas, where it was honored by President Obama.
If your family is interested in becoming involved, you can join the We Stories's wait list for September and January. Just visit www.westories.org/join-our-wait-list for more information and to register.  The cost is $100 to participate, but scholarships are available to those who qualify. You can also donate to the cause to open the opportunities up for more families in our area.
Said Horwitz, "Our goal is to engage thousands of families in the next few years, and by doing so, help our region shift from a pattern of family life where segregation and disparity predominate to one in which most area families encounter diverse books, materials and programming as a matter of course."
Photos courtesy of We Stories.
Metro East mom Nicole Plegge is the lifestyle and pop culture blogger for STL Parent. Besides working as a freelance writer & public relations specialist, and raising two daughters and a husband, Nicole's greatest achievements are finding her misplaced car keys each day and managing to leave the house in a stain-free shirt. Her biggest regret is never being accepted to the Eastland School for Girls. Follow Nicole on Twitter @STLWriterinIL 
Comments