You are here
Win Tickets to Imagination Movers at the Fox
It's not hard to understand how a band know for their onstage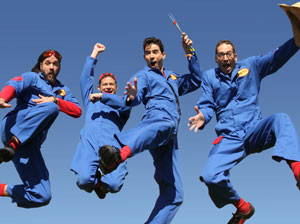 silliness, wildly popular TV show (which ran for three seasons on Disney Junior) and the motto "Reach high, think big, work hard and have fun" were the most popular family act of 2011. 
The foursome know as Imagination Movers will bring their ear-popping catching tunes and rockin' dance moves to St. Louis for one show only on Sunday. Oct. 14 at the Fox Theatre.
The band's Rock-O-Matic Tour 2012 includes favorite songs from the TV series as well as material from their new CD. (Scroll down to watch the groups' Dance Kung Fu video and you'll see what we mean by catchy tunes!)
The Emmy-winning group's members, Rich Collins, Scott Durbin, Dave Poche and Scott "Smitty" Smith, got together in 2003, originally to write songs for their own kids and to brainstorm ideas for a television show. It didn't take long for their musical style to come together and stardom among the small set to ensue.
The band has received critical acclaim for what the New York Times called their "non-condescending lyrics and music that evokes the Beastie Boys or Red Hot Chilli Peppers," and also for their fresh style and the fact that they appeal to parents as well as kids.
Their live shows are known for lots of audience interaction, dancing, and of course rockin' beats!
We've got four tickets to the Fox Theatre show on Oct. 14 to give away to one lucky reader! To enter to win, go to the featured post on our Facebook page. One winner of four tickets will be announced on Tuesday, Oct. 9 at 6 p.m. Good luck!
For more information about the show, go to www.fabulousfox.com
---