By
Calendar Editor
|
Tue, 09/06/2016 - 5:24pm
For most of us, the fall season is already starting. Though it's not officially fall yet, after Labor Day, our mindset changes along with the (hopefully) cooler weather, and we're ready for some fall-themed fun. This weekend, the St. Louis area is pulling out all the stops for family fun. Here's our list of the 15 best weekend events for Sept. 9-11 for you and your kids. Now get ready to have some fun!
1. Fall Farm Festival at The Magic House. Kids love farm animals, big and small, and the farm animals at the Fall Farm Fest at The Magic House are just part of the agricultural-themed fun. Local farmers will be on hand to teach kids the tricks of their trade, and there will also be farm equipment for kids to take a look at. It's a great way for your kids to learn more about where their food comes from. The Fall Farm Fest will be held Saturday from 9:30 a.m. to 2:30 p.m. and is included with regular admission.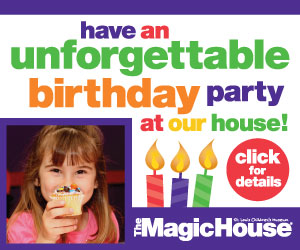 2. The Bug Hunt at The Butterfly House. Kids can grab a net and catch some of the beautiful and not-so-beautiful insects found in your own backyard. At The Bug Hunt, staff entomologists will be on hand to help kids identify the bugs they catch and adults will learn how to attract butterflies to their own gardens, as well as how to build native bee houses. There will also be games, crafts, and all the fun The Butterfly House has to offer. For kids ages 2 and up and their families. The Bug Hunt will be held Sunday from 10 a.m. to 3 p.m. and is included in regular Butterfly House admission.
3. The Saint Louis Art Fair and Creative Castle. The Saint Louis Art Fair is one of the annual events many families look forward to each year, and this year, the kids' area, called the Creative Castle, offers tons of hands-on art projects where kids can explore their creativity and learn about the arts. Kids can make a variety of projects sponsored by The Magic House (watercolors), Contemporary Art Museum (Buzzword Towers), Forsyth School (flowers), The Wilson School (Totes for Tots) Repertory Theater of St. Louis (Dragon Puppets and Gnome Homes),  Rohan Woods School (paper bag kites), St. Louis County Parks Foundation (butterfly art), just to name a few. The Creative Castle is open at the Saint Louis Art Fair in Clayton on Saturday from 11 a.m. to 7 p.m. and Sunday from 11 a.m. to 5 p.m.
4. Applefest. Enjoying freshly picked apples is always a great way to get that fall feeling, and Applefest at Eckert Farms in Belleville will be in full swing this weekend. In addition to taking a wagon ride to pick your own apples, there will be pony rides, a children's carnival with rides, farm animals to feed and plenty of festival foods, like funnel cakes, custard and, of course, caramel apples. Applefest is happening 10 a.m. to 5 p.m. on Saturday and Sunday. 
5. Take in some living history. Your family can see history come alive this weekend at Living History Hayrides at Jefferson Barracks, where re-enactors will explain their time period, uniforms and equipment at vignettes presented throughout the park. Or, turn back the clock to 1872 at the Living History Weekend at the Ulysses S. Grant National Historic Site, where the costumed interpreters will give impassioned speeches and introduce visitors to the candidates of the presidential election between Grant and Greeley. There will also be historic children's games, live historical music and art projects for kids. Living History Hayrides take place at 10 a.m., 1 and 3 p.m. on Saturday. Reservations are required.  Living History Weekend is happening Friday through Sunday.
6. Eureka Days and Manchester Homecoming. Community festivals are always a popular weekend destination for families, and this weekend you'll find two of the best. Eureka Days kicks off on Thursday evening with carnival rides, but the festival kicks into high gear on Saturday, with a parade, lots of fun activities in the Kids Korner, rides and fireworks. Manchester Homecoming kicks off on Friday, but kids are the focus on Saturday and Sunday, when you can see kid-favorite entertainers (Babaloo and Juggling Jeff), a petting zoo, carnival rides, cute kid and cute pet contests, games and lots more. It all takes place in Schroeder Park. Learn more here
7. Tour de Fun. Join the fun at the J's 26th annual Tour de Fun, a jam-packed day of carnival rides, live entertainment from kid-favorites like Babaloo, Juggling Jeff and Dave Simon's Rock School, sports challenges, a ninja obstacle course, pony rides, inflatables, great food and more. Tour de Fun is happening Sunday from 11 a.m. to 3 p.m. at the J in Creve Coeur. Tickets are required for kids ($15 at the door or $10 if purchased by Saturday), and adults are free. Get tickets online here
8. Plan a date night. Grab your sweetie and make plans for a night out on Friday, because your kids can enjoy their own night out having fun with their friends at one of several Kids' Nights Out. You'll need to make reservations, so take a look at Kids Night Out with Circus Kaput, where kids will learn how to perform circus arts, have their face painted, enjoy pizza and more at Circus Kaput's convenient location in Chesterfield Mall. Or take your kids to Kids Night Out at The Point in Ballwin, where games, arts & crafts, pizza and swimming make up a fun night for ages 7-13. Have some little climbers on your hands? Check out Parent's Night Out at Upper Limits Rock Gym, where kids ages 5 and up can literally climb the walls in a supervised environment. And of course, there's pizza involved too.
9. Experience royalty. You don't have to know much about the game of chess to have a blast at Kings, Queens and Castles, an innovative exhibit that brings the game of chess to life. Kids can explore a giant midieval castle, become their favorite chess piece on a life-sized chess board, make their own crown and lots more. This exhibit is in its final days at the World Chess Hall of Fame in the Cental West End. Enjoy it during Saturday's Family Day. Kings, Queens and Castles' final day at the World Chess Hall of Fame is Sunday.
10. Learn how to do chalk art. Chalk Art is all the rage, and it's easy to see why. The tools are inexpensive and easy to find, and you can make chalk art just about anywhere you can find a sidewalk or chalk board that's calling out for some creativity. At The Magic House on Saturday and Sunday, artists from Chalk Riot will demonstrate their skills as they create a permanent mural along the Chalk Walk adjacent to the Curiosity Classroom. But that's not all. They'll also offer tips and tricks to Magic House visitors, then invite your kids to try their hand at making their own chalk art. The Visiting Artist Series: Chalk Art is happening Saturday from 9:30 a.m. to 5 p.m. (where you can also catch the Fall Farm Fest), and Sunday from 11 a.m. to 5 p.m.
11. See Sister Act live. Everyone's favorite nun is back on stage in this lively family production of Sister Act presented by STAGES St. Louis. Experience a rollicking new musical score from the composer of Beauty and the Beast and The Little Mermaid in this laugh-out-loud production playing at the Robert G. Reim Theatre in Kirkwood. Learn more and get tickets at stagesstlouis.org
12. Take a train ride. Saturday is one of your final chances this year to ride the miniature trains in Kircher Park with the St. Louis Live Steamers, a nonprofit interested in the construction of large-scale model railroads. Rides are offered from 11 a.m. to 3:30 p.m. in Eureka. Train Rides in Kircher Park are free but the organization says a small donation is appreciated.
13. Meet the horses and farm animals at Longmeadow Rescue Ranch. Fall Wagon Days at Longmeadow Rescue Ranch (part of the Humane Society of Missouri) are a great way to spend a day on the farm. Kids can enjoy wagon rides and take tours of the 165-acre ranch, where abused and neglected horses, cows, goats, pigs, ducks and other farm animals are cared for a rehabilitated. Families are welcome to bring along a picnic too. Wagon Days at Longmeadow Rescue Ranch are free. 11 a.m. to 3 p.m. on Saturday. 
14. Learn about Native American history. The Cahokia Mounds State History Site is hosting free American Indian Education Days on Saturday and Sunday at the site in Collinsville. Your kids can learn about Native American customs, beliefs, dress, and arts. There will be live demonstrations from artisans and performances too. Admission to American Indian Education Days is free, 10 a.m. to 5 p.m. on Saturday and Sunday.
15. Climb some trees with your family. Shaw Nature Reserve offers the chance for you and your kids to take to the trees during Canopy Climb. No experience is necessary, so you can learn a new skill together under the direction of a certified tree-climbing instructor. Kids have to be at least 8 years old to participate. Reservations are required. Learn more here.
For even more weekend (and weekday) fun, be sure to check out our Things To Do calendar, and subscribe to our popular Daily Things To Do email newsletter. You'll always know where to find the fun!
Photo: Tour de Fun
Comments