By
Nicole Plegge
|
Tue, 08/22/2017 - 9:53pm
In our technology-infused world where video games, TV and smartphones are vying for your children's interest, live theater grabs their attention and holds on tight. The moment the lights go down and the actors step on to the stage, the outside world turns off and they're immersed in the adventure before them.
But when the stories they're told help them make tough choices, connect to others, and learn how to navigate this topsy-turvy world we live in, it adds an extra level of excitement to each performance.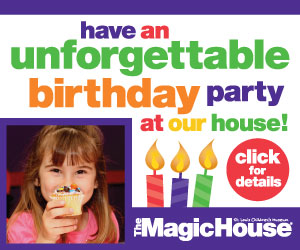 Starting Sept. 18, Metro Theater Company (MTC) will launch its 45th season with three incredible plays to both entertain and inspire young theatergoers. And with its new home at the historic Grandel Theatre in the heart of the Grand Center Arts District, kids will enjoy the full theatre experience.
A season unlike any other
This year, MTC is launching a series of three family-friendly performances, that according to the company, "Feature heroes who face tough choices: To accept the future that is handed to them, or to find the courage to create a new story for their lives; a story that is all their own."
By combining classic works with world premieres, MTC is able to speak directly to kids in a variety of ways and on their terms, addressing conflicts in today's world and helping them learn from the past to choose the right path for tomorrow. This year's lineup includes:
Games Dad Didn't Play, Touring Production, Sept. 18 – Oct. 27, Public Performances, Sept. 16-17 – This world premiere from playwright Jeremy Schaefer tells the story of Lucas, a little boy whose whole life changes after his dad is incarcerated. As he struggles with his new reality, he has a choice – he can repeat his dad's "scared mistakes" or write his own story for his future.
To ensure the story MTC brings to young people is as honest and grounded as possible, the company partnered with Ava's Grace, an organization that provides scholarships and support to children of incarcerated parents, and Prison Performing Arts, which helps prisoners build second acts through engagement with the arts. Thanks to PPA, Schaefer, director Jacqueline Thompson and MTC artistic director Julia Flood visited with incarcerated dads at the Missouri Eastern Correctional Center to get their take on the play.
Said Flood, "The men were so generous in sharing their stories with us and asking questions about the play and the intent. One dad of a 10-year-old son whom he hasn't seen since his son was three said the play made him think for the first time about what his son must be going through without his dad. That was a moving moment."
Hans Brinker and the Silver Skates, Dec. 5-30 – For more than 150 years, Mary Mapes Dodge's classic tale has charmed children worldwide with its ode to resiliency and integrity in the face of adversity. This new telling shares the story of Hans and Gretel Brinker who use their ingenuity and skills to craft new skates to win a local skating contest and help their ailing father.
"Hans Brinker and the Silver Skates will have all the charm and warm nostalgia of a Victorian holiday card combined with the exhilaration of watching athletes competing in a speed skating race," remarked Flood. "It is a tale of young people taking on adult responsibilities and of how one person's generosity of spirt can change everything."
With its live music, brilliant scenery and a thrilling race right on stage, Hans Brinker offers families a perfect holiday outing, especially with its matinees held between Christmas and New Year's.
Bud, Not Buddy, Feb. 3-25 – Produced in partnership with Jazz St. Louis, this "concert play" tells the story of a young orphan in 1930's Michigan who escapes from his abusive foster home on a quest to find his father. His only clues are posters of Herman E. Calloway and his band, the Dusky Devastators of the Depression.
Based on The Newbery Medal-winning book by Christopher Paul Curtis and fresh off a run at the Kennedy Center, Bud, Not Buddy follows Bud's saga with charm, humor and wit. But what makes MTC's performance truly one to catch is the score by legendary jazz musician Terence Blanchard performed by a 13-piece jazz band that brings the soundtrack to Bud's adventures to life right on the Grandel stage.
Tickets for the 2017/2018 season will be available soon at www.metroplays.org. Schools and organizations that would like to book a touring production of Games Dad Didn't Play are invited to contact Michael B. Perkins, MTC's community engagement manager at community@metroplays.org or at 314-932-7414, ext. 106.
After 45 seasons of inspiring area kids, Metro Theater Company continues its role in helping shape our community – and starting a dialogue to begin change at home. Said Flood, "As always, the plays in MTC's season will give young people and families plenty to think and talk about, but we are stretching ourselves to be sure that the total theater-going experience reaches beyond expectations."
Artwork courtesy of Metro Theater Company
Metro East mom Nicole Plegge is the lifestyle and pop culture blogger for STL Parent. Besides working as a freelance writer & public relations specialist, and raising two daughters and a husband, Nicole's greatest achievements are finding her misplaced car keys each day and managing to leave the house in a stain-free shirt. Her biggest regret is never being accepted to the Eastland School for Girls. Follow Nicole on Twitter @STLWriterinIL 
Comments