By
Nicole Plegge
|
Sun, 04/30/2017 - 10:32pm
Remember those days before kids when you spent your nights of freedom at concerts or movies? When an outing at the theater didn't mean Sesame Street Live or Disney on Ice?
Once you become a parent, a night out can be as a rare as a full night's sleep. Finding a babysitter is hard enough – paying said babysitter can be traumatic on your ever-shrinking wallet.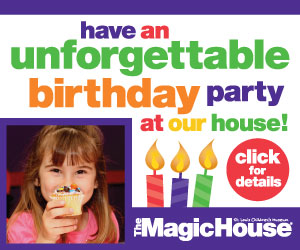 But with its new Kids' Club, Opera Theatre of Saint Louis (OTSL) takes care of your culture craving and child care needs in one swoop. During every Saturday matinee in June, you can enjoy a kid-free afternoon of incredible operatic performances from OTSL's 2017 Festival Season, including The Grapes of Wrath and Madame Butterfly, while your burgeoning opera lovers can play the day away right down the hall.
Building a culture of family participation
Even as general director of OTSL, Timothy O'Leary isn't immune to the decline of date night. As a dad to three kids – ages 1, 4 and 7 – free time formerly filled with shows and concerts is now consumed by kids' birthday parties and naptimes.
And he knew he wasn't alone - the audience at OTSL was the perfect example. While younger Millennials and empty nesters filled its rows performance after performance, thirty-something parnets rarely got to make an appearance. "It's famously challenging for busy parents to take off an afternoon and go to the opera. I find myself in the exact situation all the time," he remarked.
Together, the team at OTSL decided to give families the chance to enjoy the opera on their own terms. With a $40,000 grant from Opera America, OTSL will launch a pilot of its new Kids' Club program this June. On Saturday afternoons, parents can take in a matinee performance, while for $20 per child, their kids can be cared for by licensed child care professionals and taught by OTSL teaching artists who will give them their first taste of the opera.
During their time at Kids' Club, young theatre goers ages three through 12 will enjoy show-inspired games, activities and theatre training, built around ingredients from OTSL's incredibly popular Opera Camp for Kids. From costumes and staging to acting and singing, kids have the opportunity to enjoy an exciting new world filled with music.
"The beautiful thing about the Kids' Club is that parents will have an afternoon of music and theatre while their children get an afternoon of fun and creativity," O'Leary explained. "When parents and kids are reunited at pick-up, parents will be given "ask me about" topics so they can talk to their little ones about what they learned. Everyone is able to have a great age-appropriate experience – and these experiences can bring the whole family closer."
A fresh spin on date night
Upcoming OTSL matinee performances for this season include Madame Butterfly on June 3 and 24, The Trial on June 10, and The Grapes of Wrath on June 17. On show days, parents can simply drop off their children at Kids' Club one hour before the performance begins and pick them up right after they watch the show. An added benefit – parents who are 45 years or younger can take advantage of a free brunch just for adults hosted by the OTSL Young Friends before Madame Butterfly performances so even your dining is taken care of!
Kids' Club gives parents the chance to actually go on a date by themselves for once, but more importantly, it's building a new generation of opera lovers.
Said O'Leary, "By design, we wanted to make the Kids' Club not only a great deal for families, but a way to offer the highest quality experience to their kids. It's important for us to introduce kids to opera and help them discover what's so beautiful and fun about it. The more they experience it when they're young, the more possibilities are opened to them throughout their life."
To learn more about the OTSL 2017 Festival season and to reserve your child's spot in the Kids' Club this June, visit www.opera-stl.org.
Metro East mom Nicole Plegge is the lifestyle and pop culture blogger for STL Parent. Besides working as a freelance writer & public relations specialist, and raising two daughters and a husband, Nicole's greatest achievements are finding her misplaced car keys each day and managing to leave the house in a stain-free shirt. Her biggest regret is never being accepted to the Eastland School for Girls. Follow Nicole on Twitter @STLWriterinIL 
Comments