By
Nicole Plegge
|
Mon, 08/14/2017 - 11:19pm
If you're like many St. Louisans, you made the pilgrimage to Johnson's Shut-ins and Elephant Rocks state parks this summer for a little outdoor fun. In the middle of swimming, hiking and climbing, you probably glanced over the information plaques in passing before your attention was snatched away by your kid shouting, "Look at me, mom!" from the edge of the cliffs.
But what if you and your child had time to delve deep into Missouri's rich geological history? To see these iconic landmarks not just as recreational getaways, but as pages in a natural scrapbook of our state's prehistoric past? With Ozarks Rocks, an overnight trip through Parkway-Rockwood Community Ed's Trek and Travel program, you and your fourth grader can look at these national treasures in a whole new light and build an appreciation of the magic of Mother Nature.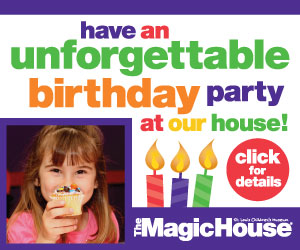 With two trips scheduled – Oct. 7-8 or Oct. 21-22 – Ozark Rocks is the perfect parent/child bonding getaway from the back-to-school craziness. But more importantly, with trips led by certified Rockwood School District teachers, this educational outing extends learning beyond the classroom with activities that bring your child's fourth-grade science curriculum to life in the great outdoors. Best of all, it's open to families in any school district.
Take the classroom outside
For the past five years, the team at Trek and Travel has led kids and their parents through the Ozark Mountains, exploring their favorite spots and taking them to hidden gems off their radar. Each year, families visit Johnson's Shut-Ins to participate in a state park naturalist-led program, take a self-hike through Elephant Rocks, and investigate the St. Francis River at Millstream Gardens, Missouri's white water headquarters.
The goal of Ozark Rocks is to give kids the chance to discover the rich geological heritage of southern Missouri, from the hidden caves that carve the landscape to the granite cliffs formed by volcanic eruptions during the Proterozoic Era. Even those families who have visited these areas numerous times are surprised by Missouri's place in history.
Said Kevin Zimmer, community education manager for Trek and Travel. "The St. Francis Mountains are one of the oldest mountain ranges in the U.S., equaling the Himalayas in age, even though they're only 2,000 feet above sea level. It's really mind-blowing when people learn this – when you think of mountains in the U.S., you think the Rockies or Cascades or Appalachians, but they all pale in comparison age-wise to the St. Francis Mountains."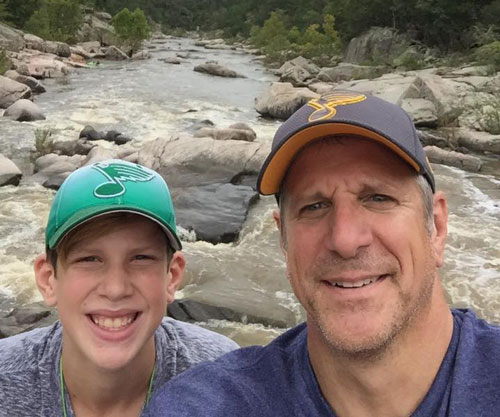 In addition to exploring, learning and playing, you will enjoy an overnight stay at Sherwood Forest Camp in Lesterville, which includes a campfire, s'mores and a night hike.
Making memories while growing relationships
While education is at the heart of Ozark Rocks, it's the parent/child bonding that truly makes the trip worthwhile, especially at a time when kids are starting to exert their independence.
"The trip is a group activity, but we focus on that one-on-one time between the parent and their child," remarked Zimmer. "Getting outside and exploring helps them build a bond and solidify it. Parents really get to know their child as an individual by observing how inquisitive they are. It's cool when you see something click with them as they're learning. There's no better classroom than the outdoors."
For mom Tracy Wolz, who attended last year's Ozark Rocks with her daughter Lindsey, the trip was a way for both of them to take what Lindsey learned in school to heart.
Remarked Wolz: "This is a very action-packed weekend with many areas of the Ozarks to explore. It's a great trip to explore, hike and spend valuable time with your son or daughter. The chance of being able to unplug for the weekend with students and their parents is an awesome experience! On your exploration, you'll be seeing some of the most beautiful countryside that Missouri has to offer while being led by a very knowledgeable and fun staff."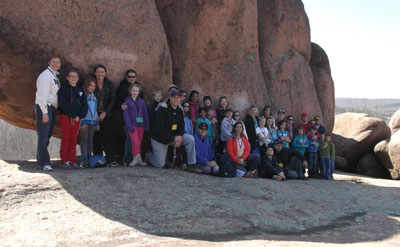 Ozarks Rocks is your child's first taste of everything Trek and Travel has to offer. Each year, the Babler Outdoor Education Center lines up trips that tie in with the students' curriculum, including its Smoky Mountains Adventure and Great Lakes Voyage. In June, it's introducing an Atlantic Coastal Quest expedition, a marine-themed adventure to Wallops Island off the Virginia Coast, for kids in eighth and ninth grades.
To sign you and your fourth grader up for Ozark Rocks, visit the Trek and Travel registration page. Each trip in October is limited to 25 parent/child pairs per adventure. The cost is $325 per pair and includes all supplies, equipment, lodging, activities, meals, and transportation. For more information, contact Parkwood-Rockwood Community Ed at info@prcommunityed.org or call 636-891-6644.
Photos courtesy of Parkway Rockwood Community Ed.
Metro East mom Nicole Plegge is the lifestyle and pop culture blogger for STL Parent. Besides working as a freelance writer & public relations specialist, and raising two daughters and a husband, Nicole's greatest achievements are finding her misplaced car keys each day and managing to leave the house in a stain-free shirt. Her biggest regret is never being accepted to the Eastland School for Girls. Follow Nicole on Twitter @STLWriterinIL 
Comments