Wednesday, April 25, 2018
Thursday, April 26, 2018
Friday, April 27, 2018
Wednesday, May 2, 2018
Thursday, May 3, 2018
Friday, May 4, 2018
Wednesday, May 9, 2018
Thursday, May 10, 2018
Friday, May 11, 2018
Wednesday, May 16, 2018
Thursday, May 17, 2018
Friday, May 18, 2018
Wednesday, May 23, 2018
Thursday, May 24, 2018
Friday, May 25, 2018
Stop in and have some fun in the indoor tot pool at the Lodge of Des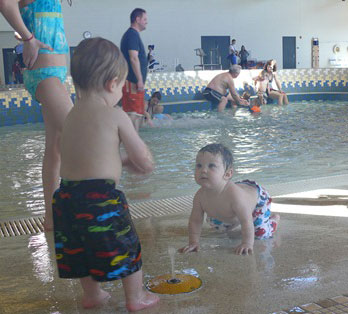 Peres with your little one at this drop-in swim time for kids up to age 6 with a parent or guardian. Parent or guardian must remain in the pool with the child. Up to 25 children will be admitted per day. Open Wednesdays, Thursdays and Fridays.
Cost: Free for member's children; $5 for Des Peres resident child; $7 for non-resident child. Parents and guardians are free. Open to all whether you're a member/resident or not. In the event of inclement weather, call the Weather Hotline at 314-835-6138.
No pre-registration is required, so feel free to drop in and have some fun! 
10:30 to noon at the Lodge of Des Peres. 
More information: desperesmo.org
Click For Directions