By
Amy Burger
|
Tue, 10/24/2017 - 2:14pm
November is a great time to give thanks and spend quality time with family. There are plenty of fun ways to explore, celebrate and learn together. Here are our top picks for family-friendly events in November:
1. Balloonacy at COCA (11/4-5)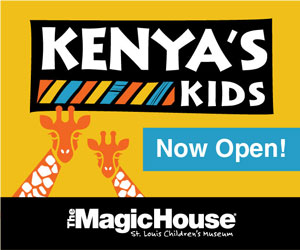 In Balloonacy, a grown-up discovers the fun, imagination and companionship of childhood with the help of a red balloon. This live performance, starring award-winning COCA alum Will Bonfiglio, is packed with physical comedy. Intended for young audiences, it's a great introduction to live theater. Written by Barry Kornhauser, Balloonacy is 45-minute sensory-friendly show recommended for ages 3 and up. Ticket prices range from $14-$18. Learn more about sensory-friendly theater for kids and its benefits for children with autism or other sensory challenges.
Balloonacy takes place Saturday, November 4 and Sunday, November 5 at COCA, located at 524 Trinity Avenue in University City. For show times, more information, and tickets visit cocastl.org.
2. Toddler Tuesdays at the World Chess Hall of Fame (Every Tuesday)
Toddler Tuesdays at the World Chess Hall of Fame are designed for children ages birth to three and their caregivers. Each weekly session includes light refreshments and socializing followed by activities focusing on creative and cognitive development. Toddler Tuesdays are free for Family- and Supporter-level members of the WCHOF and $5 per child for non-members. One adult per child is required.
Advance registration is strongly recommended. RSVP to events@worldchesshof.org.
Toddler Tuesdays take place every Tuesday at 9 a.m.. at the World Chess Hall of Fame, located at 4652 Maryland Avenue in the Central West End. For more info, visit worldchesshof.org.
3. Preschool Science Series at the Saint Louis Science Center (Ongoing)
Engage young scientists in science-related learning with the Preschool Science Series at the St. Louis Science Center. Through interactive stories and hands-on exploration, children learn about science, as well as language, problem solving and social skills. Classes are offered on Mondays, Tuesdays, Thursdays and Saturdays at varying times. Space is limited and reservations are required by the Friday prior to class date. The cost is $10 per child (ages 3+) and $8 for members.
The Preschool Science Series takes place each week on Monday, Tuesday, Thursday and Saturday at the Saint Louis Science Center, located at 5050 Oakland Ave. in St. Louis. Times vary by day. For complete schedule and reservations, visit slsc.org.
4. Fairy Tale Tea at The Magic House (11/11-12)
At The Magic House's Fairy Tale Tea, aspiring princes and princesses can dine on pastries and fruit, make a bejeweled tiara or crown to take home and enjoy a short, live production of Cinderella. Following the play, kids can see their favorite characters up close as Cinderella, Prince Charming and the Fairy Godmother visit with guests and sign autographs. Guests are encouraged to dress in their storybook best. Reservations are required and the cost is $15 per person for Magic House members and $20 per person for non-members. If you go, you can also participate in the Kids Can Help Food Drive happening that same weekend. Children can help the hungry in local communities by bringing canned goods to be donated. 
Fairy Tale Tea takes place Saturday, November 11 and Sunday, November 12 at The Magic House, located at 516 S. Kirkwood Road in Kirkwood. For information, visit magichouse.org.
5.  Fair Trade Market at Manchester United Methodist Church (11/18-19; 11/24-26)
The nation's largest Fair Trade Market returns for its 15th year over two weekends this holiday season with more than 3,000 square feet of international crafts and unique holiday gifts from around the world including: handmade jewelry; clothing; holiday items like nativities and ornaments from more than 20 countries; winter accessories such as alpaca and sheep's wool hats; scarves and gloves from Ecuador, Peru and Nepal; beautiful and usable musical instruments; toys and games; coffee and chocolate from Latin America and Africa and more. The best part is that by shopping Fair Trade, you can get quality products while ensuring equitable wages and treatment for farmers, artisans and their communities around the globe.
Fair Trade Market takes place November 18-19 and 24-16 from 9 a.m. to 3 p.m. each day at Manchester United Methodist Church, located at 129 Woods Mill Rd. in Manchester. For more information, visit manchesterumc.org.
6. Ameren Thanksgiving Day Parade (11/23):
Celebrating its 32nd year, the 2017 Ameren Thanksgiving Day Parade will step off at 8:45 a.m. on Thanksgiving Day from 7th Street and Market Street in Downtown St. Louis. This year's parade will feature 130 parade units, including musical floats and displays; giant helium balloon figures; animal units; restored antique cars and firetrucks; and marching bands from around the St. Louis region. As always, Santa Claus will be present to wish everyone a Happy Thanksgiving and Merry Christmas at the end of the parade.
The 2017 Ameren Thanksgiving Day Parade takes place at 8:45 a.m. in Downtown St. Louis. For more info, visit christmasinstlouis.com.
7. Thanksgiving Family Programs at the Saint Louis Art Museum (11/24-25)
Spend the holiday weekend at the Art Museum! Tour the galleries and get creative with family art activities.
Thanksgiving Family Programs at the St. Louis Art Museum take place Friday, November 24 and Saturday, November 25, from 1 to 4 p.m. Learn more at slam.org.
8. Opening of Outdoor Ice Rinks
'Tis the season for ice-skating outdoors. The Steinberg Skating Rink in Forest Park (celebrating its 60th year), Kiener Plaza Ice Rink downtown and the Shaw Park Ice Rink in Clayton all open in November for the season (weather permitting). Steinberg opens on November 10  and offers discounted skate admission of 50 cents on opening weekend, and extended holiday hours Nov. 22-25.  The Shaw Park Ice Rink opens on Friday, November 24 (any date change due to weather will be posted at claytonmo.gov), and the Kiener Plaza Ice Rink opens Nov. 18 during the Winterfest Celebration at the Arch. The Winterfest Celebration includes a Festival of Lights, live entertainment, lighting of the Salvation Army Tree of Lights, and a festive fireworks finale.
Looking for more family fun? Check our Things To Do calendar anytime or subscribe to our daily Things To Do email newsletter to have the best family events St. Louis has to offer sent directly to your inbox each morning!
Amy Burger is a mom, freelance writer and communications professional with nearly 20 years experience working in St. Louis. Her work has appeared in numerous publications and media outlets including STL Parent, Missouri Life magazine, the St. Louis Post-Dispatch, Town & Style and kdhx.org, among others. When she's not working, she enjoys spending time with her husband and two beautiful girls at home in Kirkwood.
Comments