By
Nicole Plegge
|
Sat, 02/03/2018 - 9:45pm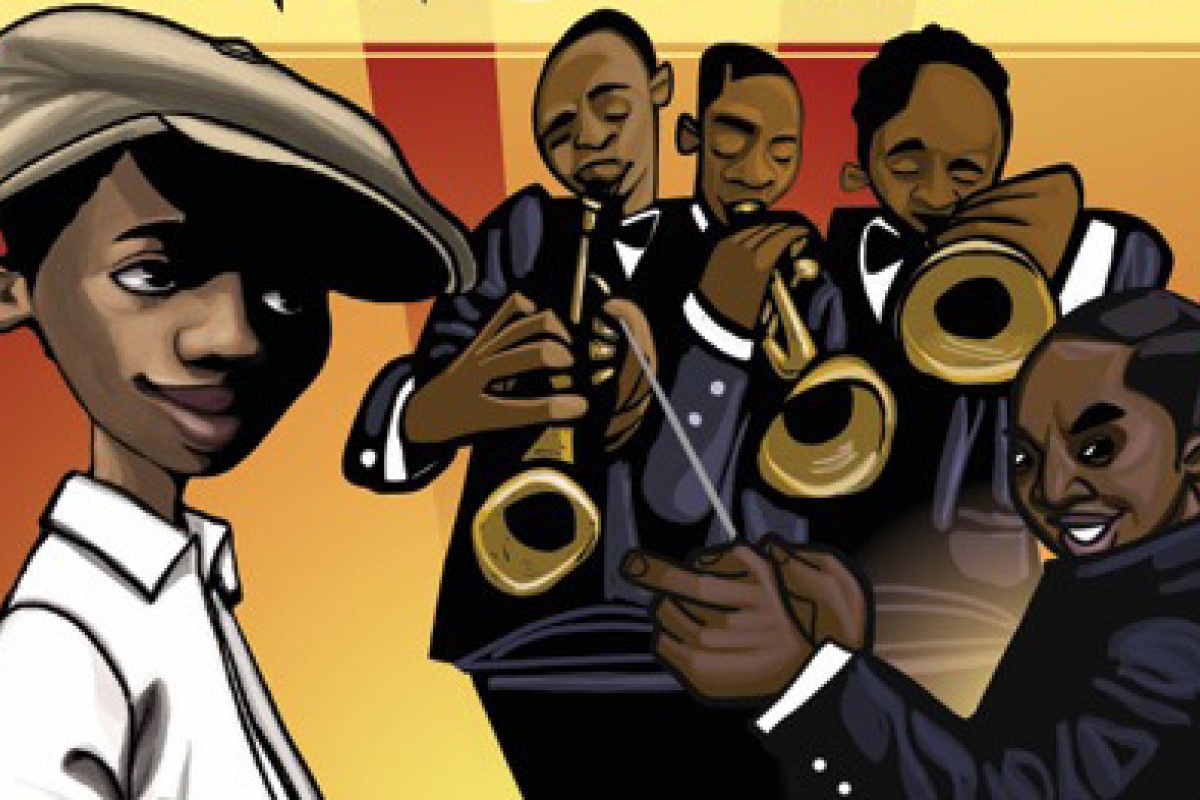 Everyone's life story comes with its own soundtrack – the music that picks us up at our lowest moments and the songs that celebrate the biggest milestones we reach.
For 10-year-old Bud in "Bud, Not Buddy," presented by Metro Theater Company (MTC) and Jazz St. Louis, his inspiring story is set to the sounds of a live jazz band featuring some of the most accomplished artists in St. Louis. And for those kids willing to join him on his incredible journey of discovery, resilience and love, it's an experience for the eyes and ears they'll never forget.
A story for the entire family
"Bud, Not Buddy," is based on the Newbery Medal and Coretta Scott King Award-winning book by Christopher Paul Curtis. The play follows Bud Caldwell, an orphan living during the Great Depression, who leaves behind a series of unhappy foster homes in Flint, Mich. to travel to Detroit to find his father. His only clue? A flyer advertising Herman E. Calloway and his jazz band, the Dusky Devastators of the Depression.
According to Julia Flood, MTC's artistic director, Bud fits in with all the protagonists featured this season on the MTC stage – young people who "write their own story" in order to overcome the circumstances they were born into to create a better life on their terms. For Bud, it was finding his inner strength in a time of racial and social injustice and accepting the hands of those who want to help.
"Bud is a tremendously popular character among young readers, largely because of his resilience and optimistic attitude in the face of the hardships he encounters," said Flood. "He remembers what his Momma said to him about family before she died, that as long as you carry family inside you, you'll be alright."
Bringing a new spin to a celebrated classic
Other theatre companies around the country have performed their own version of Curtis's book for years. But in 2016, the John F. Kennedy Center for the Performing Arts presented the world premiere of playwright Kirsten Greenidge's adaptation, set to an original score by New Orleans trumpeter and iconic jazz figure Terence Blanchard.
Already a fan of the book, Flood had long wanted to tell Bud's tale, especially since his story fit MTC's vision of using theater to open dialogue among young people and close the gaps that divide us.  But it wasn't until she learned about the Kennedy Center's commissioned "play within a concert" that she knew she had finally found the perfect vehicle to share his story on stage. And through a collaboration with Jazz St. Louis, she finally had the perfect partner to truly capture the sights and sounds of 1930's Michigan.
When "Bud, Not Buddy" premieres in St. Louis at the Grandel Theatre on Feb. 4, it will include a cast of eight actors from MTC as well as a 13-piece jazz band comprised of some of the best performers in St. Louis. Said Flood, "Because the play involves Bud searching for a particular jazz band in hopes of finding his father, the idea of this as a "concert" play combining jazz music with actors and theatrical elements was exciting to me. The best stage adaptations of literature add elements that the audience would not necessarily get from reading the book. It is the same story, but told in a new way."
This collaboration has granted MTC the opportunity to be the first company in the country to perform "Bud, Not Buddy" after its debut at the Kennedy Center. Now you and your kids can be among the first in the country to see Bud's story live and in person. "Bud, Not Buddy," runs at the Grandel Theatre, Feb. 4-25, Fridays and Saturdays at 7 p.m. and Sundays at 2 p.m. Tickets are $14-20 and can be purchased at MetroTix at 314-534-1111 or online. Use promo code BUDSTLPARENT and save 20% on tickets.
Flood hopes MTC's production not only encourages kids to read Curtis's award-winning book, but to also gain an appreciation of live theater and jazz music. At the same time, they can take what they learn from Bud's experiences of love, acceptance and hope and incorporate them into their own lives.
"We want kids to know that they each have a world of possibilities inside them, no matter what obstacles they encounter on the way to achieving their dreams. As Bud tells, us, 'when one door closes, another one always opens.'"
Metro East mom Nicole Plegge is the lifestyle and pop culture blogger for STL Parent. Besides working as a freelance writer & public relations specialist, and raising two daughters and a husband, Nicole's greatest achievements are finding her misplaced car keys each day and managing to leave the house in a stain-free shirt. Her biggest regret is never being accepted to the Eastland School for Girls. Follow Nicole on Twitter @STLWriterinIL 
Comments