Left Bank Books and MICDS present psychologist David Walsh, who will sign and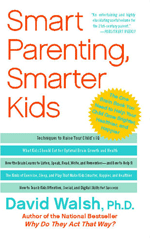 discuss his book Smart Parenting, Smarter Kids: The One Brain Book to Help Your Child Grow Brighter, Healthier, and Happier  in a special parents' session on Tuesday, September 10, at 7 p.m.
Backed by science and filled with stories, Smart Parenting, Smarter Kids finds the practical advice in groundbreaking scientific headlines about memory, language, emotions, nutrition, play, and more. Dr. Walsh equips parents with usable information about exercise, sleep, emotional intelligence, connection - all of which work together to help kids reach their full potential. David Walsh, PhD, is one of the most sought after speakers in America on child and teen psychology, parenting, and the media's effect on children. President and founder of the National Institute on Media and the Family, he is an award-winning psychologist, the author of Why Do They Act That Way?, and the subject of a nationally televised PBS special, "Raising Media Wise Kids."
Free. 7 p.m. at MICDS, 101 N. Warson Woods Road. More information: www.left-bank.com
A special session for educators will be held Wednesday, Sept. 11 at 7:30 a.m. For more information and reservations for the educator session, call 314-367-6731 or email parenteducation (at) micds.org