By
Nicole Plegge
|
Sun, 12/31/2017 - 3:36pm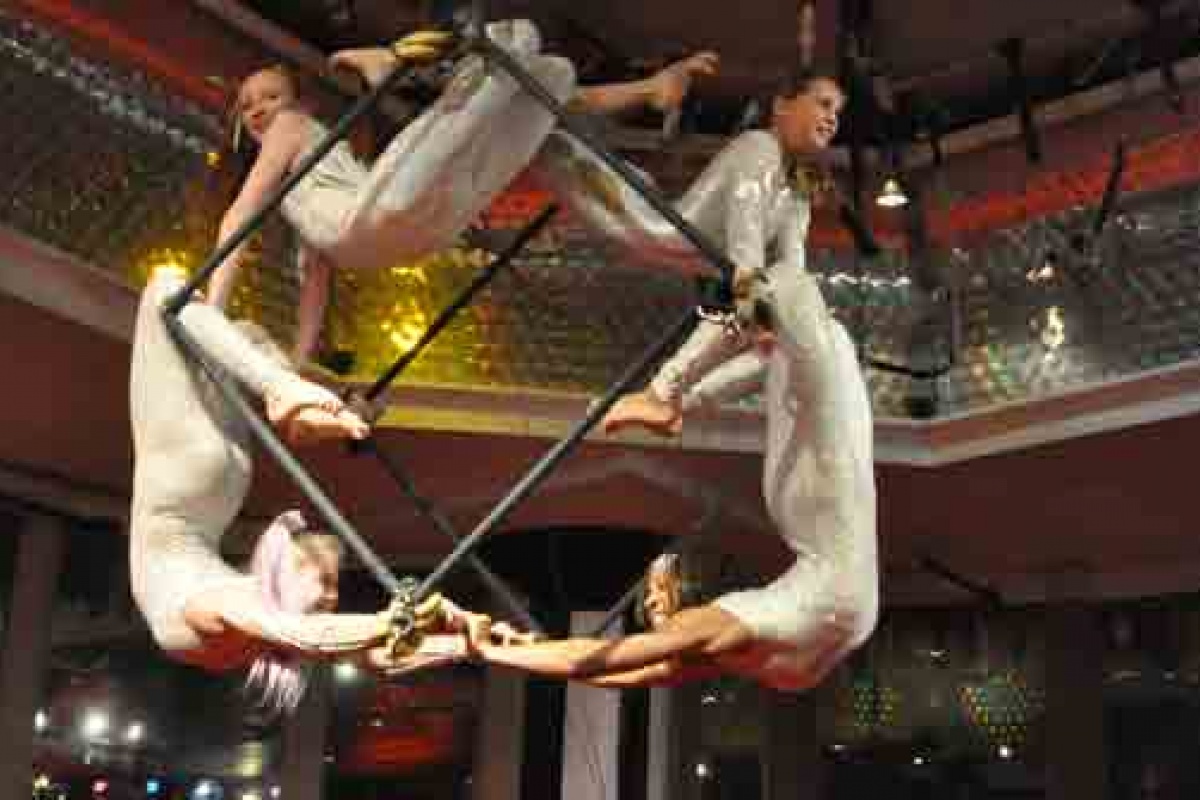 As you watch the young acrobats and aerialists of Circus Harmony spin, twirl, and fly in the ring, those familiar nerves start to set in, no matter how many times you've watched them perform.
Your pulse runs a little faster. You hold your breath a little longer. And when they hit a perfect landing, that relief you feel turns into shock and awe over the talents of these tweens and teens, and you can't help but erupt into cheers alongside your own kids. 
Throughout the year, the stars of Circus Harmony wow fans young and old at their home at City Museum, at performances across the city, and during its annual participation in Circus Flora. But one of the best ways to experience the excitement first-hand is to catch their annual full-length production.
This January, Circus Harmony: LEGATO will take a look at circus through the decades, from 1920-2010, seen through the eyes of the troupe's participants. A "confluence of music & circus arts," Circus Harmony is taking the fun one step further this year by adding in dance performances that will leave your kids moving and grooving in the stands and stir their own love of performing.
The annual event for circus fans
Circus Harmony's annual production focuses on spotlighting new acts and giving its students, ages 10-22, a role in their creation alongside resident teaching and guest artists.
This year's performance features 20 local students, including aerialists, jugglers, magicians, contortionists, and acrobats, who will perform dazzling feats of skill and daring. This year's event also includes a new unicycle act, developed with Kip Jones, member of the renowned King Charles Troupe, known as the "Harlem Globetrotters on unicycles."
Circus Harmony's edge-of-your-seat mix of circus acts makes LEGATO a must-see for young fans. "We want families to be entertained," said Jessica Hentoff, artistic and executive director of the organization. "Circus is such a joyous, triumphant art form. We want kids to feel that anything is possible – that's really what circus is about. You can defy gravity by soaring through the air; you can do the unthinkable with magic. There's really nothing that stands in your way."
In addition, LEGATO will celebrate the different decades of dance over the past 100 years thanks to six different choreographers who worked closely with the kids. From the Charleston and swing dancing to disco and salsa, the addition adds a new element of energy to an event that has thrilled audiences for more than 10 years.
LEGATO will be held at the City Museum in downtown St. Louis on Jan. 13 and 20 at 2 p.m. and 7 p.m. and Jan. 14 and 21 at 2 p.m. Tickets are $20 per person, and can be purchased on the Circus Harmony website at circusharmony.org/circus-harmony-legato.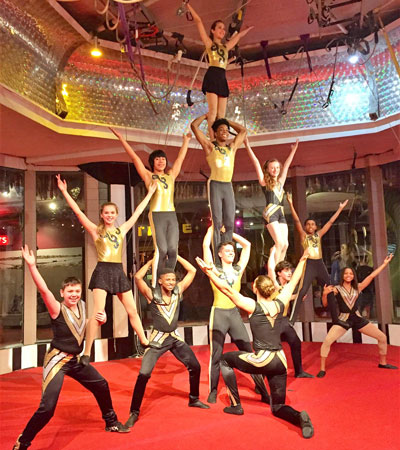 Elevating your own child's circus skills (and yours, too!)
For many kids new to Circus Harmony, LEGATO is their first taste of the excitement they can experience as students of its renowned circus training classes. For those who want to take the next step, registration is going on now for Circus Harmony's January session, and classes are available for kids age 3 through adults. In fact, according to Hentoff, her oldest student is 92 years old and discovered her love of trapeze at age 70. "It just shows you're never too old to run and away and join the circus!" she laughed.
Circus Harmony also offers workshops and private events at the City Museum or can bring a class to your location. And thanks to the generosity of its funders, including a recent grant from the Trio Foundation, Circus Harmony is offering accessible outreach classes in Ferguson as part of its Peace Through Pyramids program.
While Circus Harmony helps kids master their performance skills, its overall mission is first and foremost to motivate social change by uniting kids of all ages, all abilities, and all backgrounds. Through practice and performances, they learn trust, responsibility, and resilience on both a personal and team level. It's this social circus aspect which helped Circus Harmony become one of three programs in the U.S. to receive the 2017 Cirque du Monde Grant from Cirque du Soliel.
"At this time when St. Louis and so many cities are fractured, it's important to focus on what connects us instead of divides us," remarked Hentoff. "We offer kids opportunities to excel, no matter where they're from. When a child from Ferguson meets a child from West County or Ladue and vice versa, it's never, 'Where do you go to school?'; it's 'Do you juggle?' 'Do you ride the unicycle?' When you connect and create something together, you realize we all have much more in common than we thought."
To learn more about LEGATO or to view its class calendar, visit circusharmony.org.
Photos courtesy of Jessica Hentoff/Circus Harmony.
Metro East mom Nicole Plegge is the lifestyle and pop culture blogger for STL Parent. Besides working as a freelance writer & public relations specialist, and raising two daughters and a husband, Nicole's greatest achievements are finding her misplaced car keys each day and managing to leave the house in a stain-free shirt. Her biggest regret is never being accepted to the Eastland School for Girls. Follow Nicole on Twitter @STLWriterinIL 
Comments