By
Amy Burger
|
Tue, 05/01/2018 - 12:49pm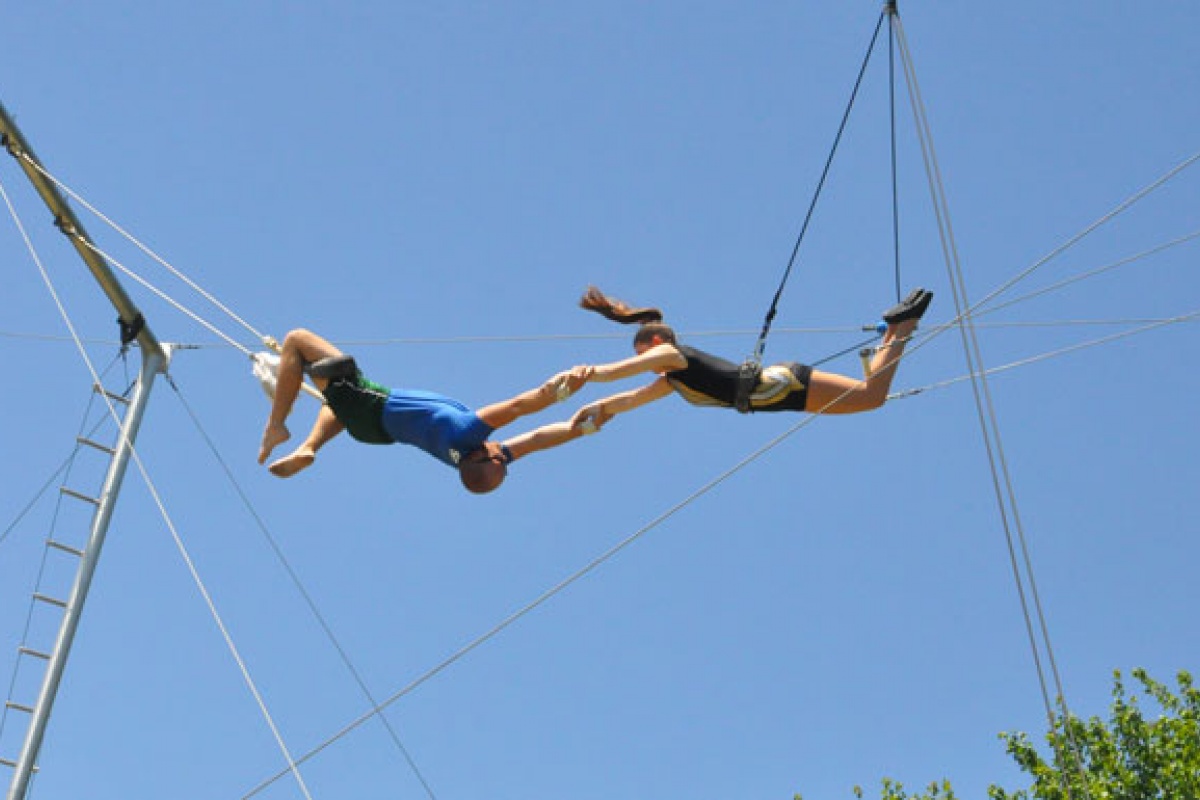 Spring is in the air and summer is just around the corner. It's time to get out and experience all of the fun family events happening around St. Louis in May. Here are our top picks:
1. Monster Machines Day and Bike Rodeo at Des Peres Park (5/5)
It's Monster Machines Day at Des Peres Park, a hands-on, free event where kids can see a police car, bulldozer, fire truck and much more up close up as they climb in, look around and let their imaginations take them on a ride. Kids can also visit the bicycle obstacle course and go for a real ride to test their skills. Certified cycling instructors will be on site to help with the course and assist with helmet and bike fittings. Kids are encouraged to bring their bikes to the event. Helmets will be for sale for $30 while supplies last. 
Monster Machines Day and Bike Rodeo takes place on Saturday, May 5 from 9 a.m. to 12 p.m. in the Des Peres Park parking lot, located at 12325 Manchester Road in Des Peres. For more information, visit desperesmo.org.
2. Strawberry Festival at Eckert's in Belleville (Weekends 5/5-20)
It's a great time of year to get out to the farm! In addition to fresh strawberries, families will enjoy delicious festival foods and live entertainment. Kids activities include pony rides, a children's play area, petting farm, carnival rides and inflatables. There is a fee for some activities.
Strawberry Festival takes place Saturdays and Sundays from May 5 through May 20 from 10 a.m. to 5 p.m. each day at Eckert's Farm, located at 951 Green Mount Road in Belleville, Ill. For more information, visit eckerts.com.
3. Art Fair at Laumeier Sculpture Park (5/11-13)
The Art Fair at Laumeier Sculpture Park is a nationally acclaimed fine art and craft fair that offers fun for the whole family on Mother's Day weekend. The Art Fair is now in its 31st year, featuring food and beverage vendors, hands-on activities for kids, live music and original works of art from 150 artists from across the country. The Creation Location children's area, open on Saturday and Sunday, offers hands-on art projects for kids and is free with Art Fair admission.. On Saturday, enjoy the City of Sunset Hills' Music Festival, free with Art Fair admission. Admission is $10 per person for ages 11 and up, and free for ages 10 and under and for members.
The Art Fair at Laumeier takes place on Friday, May 11 from 6-10 p.m.; Saturday, May 12 from 10 a.m. to 8 p.m.; and Sunday, May 13 from 10 a.m. to 5 p.m. at Laumeier Sculpture Park, located at 12580 Rott Road in Sunset Hills. For more information, visit laumeier.org.
4. SciFest: Tornado Alley
St. Louis gets its fair share of weather phenomena. Meet local experts studying storms, earthquakes, forest fires and more, and learn how you can keep yourself and your family safe in these dangerous conditions at SciFest: Tornado Alley at the Saint Louis Science Center. SciFest allows visitors to the Saint Louis Science Center to meet local scientists, engineers and other experts for a behind-the-scenes look at real science. You can explore new fields, find new hobbies and meet the people who are doing amazing things in our own backyard. Free and open to all.
SciFest: Tornado Alley takes place on Saturday, May 12 from 9:30 to 4 p.m. at the Saint Louis Science Center. More information: slsc.org.
5. Purina Farms Pet Project Day (5/20)
In observance of National Pet Month, Purina Farms hosts the Pet Project Day, where the whole family can lend a hand to help homeless pets. All projects are suitable for pet lovers of all ages and Purina will make a donation to the pet welfare organizations in attendance for each event participant. You can participate by adopting, donating or volunteering. Meet adoptable pets from 10 local St. Louis shelters and rescues, take a snapshot with an adoptable pet at our photo station and share on social media with friends and family to help find the pet a forever home, help compile adoption kits, complete with a handwritten note of congratulations to the adopter, to give to shelters, or decorate a bandanna for an adoptable dog. Bring an item to donate to a shelter or rescue group and help make a care package for the shelters and rescues from the donated items.
You can also volunteer to assemble dog beds, make cat toys, make a pet blanket or decorate a food bowl. No reservations necessary. Admission and parking are free. 
The Pet Project Event takes place on Sunday, May 20 from 11 a.m. to 2 p.m. inside the Purina Farms Event Center, located at 500 William Danforth Way in Gray Summit, Mo. For more information, visit purinafarms.com.
6. Children's Plein Air Paintout at Queeny Park (5/20)
The Academy of Nature and Wildlife Arts invites ages three and up to come paint en Plein Air at the AKC Museum of the Dog at Queeny Park. Come out and see the professional artists' bodies of work, be inspired by their work, and let youthful creativity flow onto a canvas. Observe young people creating and enjoy live music, food trucks from Blue Fired Pizza and Kona Shaved Ice and explore St Louis County Parks. The Children's Paintout is free and no reservations are needed. All art materials will be provided. Kids can explore different art forms with the CAM Bus, St. Louis Artists Guild, Craft Alliance and more.
The Children's Plein Air Paintout takes place on Sunday, May 20 from noon until 4 p.m. at the AKC Museum of the Dog at Queeny Park, located 1721 S. Mason Road in West County. For more information, visit academyofnaturandwildlifearts.org.
7. Sandcastle Beach and Forts and Clubhouses Open at The Magic House (5/23 and 5/26)
The Magic House is gearing up for summer with two new exhibits opening in late May. Family favorite Sandcastle Beach opens on May 23 and runs through June 24, with The Magic House's backyard being transformed into a beachfront park with ten truckloads of sand, hidden seashells and beach umbrellas.  Then, starting May 26 through September 3, families can enjoy the return of Forts and Clubhouses, featuring Tapescape, an innovative indoor, sensory friendly playscape created with rolls and rolls of tape. Kids can put their creativity and engineering skills to work as they transform an enormous pile of everyday objects into the ultimate fort.
The Magic House is located at 516 S. Kirkwood Road in Kirkwood. For complete dates, times and details on new exhibits, visit magichouse.org.
8. TrapezeSTL Opens for its Fifth Season (5/26)
Since 2013, TrapezeSTL, Circus Harmony's flying trapeze center, has given thrill-seekers of all ages the chance to fly through the air with the greatest of ease and safety. The center opens for the season on Saturday, May 26, inviting guests to try one of the circus's most awe-inspiring showstoppers. As the only flying trapeze center in St. Louis, TrapezeSTL offers single classes as well as 5- or 10-class sessions and even high-flying birthday parties for ages 6 and up. Students learn basic skills on low-hanging bars before ascending a 25-foot ladder to try swings, flips and dismounts in the air. The TrapezeSTL season runs from May through October. Reservations are highly recommended. For the safety of students, all participants must be age 6 or older and weigh less than 250 lbs.  
TrapezeSTl is located at 16625 Swingley Ridge Rd. in Chesterfield. Class days and times vary. For more information or to make a reservation, call 314-504-4298 or visit trapezestl.com.
Photo courtesy of Trapeze STL
Amy Burger is a mom, freelance writer and communications professional with nearly 20 years experience working in St. Louis. Her work has appeared in numerous publications and media outlets including STL Parent, Missouri Life magazine, the St. Louis Post-Dispatch, Town & Style and kdhx.org, among others. When she's not working, she enjoys spending time with her husband and two beautiful girls at home in Kirkwood.
Comments