By
Nicole Plegge
|
Tue, 11/14/2017 - 8:29pm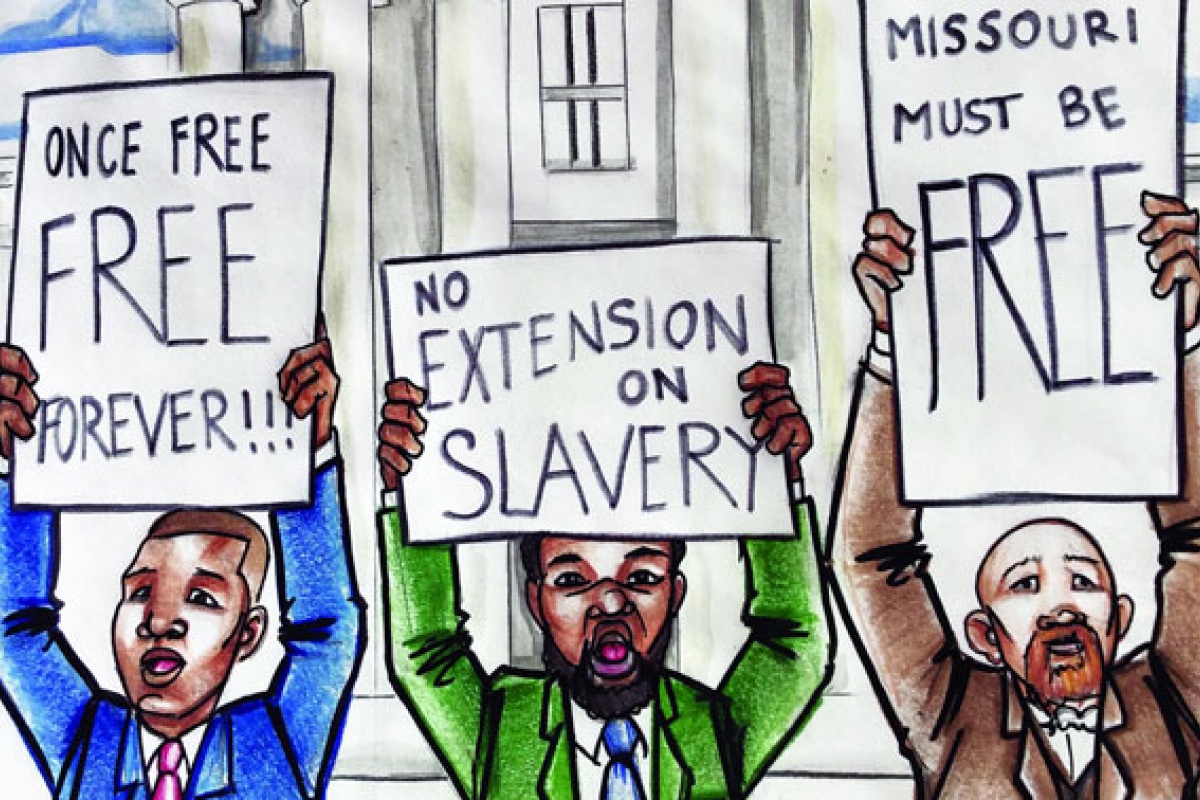 Since the 1700s, St. Louis has been the scene of some the nation's most epic fights for civil rights, with its young people leading the way in the fight for equality and justice. A new children's book from the Missouri History Museum Press introduces today's elementary school students to the changemakers of the past and empowers them to find their own voices. Standing Up for Civil Rights in St. Louis, written by Amanda E. Doyle and Melanie A. Adams, takes young readers on an eye-opening journey that's both surprising and inspirational.
By bringing together stories, historic photographs and modern illustrations, the book is not just a history lesson, it's a call to action for kids to make the world a better place, even at their young age. 
"Kids have a natural touch for activism because they have a well-developed sense of fairness," said Doyle, mom to a three-year-old and nine-year-old. "They don't see gray; they see what's right and wrong. Kids know when something isn't right, and their first thought is, 'We can't accept that, we have to change it.' When they learn how change happened because the generations before them sat at the lunch counter or marched in the streets, they learn there are things they can do themselves to right the wrongs in life."
Connecting future leaders to those of the past
Most in the Gateway City are familiar with the Dred Scott case, but it's just one story in the region's long history in regards to civil rights. The city was the location of the first large-scale Emancipation Proclamation, a stopping point for the Exodusters – African-American migrants from the south headed to the "promised land" of Kansas – and the battleground for early civil rights lawsuits, or "freedom suits."
For Adams, a historian who spent 20 years working on issues of education, racial equality and engagement in St. Louis, the stories were familiar ones she wanted to share with the world. For Doyle, a journalist and author of St. Louis books like 100 Things to Do in St. Louis Before You Die, there was a new revelation to be discovered as she navigated through the research.
"I was surprised every day as we were writing this. From a personal standpoint, there was so much I didn't know. Nationally, and in St. Louis, we tend to think of the civil rights movement in the 1950s and 60s as a cultural celebration of great leaders and a successful social movement, but there's a long thread of history behind it with roots well into the late 1700s. By learning the activists' stories, it makes kids appreciate how these individuals overcame monumental obstacles. They can see how far we've come, but just as important, how far we need to go."
Through Standing Up for Civil Rights in St. Louis, Doyle and Adams invite kids on a trip through St. Louis history, from before the Civil War to the streets of Ferguson in 2014. Along the way, they'll be introduced to icons like Charlton Tandy, a military leader and local activist, John Berry and Mary Meachum, who helped enslaved people escape on the Underground Railroad, and Reverend Moses Dickson who strived to improve education and economic development for African-Americans. And with illustrations by acclaimed artist Darnell Chambers paving the way, the stories truly come to life in bold, brilliant color.
To engage kids further with the stories, Adams and Doyle will be appear at the Missouri History Museum for two free events:
Saturday, Nov. 18 at 2 p.m.: Your little book fan can hear selections from Standing Up for Civil Rights in St. Louis read by the authors themselves. The afternoon includes a Q&A session and a special civil rights-themed activity.
Tuesday, Nov. 21 at 7 p.m.: During this adult-focused program, parents and teachers can hear about the authors' writing process and what they learned about the history of St. Louis. Doyle and Adams will participate in a Q&A and book signing.
Standing Up for Civil Rights in St. Louis is available now for $9.95 at the Missouri History Museum Shop, online at www.mohistory.org, through Amazon, or at local bookstores across the area.
For Doyle and Adams, telling the tales of these incredible St. Louisans was not only a way to honor their legacy, but to help inspire the next generation of young game-changers to follow in their footsteps.
"We both thought it was important to provide a sense of optimism and hope that change can happen, and it does happen," Doyle remarked. "There will always be bumps in the road, there will always be significant disagreements and fights, but change has happened because ordinary people made extraordinary decisions. They stood up when something was wrong, and it shows kids they too can make a difference in their daily lives."
Illustration courtesy of the Missouri History Museum
Metro East mom Nicole Plegge is the lifestyle and pop culture blogger for STL Parent. Besides working as a freelance writer & public relations specialist, and raising two daughters and a husband, Nicole's greatest achievements are finding her misplaced car keys each day and managing to leave the house in a stain-free shirt. Her biggest regret is never being accepted to the Eastland School for Girls. Follow Nicole on Twitter @STLWriterinIL 
Comments