With the help of ten truckloads of sand, The Magic House's backyard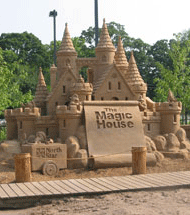 will be transformed once again into a beachfront park for the popular Sandcastle Beach exhibit.
Visitors can take a stroll along the boardwalk, search for some seashells at the shell dig, relax under a colorful beach umbrella and build their own sandcastles too.
The exhibit is open May 23 through June 24, 2018. Free with admission.
More information: magichouse.org
Click For Directions