By
Amy Burger
|
Tue, 11/14/2017 - 8:45pm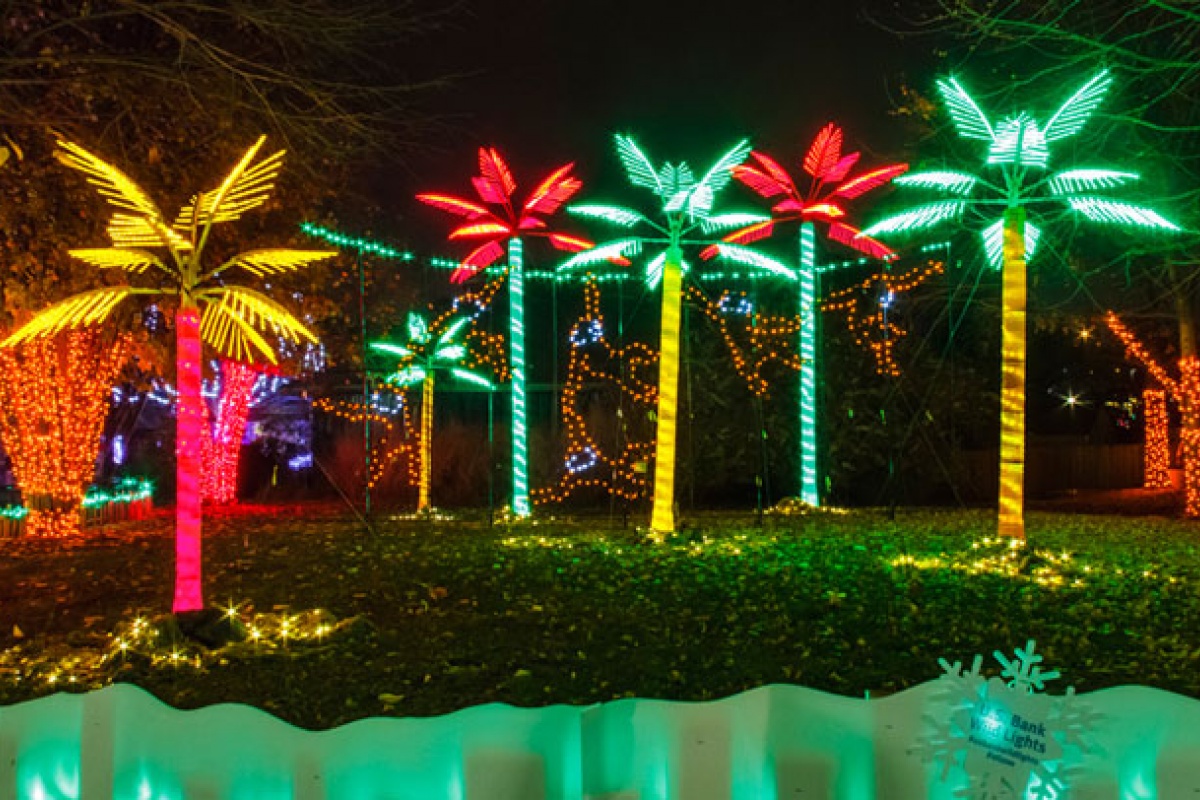 Nothing fills one with the holiday spirit quite like witnessing a massive display of lights. Visiting one or more of the St. Louis area's fabulous holiday light displays is the perfect way to kick of the season with your kids. Some of them open as early as the weekend before Thanksgiving, so make your plans now. Here are some of our favorites:
U.S. Bank Wild Lights at Saint Louis Zoo (Dates vary)
A wild, arctic wonderland with over half a million holiday lights and family fun awaits at this annual display at the Saint Louis Zoo.  In addition to whimsical light displays, you can gather 'round the fire to hear captivating animal stories by theatrical interpreters and roast your own campfire s'mores (available for purchase) at one of the fire pits. Enjoy carolers, costumed characters and other live performances on select weekend nights. At the Woodland Workshop, kids can take part in festive crafts and activities. For the first time, the Zoo is offering a Sensory Night on Monday, Dec. 11 for individuals on the autism spectrum and others who may benefit from a sensory-friendly experience. Sensory Night tickets are limited and must be purchased in advance. Ticket prices range from $7-$10 with children under 2 free. Free parking is available on Zoo parking lots during event hours.
Wild Lights is open from 5:30 to 8:30 p.m. on select weeknights and weekends starting November 24 at the Saint Louis Zoo in Forest Park. Visit stlzoo.org/wildlights for complete schedule and ticket information.
Winter Wonderland at Tilles Park (11/22 – 12/30)
This traditional holiday light display is celebrating 32 years of merry making in scenic Tilles Park. Drive through or opt for a more festive horse-drawn carriage ride through the park. The display is open every night except Christmas Eve with Saturday nights reserved for carriage rides only and closed to vehicular traffic. No reservations are needed for driving through and admission is paid as vehicles exit the park. The cost is $10 for a family vehicle. Carriage rides must be reserved in advance and a variety of carriages are available from 2-person to 24-person capacity. Carriage ride tickets may be purchased via Metrotix.
Winter Wonderland is open nightly from Wednesday, November 22 through Saturday, December 30 from 5:30 to 9:30 p.m. (Carriage rides only on Saturdays) at Tilles Park, located at 9551 Litzinger Road in Ladue. For more information visit stlouisco.com.
Santa's Magical Kingdom at Jellystone Park (11/17 – 1/7)
Drive through one of the Midwest's most spectacular holiday light displays filled with animated scenes, dazzling special effects, and millions of shimmering lights. Visit with Santa in his workshop at Kringle's General Store. Ride the Santa Express Train or take an old fashioned Holiday Wagon ride through the Kingdom for a fun filled adventure the entire family will enjoy. Santa's Magical Kingdom is open every night including Thanksgiving, Christmas Eve, Christmas, and New Year's Eve. Admission is $22 per family car, truck or mini van, up to 8 passengers and is cash only outside as you exit the park (an ATM is available inside the General Store). 
Santa's Magical Kingdom is open every day from Friday, November 17 through Sunday, January 7 and is located at Jellystone Park Resort next to Six Flags in Eureka, Mo. Hours are 5:30 p.m. to 10:30 p.m. Sunday through Thursday and 5:30 p.m. to 11 p.m. Friday and Day. For more information, visit santasmagicalkingdom.com.
Garden Glow at Missouri Botanical Garden (11/18 – 1/1)
Celebrate the season at one of St. Louis's most treasured spaces, Missouri Botanical Garden, with more than one million lights, fun photo opps, festive drinks and s'mores. Garden Glow tickets now also include admission to the Gardenland Express Holiday Flower and Train Show. Family Nights on November 22 and 29 and December 6 and 13 feature children's tickets for just $3 (ages 3-12). Tickets are required and Garden Glow hours are 5-10 p.m. with last entry at 9 p.m. The Garden is closed Christmas Eve and Christmas Day.
Garden Glow is open from Saturday, November 18 through Monday, January 1 at the Missouri Botanical Garden located at 4344 Shaw Boulevard in St. Louis. For tickets and information, visit missouribotanicalgarden.org.
Way of Lights at Shrine of our Lady of the Snows (11/17 – 12/31)
Wintertime sparkles at the Shrine of Our Lady of the Snows in Belleville as the annual Way of Lights display illuminates the grounds. Since 1970, the Missionary Oblates of Mary Immaculate have welcomed visitors as a part of their family holiday tradition. Tuesday Family Night is a great time to visit and avoid large crowds as well as enjoy discounts on fun activities like camel rides, a Lego® Bricks display and feeding the animals. Admission is free, but donations are accepted to help continue bringing this family tradition to the community each year. The Shrine is closed on Thanksgiving, Christmas Eve, Christmas Day and New Year's Day, though the outdoor light display will remain open.
Way of Lights takes place from Friday, November 17 through Sunday, December 31 at Shrine of Our Lady of the Snows, located at 442 South De Mazenod Drive in Belleville, Ill. Hours are Monday through Thursday from 5 to 9 p.m. and Friday through Sunday from 5 to 10 p.m. For more information, visit snows.org.
Celebration of Lights at Fort Zumwalt Park (11/24 – 12/30)
Each scene is in this holiday light display at Fort Zumwalt Park is designed and funded by local organizations, churches and businesses. No reservations are needed to drive through, but the Celebration also offers horse-drawn carriage rides on weekends, train rides on Mondays and sleigh rides Tuesdays through Thursdays with advanced reservations. Mondays are closed to vehicle traffic. A special Walk-through Old-Fashioned Holiday Stroll is offered on Monday, December 11, and Tuesday, December 12. Celebration of Lights is closed on Christmas Day. Admission is $10 for cars. Wednesday through Sunday, bring a food pantry donation of canned or boxed goods and get a $1 discount per vehicle.
Celebration of Lights runs from Friday, November 24 through Saturday, December 30 at Fort Zumwalt Park, located at 1000 Jessup Lane in O'Fallon, Mo. Hours vary by date. For more information, visit ofallon.mo.us.
Brewery Lights at Anheueser-Busch (11/16 through 12/30)
Thousands of lights dazzle in one of St. Louis' most historic settings. Get into the spirit of the season with a self-guided walking tour of Pestalozzi Street and the historic Anheuser-Busch Brewery. Tours are complimentary and open to guests of all ages. Lace up some skates and hit the outdoor ice rink, open to guests of all ages. Hot cocoa and kettle corn will be available for purchase and skate rentals will be available for a small donation to a local nonprofit. Cozy up with friends and roast some s'mores over an open fire with S'more kits available on-site for just $2.50 each. With new games at the Patio on Pestalozzi and plenty of photo opportunities, there's more than just the lights to see and fun for all ages. Walking tours are not available on Thanksgiving Day, Christmas Eve or Christmas Day, but the lights will be on every night.
Brewery Lights takes place from 5 to 10 p.m. every Thursday, Friday, Saturday and Sunday from November 16 through December 30 at Anheuser-Busch Brewery, located at 1200 Lynch Street in St. Louis. For more information, visit brewerylights.com.
Wentzville Holiday Night Lights display at Rotary Park  (11/24 – 12/30)
Enjoy the magic and joy of winter at this annual display, open on select dates starting November 24. Drive-through admission is just $8 for vehicles of six passengers or less and $1 per additional person after the sixth. Want to enjoy a stroll through the night light display? On Monday, December 4, you can attend the Holiday Night Lights Walk-Thru from 5-8 p.m. After walking the illuminated route, enjoy refreshments and the decorated Christmas trees on display. There will also be photo booth fun and an opportunity to have your picture taken with Santa.Walk-thru admission is $3 in advance and $5 at the door per person. In the event of inclement weather, this event will be rescheduled for Dec. 5. The light display will be closed on Christmas Day.
Holiday Night Lights takes place on select dates starting Friday, November 24 at Rotary Park, located at 2577 W Meyer Road in Foristell, Mo. For complete schedule and information, visit wentzvillemo.org.
Holiday in the Park at Six Flags (11/18 – 1/1)
Six Flags in the wintertime? That's right. For the second year in a row, St. Louis' favorite theme park will be transformed into a winter wonderland with thousands of colorful lights, carolers performing classic yuletide favorites, personalized meet-and-greets with Santa and his helpers, and everyone's favorite Looney Tunes characters. Enjoy all the wonderful aromas of the season while satisfying your appetite and quenching your thirst with hot chocolate, cider, custom fudge, holiday-inspired funnel cake flavors, and many other traditional favorites. And don't forget the rides! For the best deal, purchase a Season Pass.
Holiday in the Park will be open on select dates from Saturday, November 18 through Monday, January 1 at Six Flags St. Louis, located at 4900 Six Flags Road in Eureka, Mo. For complete information on schedule and tickets, visit sixflags.com.
Candy Cane Lane in St. Louis Hills (11/26 – 1/1)
More of a city tradition than an "official" event, each year the residents of the 6500 block of Murdoch Avenue (just a block from Ted Drewes) transform their neighborhood into Candy Cane Lane, hosting thousands of families driving and walking through to enjoy the festive lights. Though there is no admission cost, residents use the opportunity to raise money for their favorite charities including the Salvation Army.
Photo courtesy of the Saint Louis Zoo
Amy Burger is a mom, freelance writer and communications professional with nearly 20 years experience working in St. Louis. Her work has appeared in numerous publications and media outlets including STL Parent, Missouri Life magazine, the St. Louis Post-Dispatch, Town & Style and kdhx.org, among others. When she's not working, she enjoys spending time with her husband and two beautiful girls at home in Kirkwood.
Comments