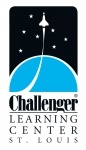 The Challenger Learning Center - St. Louis provides simulated space missions and other "out of this world," hands-on educational programs that emphasize teamwork, communication, and creative problem-solving skills. Programs are available for schools, community groups, corporations and the general public. 
The Challanger Learning Center is part of the Challenger Center for Space Science Education, an international not-for-profit education organization founded in April, 1986, by the families of the astronauts tragically lost during the Challenger space shuttle mission. It is locally operated through a partnership of the Ferguson-Florissant School District, the Saint Louis Science Center and Education Plus.
Visitors will find lots of learning (and fun!) opportunities at the Challenger Learning Center, such as unique summer camps (Astronaut Training camp, Aquatic Robotics, Mars Camp, Innovators TechShop, just to name a few),  STEM-based school programs, Simulated Space Missions for all ages, including Voyage to Mars, Return to the Moon, Jr Astronauts: Mystery in Space and many more.
Find your mission and spark your child's imagination at the Challenger Learning Center! Visit challengerstl.org to start planning your out-of-this-world fun! 
Click For Directions