Thursday, December 7, 2017
Friday, December 8, 2017
Saturday, December 9, 2017
Sunday, December 10, 2017
Monday, December 11, 2017
Tuesday, December 12, 2017
Wednesday, December 13, 2017
Thursday, December 14, 2017
Friday, December 15, 2017
Saturday, December 16, 2017
Sunday, December 17, 2017
Monday, December 18, 2017
Tuesday, December 19, 2017
Wednesday, December 20, 2017
Thursday, December 21, 2017
Friday, December 22, 2017
Saturday, December 23, 2017
Tuesday, December 26, 2017
Wednesday, December 27, 2017
Thursday, December 28, 2017
Friday, December 29, 2017
Saturday, December 30, 2017
Sunday, December 31, 2017
Monday, January 1, 2018
Tuesday, December 5, 2017
Wednesday, December 6, 2017
The Missouri Botanical Garden lights up the holiday season for the fourth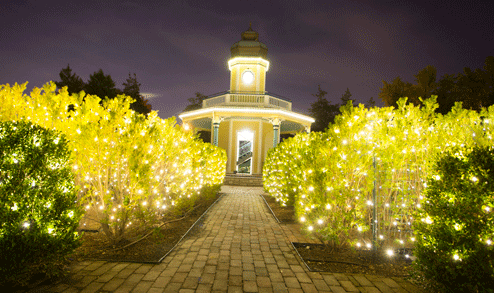 annual Garden Glow. More than a half million lights will illuminate some of the Garden's most iconic locations, walkways will be transformed into sensory light tunnels providing an explosion of visual magic, and traditional candlelight village displays will delight crowds of all ages.
Wishing Trees, Snow Balls, and "Glowmen" will all light the night sky, and provide interactive fun for guests of all ages. Your family will love exploring the glowing snowman garden, magical light tunnels, interactive photo opportunities and traditional holiday music. 
In addition to all the beautiful lights, Garden Glow 2017 offers singing, dancing, shopping and dining for the entire family.
The Garden Glow is open nightly from 5-10 p.m. through January 1, 2018. Closed Christmas Eve and Christmas Day. Tickets also include admission to the Gardenland Express Holiday Flower and Train Show. 
Visit on Family Nights on Wednesdays (Nov. 22, 29 and Dec. 6 & 13) for special $3 kids' admission (ages 3-12). 
The cost to attend Garden Glow ranges from $6 to $18 per person, depending on age, date of attendance, and membership status. Tickets are date-specific and sold in limited quantities, so purchasing in advance is recommended.
To learn more about Garden Glow and get tickets for this family-friendly winter wonderland, visit glow.missouribotanicalgarden.org.
Find even more fun holiday events for your family in our Things To Do calendar
Click For Directions