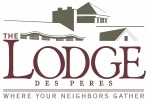 The Lodge Des Peres offers Dancing Darlings youth dance classes each year. Our program spans the school year starting in September and ending with a wonderful recital in April. The program is affordable and centrally located for your convenience. 
The Lodge Des Peres offers a variety of fitness, sports, aquatic, dance and art programs for both kids and adults throughout the year. Drop in and use our gymnasium, indoor wave pool, lap pool or fitness center for fun indoor activities when the St. Louis weather gets extreme.
Call 314-835-6150 or visit thelodgedesperes.com for more information.
Click For Directions