By
Amy Burger
|
Fri, 06/29/2018 - 5:17pm
The dog days of summer are here! Keep the kids from getting bored with some of the great activities and events around the St. Louis area. Here are our picks for the best family events this July:
1. Family Sundays – Travel the World at Saint Louis Art Museum (July 1, 8, 15, 22 and 29)
Families are invited to the Saint Louis Art Museum every Sunday afternoon for hands-on art activities and a lively, 30-minute family tour through the galleries. Each month there is a new family-friendly theme. In July, experience cultures from faraway places. Construct Italian-inspired architecture, craft a Peruvian-inspired textile, discover animals from the Americas, and create a scroll painting like those from China. On July 15 from 1-3 p.m., see a special Family Weaving Demonstration and experience traditional weaving techniques from a professional textile artist in celebration of the exhibition, Balance and Opposition in Ancient Peruvian Textiles.
On July 22 at 2 and 3 p.m., see special guests the Confluence Chamber Orchestra Family Concert and Instrument Petting Zoo and engage with music from around the world during a special family concert. All activities are free.
Family Sundays "Travel the World" takes place Sundays, July 1, 8, 15, 22 and 29 from 1–4 p.m. with Family Tours at 2:30 p.m. at the Saint Louis Art Museum in Forest Park. For more info, visit slam.org.
2. Grand opening of new Museum at the Gateway Arch (July 3)
The new Museum at the Gateway Arch will officially open to the public on July 3. A ribbon cutting ceremony will take place at 10 a.m. by the new West Entrance. St. Louis Cardinals Hall of Famer Ozzie Smith will serve as master of ceremonies. Following the ribbon cutting, the museum will open its doors to visitors. There will also be a celebration in the North Gateway park area after the ceremony with food trucks, games, face painters, appearances by Fredbird and Louie, and live music from Boogie Chyld. Attendees will receive a special coin commemorating the historic event (while supplies last). There will also be 1,000 grand opening day cookies (first come, first served) at the North Gateway celebration for visitors to enjoy. Don't forget- the grand opening also coincides with the return of Fair Saint Louis to the Gateway Arch National Park.
The grand opening of the new Museum at the Gateway Arch takes place on Tuesday, July 3 at 10 a.m. on the Arch grounds on the St. Louis riverfront. For more information, visit archpark.org.
3. Storytime in the Commons at Public Media Commons (July 7)
Storytime in the Commons is back for another season of fun character visits and themes focused on learning and character building. Your kids can meet and have their photo taken with some of their favorite PBS Kids characters during this free storytime. Stories will be read and shared on the big outdoor screen at the Nine Network. There will also be crafts, games and fun activities for the whole family. The July 7 event will be Respect Others featuring Arthur and Clifford the Big Red Dog.
Storytime in the Commons is free but registration is required. Tickets will be available starting one month before each storytime.
Storytime in the Commons are held on Saturday mornings from 9:30 to 11 a.m. at the Nine Network and St. Louis Public Radio, located at 3653 Olive Street in St. Louis. For more information and registration, visit ninenet.org.
4. Shark Week at the Saint Louis Zoo (July 8-14)
Come to the Zoo during Shark Week dressed as a shark and get into Stingrays at Caribbean Cove presented by Mercy Kids for free! Swimming among the stingrays are bonnethead, white-spotted bamboo and brown-banded bamboo sharks. Paying customers to the exhibit will be awarded an "I survived Shark Week at the Saint Louis Zoo presented by Swedish Fish" coupon, which will earn them 10 percent off at Ray's Bar & Grill and Zoo gift shops for the day of their visit. Upon exit from Stingrays at Caribbean Cove, kids will receive an activity guide to take home.
Interpreters will be floating around the Zoo to enlighten guests about Shark Week and spin tales about their toothy friends. Saturday, July 14 is Shark Awareness Day from noon until 3 p.m. Feel the warm, soothing beat of the steel drum as you listen to the ethereal blend of calypso, reggae, bossa nova, Soca and Caribbean music with Lenny Frisch, playing live outside Stingrays at Caribbean Cove. Also on the weekend, kids can enjoy shark-themed games and activities.
Shark Week takes place July 8 through 14 at the Saint Louis Zoo in Forest Park. Regular admission to Stingrays at Caribbean Cove is $4. For complete information and hours, visit stlzoo.org.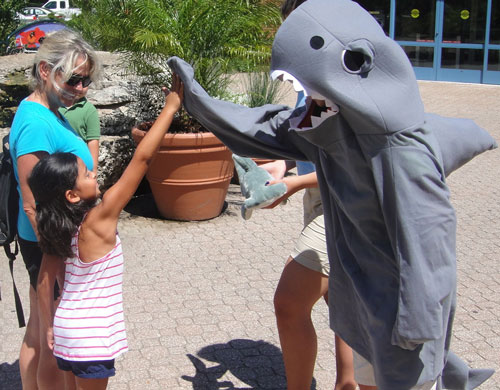 5. Olden Day of Summer at Faust Park (July 13)
At this special event for children ages two to 12, kids will travel back in time to the Olden Days of Summer at Faust Park Historic Village. Enjoy activities such as hayrides, candle dipping, rope making, blacksmith demonstrations and much more. Register online or call 314-615-8332 to purchase advance discounted wristbands. The cost is $15 per child at entrance; $10 in advance. Adults are free.
Olden Days of Summer takes place on Friday, July 13 from 9 a.m. to noon at Faust Park, located at 15185 Olive Blvd. in Chesterfield. For more info or to register, visit stlouisco.com.
6. Block Party in Grand Center (July 14)
This summer, the Contemporary Art Museum St. Louis, The Sheldon, and the Pulitzer Arts Foundation will transform part of Washington Boulevard for a full day of fun including: a musical showcase of young artists from around the city, a DJ set by 18andCounting, Beyond Measure Dance Theater, Grupo Folkórico Panameño, St. Louis Osuwa, catered barbecue for a neighborhood picnic, the St. Louis Fire Department, an interactive art installation on the grass lot across from the Pulitzer by artists Sage Dawson and Meghan Grubb, family-friendly art activities and more. Activities and food are free and open to the public. Parking is available throughout the district.
The Block Party in Grand Center takes place on Saturday, July 14 from 10 a.m. to 2 p.m. on Washington Blvd. in the Grand Center Arts District. For more information, visit thesheldon.org.
7. Play Date Theater at St. Louis Public Library presents "Duckugly" (July 21)
Join the St. Louis Public Library for Play Date Theater presents: Edie's Fairytale Theatre's "Duckugly." Explore issues of bullying with the tale of Mama Duck and her ducklings, one who is different from the rest and grows into a magnificent surprise.
The live performance is designed for the whole family, but focused on the short attention span of young children. Play Date Theater is a great way to introduce children to the art of theater. Entertaining for older kids, but geared toward children preschool through Grade 2. The show includes audience participation and an opportunity to meet the performers.
Play Date Theater presents: Edie's Fairytale Theatre's "Duckugly" takes place on Saturday, July 21 from 2-3 p.m. at the St. Louis Public Library Central Library, located at 1301 Olive Street in Downtown St. Louis. For more information, visit slpl.org.
8. Messy Play Day at Endangered Wolf Center (July 29)
Toddlers and preschoolers will explore nature through tactile activities and crafts at this special "messy" event. Children from walking to age five will have a blast getting messy while learning to discover the world around them. Activities include sand exploration, mud and dirt fun, water play, watercolors, face painting, learning how to make nature crafts and more. Children should wear clothes that can get really dirty. The cost is $8 per child. Parents are free. Special mini-tours of the animal enclosures will be available for $10 per person on Messy Play Day only. There is no charge for the mini-tour for children who are enrolled in the Messy Play Day.
Reservations are recommended. Walk-in enrollment will be based on availability. 
Messy Play Day takes place July 29 from 9 a.m. to noon at the Endangered Wolf Center, located at .6750 Tyson Valley Road in Eureka. For more information and to register, visit endangeredwolfcenter.org.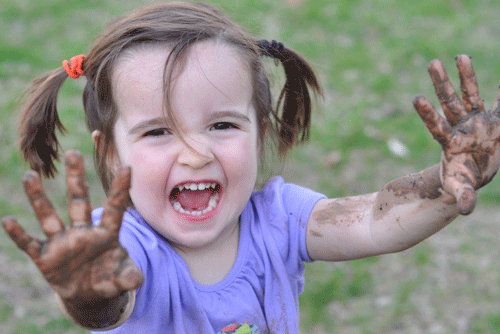 Photos: Saint Louis Zoo, stock.
Amy Burger is a mom, freelance writer and communications professional with nearly 20 years experience working in St. Louis. Her work has appeared in numerous publications and media outlets including STL Parent, Missouri Life magazine, the St. Louis Post-Dispatch, Town & Style and kdhx.org, among others. When she's not working, she enjoys spending time with her husband and two beautiful girls at home in Kirkwood.
Comments