By
Amy Burger
|
Mon, 11/27/2017 - 1:14pm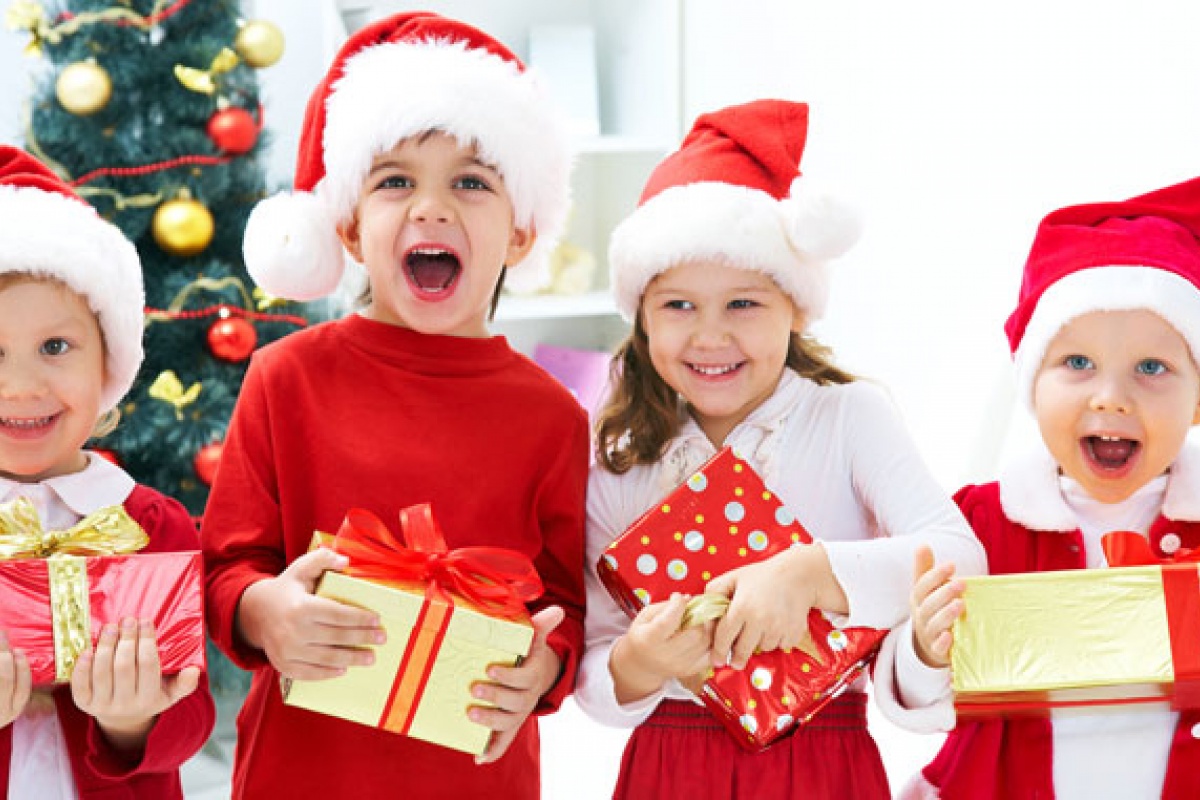 'Tis the season for making merry and enjoying holiday traditions new and old with family and freinds. There is no shortage of great holiday events throughout St. Louis this year, so get out and make some memories! Here are our top picks:
STAGES St. Louis 'Twas the Night Before Christmas (12/1-3, 12/8-10)
Join STAGES St. Louis for its Performing Arts Academy production of 'Twas the Night Before Christmas," an original hour-long holiday adventure musical written originally for the Fulton Theatre by Marc Robin and Curt Dale Clark. This enthralling take on the Christmas classic is a singing, dancing holiday fantasy with icons such as Rudolph and the Abominable Snowman. Enjoy special holiday pre-show activities and games with Dave and Buster's one hour prior to each performance, plus milk and cookies sponsored by Schnucks and a photo opportunity with Santa.
'Twas the Night Before Christmas takes place December 1-3 and 8-10 at the Samuel R. Goldstein Performance Hall, Kent Center for Theatre Arts, in Chesterfield. Performance times are Fridays at 7:30 p.m., Saturdays at 3:30 p.m. and 7:30 p.m. and Sundays at 3:30 p.m. For more information, visit stagesstlouis.org.
Maplewood Christmas Tree Walk (12/1)
From costumed carolers to horse drawn carriage rides, the Maplewood Christmas Tree Walk radiates holiday spirit that is reminiscent of Charles Dickens' "A Christmas Carol." After the grand lighting of the tree and the arrival of Santa, visitors can enjoy a carriage ride and sip hot chocolate while visiting merchant open houses throughout Maplewood. Business storefronts will be decked out for the season with many featuring live entertainment, complimentary refreshments and special discounts throughout the evening. The event is free with carriage rides priced at $5.
The Maplewood Christmas Tree Walk takes place on Friday, December 1 from 6 to 9 p.m. and kicks off in Citizens National Bank Park, located at 7300 Manchester Rd. For more information, visit midcountychamber.org.
The Nutcracker at The Magic House (12/2)
As part of The Magic House's Visiting Artist Series, The Imaginary Theatre Company presents this beloved holiday classic just for kids. On Christmas Eve, Marie's godfather arrives with a mysterious present. Marie soon discovers that the gift—a nutcracker—is no ordinary toy. He leads Marie on a magical adventure full of evil mice, dancing fairies and distant lands, showing her that holiday magic can last all year long. The Visiting Artist Series is made possible with the support of the Regional Arts Commission. The performance is free with regular museum admission.
The Nutcracker takes place on Saturday, December 2 at 12 p.m. and 2 p.m. at The Magic House, located at 516 S. Kirkwood Road in Kirkwood. For more information, visit magichouse.org.
South Grand Grinchmas (12/2)
The Grinch will be arriving in the city's South Grand neighborhood to spread holiday cheer and joy, and to raise funds for Shriners Hospitals for Children. The Grinch will be on hand at from 9 a.m. to 1 p.m. and for a $7 donation to the hospital, kids can get their photo taken with the Grinch. Those who bring a toy donation for the children at Shriners Hospitals for Children can get a photo taken for only $5. The Grinch will be joined by the clowns from Moolah Shriners, providing free face painting and balloon animals. Sassy Selfies, a unique photo booth, is partnering with South Grand this year to make the Grinch experience even more memorable. Select restaurants will also donate a percentage of their sales to the hospital
South Grand Grinchmas takes place on Saturday, December 2, from 9 a.m. to 1 p.m. in Ritz Park, located at  3147-3149 S. Grand Blvd. in St. Louis. For more information, visit southgrand.org.
The Nutcracker Presented By Saint Louis Ballet at Touhill (12/15-23)
Gen Horiuchi's The Nutcracker has become a Saint Louis favorite with dazzling costumes, sets and special effects. The large professional cast of company dancers and special guests swells with students from the school of the Saint Louis Ballet in children's roles. The holiday favorite is performed to the traditional Tchaikovsky score. The story of The Nutcracker takes place on Christmas Eve, when a little girl falls asleep after a party at her home and dreams herself into a fantastic world where toys become larger than life, battles ensue, and her beloved Nutcracker comes to life to defend her from the Mouse King.  It's a holiday treat for the whole family. Ticket prices range from $35 to $69 and performance times vary by date.
The Nutcracker takes place Friday, December 15 through Saturday, December 23 at the Touhill Performing Arts Center, located at One University Boulevard on University of Missouri St. Louis campus. For performance times and ticket information, visit touhill.org.
Purina Farms Pet-acular Holiday Bazaar (12/16-17)
Celebrate the season at this fun, annual kid- and dog-friendly festival at the indoor Purina Event Center at Purina Farms. Adoptable pets from local animal welfare organizations will be available. Enjoy live musical entertainment and canine demonstrations, as well as fun games and activities for kids and dogs. Shop for unique holiday gifts from 20+ local artisans at Vendor Village. Other available activities include a $5 Photo Pass with Santa for kids and dogs and a $5 Kids Craft Pass. A Breakfast & Craft Workshop with Santa is available from 8:30 a.m. – 10 a.m. daily with pre-purchased ticket. Admission and parking for the Pet-acular Holiday Bazaar are free.
Pet-acular Holiday Bazaar takes place on Saturday and Sunday, December 16 and 17 from 10 a.m. to 3 p.m. at Purina Farms, located at 500 William Danforth Way in Gray Summit, Mo. For more information, visit purinafarms.com or call 314-982-3232.
U.S. Bank Wild Lights at Saint Louis Zoo (Dates vary)
A wild, arctic wonderland with over half a million holiday lights and family fun awaits at this annual event. In addition to whimsical light displays, you can gather 'round the fire to hear captivating animal stories by theatrical interpreters and roast your own campfire s'mores (available for purchase) at one of the fire pits. Enjoy carolers, costumed characters and other live performances on select weekend nights. At the Woodland Workshop, kids can take part in festive crafts and activities. For the first time, the Zoo is offering a Sensory Night on Monday, Dec. 11 for individuals on the autism spectrum and others who may benefit from a sensory-friendly experience. Sensory Night tickets are limited and must be purchased in advance. Ticket prices range from $7-$10 with children under 2 free. Free parking is available on Zoo parking lots during event hours.
Wild Lights is open from 5:30 to 8:30 p.m. on select weeknights and weekends at the St. Louis Zoo in Forest Park. Visit stlzoo.org/wildlights for complete schedule and ticket information.
Holidays at Missouri Botanical Garden (dates vary)
What better place to get in the holiday spirit than the beautiful Missouri Botanical Garden. The highlight of the season is the annual Garden Glow through Jan. 1 when the Garden dresses up in its holiday best with millions of lights and stunning installations. Grab some hot cocoa or other tasty holiday goodies while you stroll the grounds for a night of special events, music and interactive photo opportunities. The Garden Glow is open nightly from 5-10 p.m. (except Christmas and Christmas Eve). Ticket prices vary depending on date and membership status. Select Wednesdays are Family Nights when kid's tickets are just $3. Purchasing tickets in advance is recommended. This year, admission also includes access to the Gardenland Express, the Garden's holiday flower and train show. In addition to Christmas, the Garden will also host a Chanukah celebration on December 10 from noon until 4 p.m. with Israeli music and dance, a menorah lighting ceremony and Chanukah merchandise. Prices vary for all the events, and more information can be found at mobot.org.
Holiday Skating at Steinberg, Shaw Park or Kirkwood Ice Rinks (dates vary)
Feel like hitting the ice with Santa or a Snowman? There are several fun holiday skating events at area ice rinks. Steinberg outdoor ice rink in Forest Park will host its annual Skate with Santa on Saturday, December 2 from 2-4 p.m. Kirkwood ice rink at the Kirkwood Community Center offers its Skate with Santa session on Saturday, December 16 from 1:30 to 3:30 p.m. Shaw Park ice rink will host a Snowman Skate on Friday, December 8 from 6-10 p.m. with hot chocolate and a discounted $3 admission including skate rental.
Share a meal with Santa (dates and locations vary)
Sitting on Santa's Lap is fun, but sharing a meal with Santa is even better! Several area locations are hosting breakfast or dinner with Santa this holiday Season. The Magic House offers breakfast with Santa on two Sundays, December 3 and 10 with various time slots available. The Saint Louis Zoo hosts both breakfast and dinner with Santa on Saturdays and Sundays from December 2 through December 17. Additional holiday costumed characters will visit kids as well. Eckert's Country Restaurant in Belleville offers a breakfast with Santa on Sunday, December 11 from 8 a.m. until noon with a special gift for each child, face painting and cookie decorating. The Sophia M. Sachs Butterfly House is offering Supper with Santa on select dates in December featuring a pasta dinner from Nooodles & Co., cookies and cocoa, crafts and photos with Santa. The St. Louis IKEA store will also host a breakfast with Santa in its restaurant with photo opportunity on Sunday, December 10 from 9:30 to 11 a.m.
For times, costs and reservations for all meals with Santa, visit the organizations' websites at:  magichouse.org, stlzoo.org, eckerts.com, mobot.org and ikea.com.
Amy Burger is a mom, freelance writer and communications professional with nearly 20 years experience working in St. Louis. Her work has appeared in numerous publications and media outlets including STL Parent, Missouri Life magazine, the St. Louis Post-Dispatch, Town & Style and kdhx.org, among others. When she's not working, she enjoys spending time with her husband and two beautiful girls at home in Kirkwood.
Comments