By
Amy Burger
|
Mon, 01/01/2018 - 6:21pm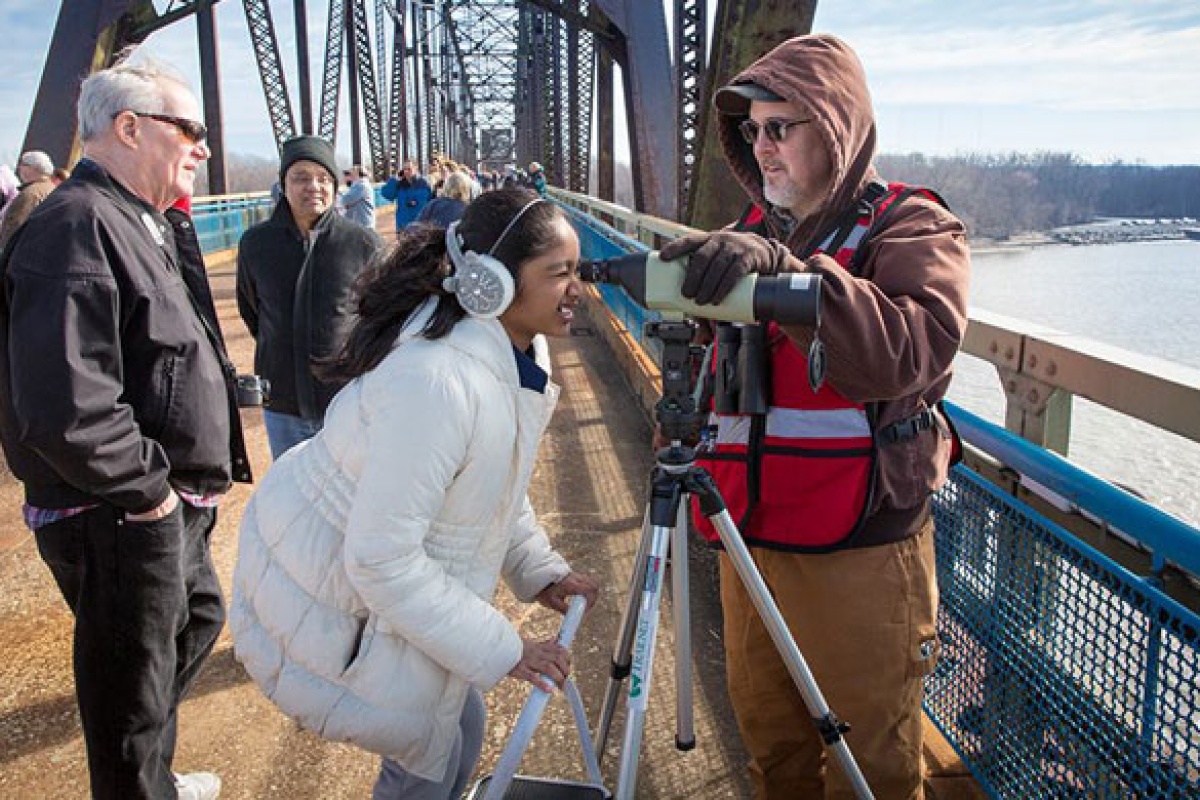 The Mississippi River is host to one of North America's largest concentrations of bald eagles, which are drawn to the open water in search of food. Winter is the best time to see them, and there are ample opportunities and events around our region that allow for an easy and enjoyable way to introduce your kids to these majestic creatures. Here are a few you can take advantage of starting this month:
Eagle Days at Chain of Rocks Bridge (1/13-14)
The Chain of Rocks rapids to the south of the Bridge create open waters that are ideal fishing waters for eagles. Eagle Days provides a unique opportunity to watch them fish, ride ice floes, soar overhead and roost in nearby trees while learning more about eagles and local wildlife in the comfort of a warming tent. Eagle lovers are welcome to view eagles through spotting scopes staffed by trained volunteers. Eagle Days has something for the whole family including a live eagle education program every 20 minutes, a full-size eagle's nest replica, children's art activities and Lewis and Clark re-enactors. All activities are free. Eagle Days activities take place on January 13 and 14 from 9 a.m. to 3 p.m. each day. For more info, visit greatriversgreenway.org.
Alton-Audubon Eagle Ice Festival (1/6)
Kick-off of the much-anticipated eagle-watching season at this family friendly event in Alton, Ill. See a live bald eagle up close and personal at the Alton Visitor Center, and then let the kids enjoy cold weather games including Ice Putt Putt Golf, Ice Cube Crush and Spin the Wheel and win great prizes. Enjoy watching ice sculptors create works of art and then head across the river to the Audubon Center at Riverlands to see finished ice sculptures, view eagles and Trumpeter Swans with the center's viewing scopes and take a shuttle ride to look for eagles. Shuttle tours are $5 per person. The rest of the Eagle Festival activities are free. The fun goes from 10 a.m. to 2 p.m. on Saturday, January 6. For more information, go to visitalton.com.
Bald Eagle Days at Pere Marquette State Park (multiple dates).
Beautiful Pere Marquette State Park in Grafton, Ill. hosts numerous opportunities to enjoy eagle watching over the winter with its Bald Eagle Days. A site interpreter at Pere Marquette State Park will present informative programs about bald eagles and visitors will learn to distinguish between immature and mature bald eagles, what eagles eat, why they spend winter months in the area and much more. There will be a short video presentation followed by an observational drive to view the wintering bald eagles. Plan to dress warmly and have a full tank of gas. The programs are free and open to all ages and reservations are required by calling 618-786-3323.
Presentations begin at 8:30 a.m. on January 19, 22, 26, 27, 29 and 30, as well as February 1, 2 and 3. For more information, visit visitalton.com.
Eagle Meet & Greets at Alton Visitor's Center (every Saturday in January)
Celebrate all things eagle related and see an American Bald Eagle up close and personal during a series of free Meet and Greet events at the Alton Visitor Center. Every Saturday in January from 10 a.m. until 2 p.m., a live American Bald Eagle will be the featured guest from either World Bird Sanctuary or TreeHouse Wildlife Center. Guests can ask and learn about eagles and their habitats. For more information, visit visitalton.com.
World Eagle Day at the World Bird Sanctuary (3/25)
Celebrate eagles from around the world at World Eagle Day at the World Bird Sanctuary in Valley Park on Sunday, March 25 from 10 a.m. to 4 p.m. Learn more about these majestic creatures as well as fun raptor facts with presentations from World Bird Sanctuary naturalists throughout the day. Live eagle shows will be presented in the amphitheater at 10:30 a.m., 1:30 p.m. and 3:30 p.m., and there will be photo opportunities with a Bald Eagle. Kids can enjoy a craft center, and the entire family can tour the wildlife hospital. Parking and admission are free. For more information, visit worldbirdsanctuary.org.
Birds of Winter: Raptor Saturdays at Audubon Center at Riverlands (Saturdays in January)
Join the staff at The Audubon Center at Riverlands for this exciting Birds of Winter program. Two story circular bay windows provide a 140° grand vista of the Mississippi River, where you may see eagles, trumpeter swans and other fascinating waterfowl. The TreeHouse Wildlife Center will be at the Center with a rehabilitated raptor. It could be an owl, hawk or falcon – stop by the Center to see who shows up! Cross the river to see a bald eagle at the Eagle Meet & Greet at the Alton Visitors Center. This free program is offered each Saturday in January from 10 a.m. until 2 p.m. For information about the Audubon Center, visit Riverlands.Audubon.org.
Owl Prowls at World Bird Sanctuary (Select evenings in February and March)
If you can't get enough bird watching, in addition to eagles, you can come over to the "dark side" and meet those amazing birds that exist by moonlight at Owl Prowls at World Bird Sanctuary. Some are even Harry Potter themed! On select evenings in February and March, beginning at 7 p.m., you can learn more about the amazing life of owls with a WBS naturalist who will introduce you to live owls and their unique calls. Then, take an easy night hike through the grounds to try to call in a wild owl. The cost is 
$15 for adults and $10 for children under 12. Reservations are required, and Owl Prowls usually sell out, so book early. For more information, visit worldbirdsanctuary.org.
Photo courtesy of Great Rivers Greenway
Amy Burger is a mom, freelance writer and communications professional with nearly 20 years experience working in St. Louis. Her work has appeared in numerous publications and media outlets including STL Parent, Missouri Life magazine, the St. Louis Post-Dispatch, Town & Style and kdhx.org, among others. When she's not working, she enjoys spending time with her husband and two beautiful girls at home in Kirkwood.
Comments