By
Amy Burger
|
Fri, 06/01/2018 - 3:37pm
Summer has arrived and St. Louis is brimming with family activities, festivals and fun in the sun. Here are our picks for the best family events in June.
1. Family Sundays – On the Move at Saint Louis Art Museum (6/3,10, 17 and 24)
How do artists use movement? Each Sunday in June, experience a new art activity that explores motion in a variety of ways. Discover ways to use movement from artworks that suggest motion, objects that actually move, and gestures artists make when creating art. Balance, flip, bend, and sway as you create dynamic originals of your own. Follow the activity with a family tour through the museum's galleries and be sure to catch the thrilling exhibition, "Sunken Cities: Egypt's Lost Worlds."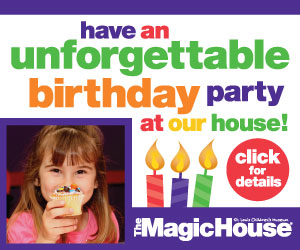 Family Sundays "On the Move" takes place Sundays, June 3, 10, 17, and 24 from 1–4 p.m. with Family Tours at 2:30 p.m. at the Saint Louis Art Museum in Forest Park. For more info, visit slam.org.
2. Summer Family Fun Series at the Missouri History Museum (6/4-7/27)
Visit the Missouri History Museum this summer for all kinds of family fun that's free! On Mondays, Tuesdays, Wednesdays and Fridays, children will enjoy art, storytelling, special entertaining guests, musical workshops, crafts, performances by St. Louis favorites like the Muny Kids, Celia and Friends, and lots more. Activities are free and begin at 10:30 a.m. each day throughout the museum. 
The Summer Family Fun Series takes place at the Missouri History Museum, located at 5700 Lindell Blvd. in Forest Park. For a complete schedule and more information, visit mohistory.org.
3. Summer Children's Concert Series at Piper Palm House (6/6-8/15)
Treat your kids to a free concert in beautiful Tower Grove Park. The Piper Palm House Children's Concert Series, taking place on Wednesdays throughout the summer, introduces kids to different musical styles. The interactive concerts are educational, fun and feature a different theme each week. The doors open at 9:15 a.m. and the one-hour concerts begin at 9:30 a.m. Seating is on a first-come, first-served basis. 
The Summer Children's Concert Series takes place on Concerts are held on Wednesdays from June 6 through August 15 (no concert on July 4) at Piper Palm House in Tower Grove Park, located at 4256 Magnolia Avenue in St. Louis. For more information, visit towergrovepark.org.
4. Family Fun Night with Babaloo at the Saint Louis County Library (6/8)
The popular, prize-winning pied piper is back for more family fun at this free performance. Enjoy the St. Louis-favorite Babaloo for an energetic, interactive show for all ages. 
Babaloo performs on Friday, June 8 at 6:30 p.m. (doors open at 6) at the St. Louis County Library Headquarters Branch, located at 1640 S. Lindbergh Blvd. in Frontenac. For more information, visit slcl.org.
5. Kenya's Kids Opens at The Magic House (6/11)
Celebrate the opening of the new Kenya's Kids exhibit with a special celebration featuring F4KIDZ African Performing Arts. Visitors will enjoy special performances including lively African dance, drums and singing. Kenya's Kids is an interactive exhibit created by The Magic House to introduce children to the East African republic of Kenya as the first of several cultural exhibits in the new World Traveler Gallery. Families will discover the many similarities and differences in the daily lives of children in Kenya. The exhibit features immersive environments including a Kenyan home and school, a wildlife reserve complete with a safari vehicle, an elephant orphanage and more! Free with Museum admission.
The Kenya's Kids kick-off party takes place Monday, June 11 from 11 a.m. to 1 p.m. at The Magic House, located at 516 S. Kirkwood Road in Kirkwood. For more info, visit magichouse.org.
6. Nature + Me Pre-K Program at Laumeier Sculpture Park (6/14-8/23)
On the second and fourth Thursdays of the month from June through August, parents and little ones ages 1-3 are invited to gather for an "all senses engaged" exploration of Laumeier Sculpture Park's 105 acres that is home not only to a collection of sculptures, but also to many birds, insects, frogs, mammals and plants. Nature + Me starts with a story time, followed by activities and outdoor play based on the day's theme and is designed to provide parents and caregivers the opportunity to explore art and engage with nature through creative and healthy, stress-relieving activities. The cost is $10 for one adult and one child ages 1-3. Or, purchase a Drop-In Card and get six sessions for $50 or 12 sessions for $100. Registration is not necessary.
Nature + Me sessions are set for June 14, June 28, July 12, July 26, August 9 and August 23 from 10:30 to 11:30 a.m. at Laumeier Sculpture Park, located at 12580 Rott Road in Sunset Hills. For more information, visit laumeier.org.
7. Countrytime Bluegrass & Brews Festival + Kids Country Carnival at Purina Farms (6/16-17)
The whole family is invited to enjoy a day of old fashioned fun on the farm, featuring bluegrass music, inflatable bounce houses, country-themed magic shows, pony rides, food trucks and lots more at the Purina Farms Countrytime Bluegrass & Brews Festival featuring the Kids Country Carnival. After jamming out to some foot-stomping music, kids can try their hand at carnival games and enjoy entertainment by Billy the Bronco Strolling Cowboy and Scarecrow. There will also be adoptable pets, plenty of great food and brews too. The Festival is even dog-friendly! Take your pooch inside to the Event Center between 11 a.m. and 3 p.m. for the Pooch Playdate ($5 per person), featuring 15+ games and activities for your dog.
Admission to the festival is free. Parking is $5. No reservations necessary.
The Countrytime Bluegrass & Brews Festival takes place on Saturday, June 16 and Sunday, June 17 from 9:30 a.m. to 3:30 p.m. at Purina Farms, located at 500 William Danforth Way in Gray Summit, Mo. For more information, visit purinafarms.com.
8. STAGES presents Madagascar (6/19-7/1)
STAGES St. Louis invites you to take a journey out of the Central Park Zoo and onto an enchanted desert isle with your favorite crack-a-lackin' friends from the DreamWorks blockbuster film, MADAGASCAR! Join Alex the Lion, Marty the Zebra, Melman the Giraffe, Gloria the hip-hip Hippo, and, of course, mad King Julien for a musical adventure of a lifetime. Filled with gut-busting laughs galore, rockin' dance moves, and an upbeat up-to-the-minute score that includes "Move It, Move It," exploring a brave new world was never so much ridiculous fun.  Ticket prices vary.
Madagascar takes place June 19 through July 01 at The Robert G. Reim Theatre
at Kirkwood Civic Center, located at 111 S. Geyer Rd. in Kirkwood. For more info, visit stagesstlouis.org.
Photo courtesy of Tower Grove Park
Amy Burger is a mom, freelance writer and communications professional with nearly 20 years experience working in St. Louis. Her work has appeared in numerous publications and media outlets including STL Parent, Missouri Life magazine, the St. Louis Post-Dispatch, Town & Style and kdhx.org, among others. When she's not working, she enjoys spending time with her husband and two beautiful girls at home in Kirkwood.
Comments